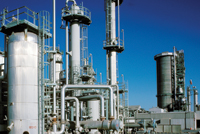 Saudi Arabia has woken up to the scope of petrochemical industries
SAUDI ARABIA is accelerating efforts to take its industrialisation process to the next level, moving from the processing of feedstocks – particularly hydrocarbons – towards utilising the resulting petrochemical materials for the manufacture of finished products. Rising demand on both the national power grid and on raw materials, however, could have an impact on the rate at which new developments are realised.
According to a report issued by the Samba Financial Group, this year will see an increase in the pace at which industrial projects based on downstream petrochemical operations will be rolled out. The Samba report estimated there are $50 billion worth of petrochemicals projects either being developed or in the planning pipeline, which will focus on a chemical mix aimed at growing domestic industries, rather than simply serving export markets with base chemicals.
There have already been a number of new industrial developments completed or nearing the production stage in 2012. In early May, the Middle East Specialised Cable Company (MESC) announced it had completed construction of a new production facility at Riyadh that will produce up to 36,000 tonnes of polyvinyl chloride annually. MESC will use ingredients supplied by the petrochemicals giant, Saudi Basic Industries Corporation (Sabic). The processed polyvinyl chloride products will be used in the manufacture of electric cables, tubes, hoses, and door and window frames, both by firms within MESC's own operations and other Saudi companies.
However, while the development of new industrial complexes is gathering momentum, some analysts have warned that shortages of raw materials, particularly natural gas, could restrict the pace of growth.
It is a challenge acknowledged by Mosleh Hamed Al Otaibi, the head of the Royal Commission for Jubail and Yanbu, the state agency in charge of developing the Jubail Industrial City, where Saudi Arabia is concentrating much of its petrochemicals production facilities. While stage two of the Jubail development is being completed, any further expansion of the industrial cluster may have to be deferred until new gas sources can be identified and brought on line, Al Otaibi says in an interview.
"When we have finished Jubail 2, we might begin Jubail 3," Al Otaibi says. "But we have not started with a study, due to the shortage of gas. We are really a little bit hesitant to go ahead with Jubail 3."
Even without stage three being developed, Jubail is already one of the biggest industrial projects ever undertaken in Saudi Arabia and is already the world's largest petrochemicals industrial centre.
Though Saudi Arabia is believed to have the fifth-largest reserves of natural gas in the world, estimated at 7.8 tcm, the government has historically focused on oil production for both export and domestic energy generation. With the rapidly expanding industrial sector in need of feedstock, however, gas exploitation is now being prioritised. Production at the Karan offshore field, located some 160 km to the west of Dhahran, is set to increase to 42.4 mcm later this year, with three gas processing trains close to being commissioned.
It is not just supplies of feedstock that industry needs. The utilities sector, which is struggling to keep up with demand for power, has seen demand grow by 7-8 per cent per year, much of which is being driven by the rapidly increasing needs of the industrial sector.
The authorities are currently taking a number of steps that should keep supply in step with demand, including the introduction of at least one large-scale electricity station every year for the foreseeable future.
Saudi Arabia also recently announced plans to invest up to $109 billion in the solar energy industry, with the aim of creating a manufacturing sector for the technology, as well as installing up to 41,000 MW of capacity by 2032. This will help provide much-needed electricity to power industrial production, as well as create a whole new manufacturing sector in itself.