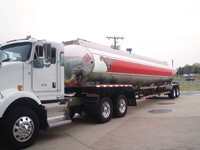 Exxon ... tying up with Sabic for elastomers
SAUDI Basic Industries Corp (Sabic) and affiliates of ExxonMobil Chemical Co have awarded front-end engineering design contracts (Feed) for a planned new elastomers project in Saudi Arabia. The Al Jubail Petrochemical Co, a joint venture between ExxonMobil and its Saudi partner, plans to produce synthetic rubber and speciality elastomers to meet the growing global demand for these products. The project, once completed, will have the capacity to produce more than 400,000 metric tonnes of rubber and speciality elastomers annually to serve local and international markets in Asia, Europe and the Middle East.
"This project is aligned to support Saudi Arabia's National Industrial Cluster Development Programme, which is responsible for accelerating growth and diversification of the manufacturing sector," say representatives for ExxonMobil and Sabic. "This includes new demand in targeted industries, including automotive manufacturing, building and construction and appliances."
The specific products planned for the Al Jubail project will be production of butyl rubber, polybutadiene rubber, SBR, EPDM, thermoplastic elastomers, thermoplastic olefins and carbon black. These products are not presently available in Saudi Arabia, representatives for the joint venture say.
"The uses for these products include automotive applications such as tyres, gaskets, hoses, weather seals and bumper fascias," the representatives say. "They can also be used for construction applications such as roof sheeting and industrial applications like conveyor belts."
"In addition to supporting the local industry, the expansion at the Kemya joint venture in Al Jubail will provide additional new capacity of butyl rubber and EPDM speciality elastomers to meet the growing global demand for these products," says ExxonMobil's senior vice president for polymers, Neil Chapman.
The representatives won't reveal how much ExxonMobil and its Saudi partners are investing, nor give an estimate about the project's specific economic impact or the number of jobs that will be created.
"We cannot speculate on the exact number of jobs which will be created long term, but it's safe to say that new jobs have already been created, and the project will certainly see hiring in Saudi Arabia," they say.
The recently awarded Feed contracts went to Jacobs Engineering and Mitsui Engineering & Shipbuilding for process units and to Fluor Transworld Services for associated support facilities.
"The elastomers project will be the basis for the creation of a world-class rubber value chain in Saudi Arabia and a valuable extension of our offering of products and services to our customers in key markets," says Koos van Haasteren, Sabic executive vice president of performance chemicals. In addition to the Feed contracts, the partnership signed third-party license agreements with Continental Carbon Co for its carbon black production technology and with Goodyear for its SBR technology.
Continental Carbon, as part of its agreement with the joint partnership, will market part of the production of the new carbon black plant to serve the local and international tyre industry.
"In the long term, we hope the Middle East market will develop and it will have a strong auto and tyre sector," says Continental Carbon president Kim KT Pan. "But in the near term, the market for the product will be primarily in Europe."