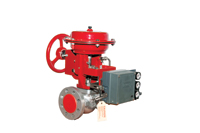 Emerson ... quality conscious
EMERSON Process Management is one of the few multinational automation companies that have both offices and manufacturing facilities in the Kingdom from where it designs, builds and supplies almost any scope of process automation project.
"At Emerson we focus, with our clients, on their business drivers and identify where we can bring the most value from our domain knowledge, expertise, products and execution services," says Cobus Du Preez, director of operations at Emerson Process Management's Jubail plant.
"We offer front end engineering design (Feed) services; we can perform detailed control and safety system design, execution and testing, and we have site services teams for installation and start-up support as well as to provide lifecycle services.
"We provide measurement and control equipment from downhole and multiphase well monitoring, through pressure, temperature, level, flow, pH and conductivity, to gas and liquid chromatographs and custody transfer measurements. We manufacture control and shutdown valves locally.
"Our DeltaV control and DeltaV SIS safety systems have been recognised internationally for changing the way control and safety systems are implemented," he adds.
DeltaV's electronic marshalling yields enormous benefits in project cost, schedule and risk, as well as lifecycle costs.
DeltaV SIS is the world's only smart safety system, taking action on diagnostics from smart field devices, where over 85 per cent of failures occur.
Emerson also introduced wireless measurement and control products to the market that offer significant savings in both construction and startup costs for both Brownfield and Greenfield projects.
CLOSER TO THE COMMUNITY
Emerson Process Management has been ranked at the highest level of Saudisation based on both government and Aramco criteria at both its Jubail plant and at its head office in Al Khobar. "We are proud to say that today the majority of our personnel in our Saudi Arabia organisation are Saudi nationals – we have local execution by local staff," says Du Preez.
"We believe that the key to our success is to build an organisation run by Saudi nationals for the nation of Saudi Arabia. Naysayers may tell you that recruiting good Saudi engineers is difficult, but we have found quite the reverse.
"There is a huge pool of talented individuals in Saudi Arabia who are keen to excel in a multinational company. That is why we are supportive of the educational institutions in Saudi Arabia as they are the source of the next generation of talent for industry," he adds.
Some key initiatives of Emerson Process Management in this regard include a number of activities undertaken with educational institutes that are aimed at making courses more practically relevant to students who attend them.
Emerson Process Management is currently working with Jubail Industrial College to jointly develop curricula and laboratory infrastructure, allowing students to gain experience of, and instruction in, the theory, applications and actual process automation equipment used in "real world" plant environments.
EDUCATIONAL INVESTMENT
Under the terms of an MoU signed between Emerson Process Management and Jubail Industrial College, the company has actively invested in educational development among students of the Jubail Industrial College through the donation of a large piece of demo equipment, known as a "PlantWeb Cruiser" to the college for the last three years.
The company has also donated several training control system stations, including wired and wireless measurement and control devices, for the lecturers to use in training students.
In addition, Emerson Process Management has provided certified training for lecturers in the use of the control system stations and has undertaken several field trips during which students were invited to the Jubail plant facility for industry-related lectures and facility tours.
CLOSER TO CLIENTS
Inaugurated in January 2011, the Emerson Process Management facility in Jubail is licensed to manufacture all Emerson Process Management products in the Kingdom, offering the flexibility to add new manufacturing lines in the future with a minimum of delay.
Its current capacity stands at the production of 2,000 Fisher control valves per annum, 6,000 Rosemount pressure transmitters per annum, 2,000 valve operating systems under the Bettis and Elomatic brand per annum and a control system staging facility capable of housing up to 100 control system cabinets at any one time.
According to Du Preez, growth has been steady as knowledge of the company's local capabilities has spread throughout the Kingdom-wide sales force.
"The kingdom's drive to source more products locally, together with our marketing efforts for the facility, has stimulated good growth.
"We have customers outside Saudi Arabia who are taking advantage of our manufacturing capability and have required product built in the facility to be exported.
"We are seeing huge investment in the power and water industries and we hope to be able to take advantage of this both here in Saudi Arabia and in our GCC manufacturing hub in Jebel Al Free Zone," he says.
The company has already had some involvement in major projects with control valves currently being assembled in the facility for a large-scale expansion of an existing petrochemical facility in Jubail on behalf of a Korean contractor. There is a further large project for an integrated petrochemical and refining project under negotiation.
The year 2012 will see additions to the valve manufacturing capability adding more volume as well as broadening the range of valve products manufactured. Emerson will also expand its capability to manufacture Rosemount measurement products.
The goal of these expansions is to allow the company to react more quickly to its Saudi customers from a sales, service and manufacturing perspective. "Our growth will come from our reputation for quality and fast response to customers' needs," concludes Du Preez.