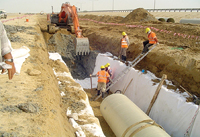 Al Osais ... playing a vital role in the kingdom's development
AL OSAIS MCM Company, a subsidiary of Al Osais International Holding Company, is currently working on a few major projects in Jubail Industrial City (JIC) for the Royal Commission of Jubail and Yanbu.
It is involved in Phase Two of the reinforcement of the community irrigation system under a contract valued at SR58 million ($15.46 million) and Stage Two of the site development works at Mutrafiah, worth SR244 million ($65 million).The first procure-and-build contract is close to completion and in the demobilisation stage, according to Jamil Katrib, general manager of Al Osais MCM Company.
It has entailed the installation of about 20 km of FRP (fibre-reinforced plastic) pressure pipeline of DN 1200 with tie-ins to the existing system to transmit irrigation water to the community in the northwest of JIC. The scope of works has included the construction of concrete valve chambers at one-kilometre intervals, incorporating butterfly valves, dismantling joints, air release valves, washouts and concrete thrust blocks at bends.
According to Katrib, the project has posed a number of challenges as the pipeline crosses under existing roads requiring pipes to be installed through reinforced concrete pipe sleeves using the thrust boring method.
"Radio-operated pressure monitoring equipment was installed at the start and end of the pipeline. In addition, the pipeline has been hydro-tested section-wise as well as entirely," he says.
"The installation work has involved extensive dewatering because of the high water table in the area. It also required shoring, crossing existing utilities at several locations, and encasing with concrete, which has called for close coordination with the relevant utility departments such as roads, irrigation, and landscaping departments, Saudi Electric Company (SEC) and Marafiq," he points out.
Turning to the Mutrafiah deal, he says, the project calls for site development, complete with water and storm drainage, telecommunications and road networks and streetlighting, to facilitate the construction of a housing project. The scope of work includes furnishing all plant, labour, materials, installation, supervision, tools, equipment, technical services, tie-ins, testing and commissioning. The contract, which is 73 per cent complete, is scheduled for completion in January 2013.
The contract is split into two packages. Package One (primary) includes demolition, relocation, storm water drainage, upgrade of roads, main pipelines, pump stations, telecommunication manholes, duct banks, streetlights, traffic signals and landscaping. Package Two (secondary) includes demarcation of lots to accommodate future housing units, construction of local roads, installation of distribution piping systems, major electrical equipment, streetlighting, duct banks and landscaping. Package Two is larger in terms of the volume of work involved, says Katrib.
FRP 1,200-mm-diameter pipes being installed and concrete valve chamber under construction at the community irrigation system at JIC.
Al Osais MCM Company is an affiliate of Al Osais Contracting Company, a multifaceted company with a highly skilled and dedicated team of professionals. Launched in 1972, Al Osais Contracting has achieved continuous success and steady growth with projects worth in excess of SR2 billion ($533 million), particularly in the oil and gas, petrochemical and power sectors.
It has become one of the largest contracting companies in Saudi Arabia with its excellent management capabilities that enable it to carry out project to its clients' satisfaction.
Al Osais' scope of activities covers include construction of civil, electromechanical, telecommunications, high-voltage systems, power substations and overhead transmission.