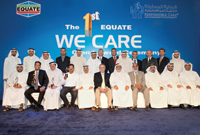 QPIC ... exploring opportunities outside Kuwait
QURAIN Petrochemical Industries Company (QPIC) is progressing ahead with the development of the billion dollar petrochemical complex in Saudi Arabia, with the appointment of IHS to advise on the planning and development of the scheme. Chairman Sheikh Mubarak Abdullah Al Mubarak Al Sabah says that QPIC would lead the development of the integrated polyethylene terephthalate plant to be located at Al Jubail industrial city in Saudi Arabia.
The complex will benefit from paraxylene feedstock to be sourced from a local refinery and comprise purified terephthalic acid (PTA), polyethylene terephthalate (PET) and downstream investments to serve the local, regional and international packaging markets.
QPIC has appointed IHS as owner's advisor to assist in the planning and development of the project. In announcing the engagement of IHS Sheikh Mubarak says: "This is a major investment project for QPIC and we wanted to secure the services of an industry leader to develop our project implementation strategy with speed and confidence."
Jubail industrial city in Saudi Arabia's Eastern province is home to one of the great petrochemical clusters of the world with highly developed infrastructure and access to competitive hydrocarbon feedstock, the city provides an advantaged location for major petrochemical investments.
PET is a high performance, recyclable, polymer, ranking third in terms of volume of global consumption and widely used in textile and packaging applications. The packaging industry values the excellent physical and optical properties of the polymer which is used extensively for water and carbonated soft drink bottles.
QPIC's project will comprise the production of around 800,000 tonnes of PET and 1 million tonnes per year (mtpy) of PTA. whereas part of the PTA will be offered to local markets, and the bigger part to be transferred for downstream conversion into PET resin. The complex will support the downstream conversion industry in Saudi Arabia in the production of bottle preforms, sheet and films for the packaging of food and consumer goods.
Commenting on QPIC future plans, Sheikh Mubarak indicates that QPIC posted net profits of KD20.45 million ($73 million) throughout the first three quarters of the current year the company and it is actively seeking new partnerships with well reputed entities and major financial consulting agencies to pick viable and reliable investments across the GCC and Middle East region, in collaboration with world leading investment banks and consultants.
In Addition to that, QPIC owns stakes in major petrochemical projects in Kuwait such as Equate, The Kuwait Olefins Company (TKOC), Kuwait Aromatics Company (KARO) and The Kuwait Styrene Company (TKSC), as well as, Kuwait Paraxylene Production Company (KPPC).
Qurain Petrochemical Industries Company (QPIC) was established by Amiri Decree in 2004 with a share capital of KD110 million. The establishment of QPIC by the Petrochemical Industries Company (PIC) followed Kuwait Petroleum Company's (KPC) strategic initiative to encourage more private sector engagement in major petrochemical projects in Kuwait.
QPIC is focused on investing directly and indirectly in companies producing, trading and storing chemical and petrochemical products and related by-products, including but not limited to benzene, para-xylene, light naphtha, hydrogen, light ends, heavy aromatics, styrene, ethylene glycol, ethane, and methanol.