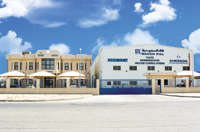 Emerson ... ramping up operations in Saudi Arabia
EMERSON has announced that its Jubail plant which began operations at the beginning of last year will expand production capability in 2012 and broaden the range of valves now being offered.
The facility is licensed to manufacture all Emerson products in the kingdom and has flexibility to add new manufacturing lines in the future with a minimum of delay. It has capability to produce annually 2,000 Fisher control valves, 6,000 Rosemount pressure transmitters and 2,000 valve operating systems under the Bettis and Elomatic brands. A control system staging facility it has installed there is capable of housing up to 100 control system cabinets at any one time.
"The kingdom's drive to source more products locally, together with our marketing efforts for the facility, has stimulated good growth," observes Cobuz Du Preez, director of operations at Emerson Process Management's Jubail plant. Our major customers are insisting that products for even their overseas projects be produced in the facility." The company also has a GCC manufacturing hub in the Jebel Ali Free Zone.
Emerson recently introduced wireless measurement and control products to the market."From the perspective of the factory we plan to add capacity to our valve manufacturing capability in 2012, adding more volumes as well as broadening the range of valve products we manufacture here.
"We will expand our capability to manufacture additional ranges of our Rosemount measurement products. The goal of these expansions is to allow us to react faster to our Saudi customers from a sales, service and manufacturing perspective," Du Preez says.
The company has been assembling control valves at the facility for a large-scale expansion of a petrochemical facility in Jubail on behalf of a Korean contractor. Emerson will work next on a large project for an integrated petrochemical and refining product under negotiation.
Emerson Process Management is involved in many world-scale industrial projects in Saudi Arabia that span the oil and gas, refining, petrochemical, power, water and pharmaceutical industries.
But, says Du Preez, "some of the activities we are proudest of are where we are helping Saudi educational institutions to become more relevant to the young people who attend them." Emerson works with Jubail Industrial College to jointly develop curricula and laboratory infrastructure.
"At Emerson we focus, with our clients, on their business drivers and identify where we can bring the most value from our domain knowledge, expertise, products and execution services. We offer front end engineering design services; we can perform detailed control and safety system design, execution and testing, and we have site services teams for installation and start-up support as well as for providing lifecycle services," says Du Preez.
"We provide measurement and control equipment from downhole and multiphase well monitoring, through pressure, temperature, level, flow, pH and conductivity, to gas and liquid chromatographs and custody transfer measurements. We manufacture control and shutdown valves locally.
"Our DeltaV control and DeltaV SIS safety systems have been recognised internationally for changing the way control and safety systems are implemented. DeltaV's electronic marshalling yields enormous benefits in project cost, schedule and risk, as well as lifecycle costs.