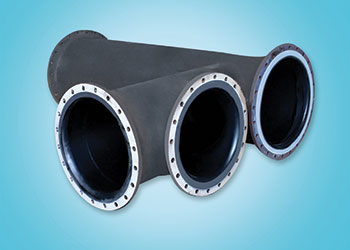 Rotolining ... seamless polymer coating on the interior surface of carbon steel spools
The pioneering company prides itself in serving critical industries such as oil and gas and marine where its unique solutions help clients to boost business
Polycon Gulf, the UAE-based brand is a pioneer and the only company in the UAE to offer rotolining/polyethylene lining technology to the oil and gas, marine, desalination, chemicals and the process industries in the region.
Guided by a strong commitment to quality and service, the company continues to set world-class standards for rotomolding techniques with an innovative range of products and services such as water storage tanks, road barriers, portable restrooms, spill containment pallets, dual-face pallets and polymer lining on the interior surface of carbon steel pipes and tanks.
Polycon Gulf has the expertise to manufacture custom-designed products, which are approved by top security agencies of the world. These products are preferred and used for marine security in many places across the Mena region.

THE IMPRESSIVE JOURNEY
Polycon Gulf is part of Al Nasser Industrial Enterprises, which was established in 1993 by Al Nasser Holdings to set up successful industrial ventures and establish a strong presence in the GCC region.
Al Nasser Industrial Enterprises is a prominent industrial group with manufacturing activities spanning diverse industry verticals such as steel, polymers, fabrication and industrial intermediates.
With three decades of experience in the GCC region, Polycon Gulf is a market leader in the UAE with an equally strong presence across Oman, Bahrain and Saudi Arabia through various joint ventures.
Rotolining is highly effective against crude oil, saline water, wastewater and
most corrosive chemicals
Over the following decades, the goals and strategies initially envisioned have been translated into remarkable achievements resulting in tremendous growth and firmly establishing itself as a private sector leader.
In recent years, without being adversely affected by the 2020 Covid-19 pandemic, the brand has seen growth in both its product and service category in the GCC and outside.
The group's rotolining technique provides for seamless polymer coating to be applied to interior surface of metal structures.
Touted as a best-in-class corrosion protection to metals, the technique gives Polycon Gulf the edge to set a high bar as per international standards.
With proven experience and state-of-the-art multiple manufacturing facilities, the company guarantees the best services in quick turnaround time without compromising on quality.

OIL & GAS SPECIALTY
Oil and gas pipelines are prone to corrosion, which adversely affects the performance of the business in the long run. And although it cannot be avoided, the loss of business can be minimised with the right solutions.
According to a NACE study, the total annual cost of corrosion in the oil and gas industry is estimated to be around $1.37 billion.
Oil and gas constitute a huge business area, which is why the brand offers specialised and unique products that include the patented rotolining technique for carbon steel pipes, fittings and vessels.
Rotolining is a unique process that has recently seen significant advantages in part complexity and material performance.
This technique allows for a seamless polymer coating to be applied to the interior surface of carbon steel spools.
The use of high-performance thermoplastics in rotolining (internal coating) assures that this process will continue to grow and be accepted as an industry standard.
The rotolining/polymer lining is highly effective against crude oil, saline water, wastewater as well as the most corrosive chemicals like acids, alkalis, oxidisers, solvents, and salts.
This technique can be applied on carbon steel pipes, spools, flowlines, fittings, vessels and process equipment, etc. in the form of a protective layer (internal polymer coating/lining) of 2 to 11 mm thickness, enriched with corrosion resistant additives.
This results in fewer breakdowns, significant reduction in the lifecycle cost of assets and reduced maintenance costs, ultimately leading to significantly longer and reliable uptime when compared to other corrosion protection techniques.
In this regard, effective management of corrosion will increase plant availability and reduction in unplanned maintenance, thus saving cost to the companies.
Aside from the oil and gas industry, this technique also serves the marine, desalination, chemicals and the process industries across the region, giving it a much wider scope of operations and projects.

NOTABLE PROJECTS IN THE OFFING
Polycon's durable products are part of various landmark projects that include marine, villa, custom mold products, oil and gas, defence (using the hexagonal military drum) and marine buoys.
Its innovative solutions have been installed in many Drydocks World (DDW) marine projects. In fact, in the last two years, more than 150 ship projects have been successfully executed by the brand.
The state-of-the-art roto molding technique has been critical in projects such as large quantities of water storage tanks supplied for Arabtec and its subsidiary EFFECO, one of the UAE's principal MEP services providers. Polycon has also done many low-cost housing projects in the UAE.

CLIENT-FIRST APPROACH
At Polycon, utmost attention is not just paid to products and services but to client support as well.
In this regard, Polycon prides in many happy clients who come from various industries across the GCC as well as Taipei.
For instance is the Command of Military Works (UAE) where rotomolding a hexagon military drum was customised to the needs of the military, which safely helped dispose of hazardous waste for the client.
Similarly, rotolining techniques were used for chemical injection spools at DDW and with Bio-D Tech for the ETFE rotational lined pipe spools.
Besides products, high-value technical assistance is also provided on case to case basis with a highly experienced team.

BUSINESS BOOST & ND EXPANSION
Polycon Gulf has seen an upward trend in business year on year. In 2022, the brand has witnessed more than 65 rotolining contracts in marine projects alone. This is higher when compared to 2021.
Polycon Gulf has a major presence in almost all of the GCC. The brand is planning to expand its rotomolding and rotolining lines in Qatar as well as other business verticals in relevant markets in the near future.
For Polycon Gulf the invention doesn't stop with the rotolining technique. Some of the world-class products that the company offers to its clients also include hexagonal military drums, multi-purpose tanks, slim tanks, conical tanks, incinerable box for the disposal of hazardous waste.
The market leader manufactures safe, strong and durable products keeping up with changing times.
It prides in innovating and providing unique solutions to its clients. In this regard, Polycon has started services for ETFE Lining, PP Lining, and PVDF Lining.
Besides new products such as multi-purpose tanks, slim tanks and conical tanks were introduced for different industries. This has helped broaden the scope of work for Polycon Gulf in the region.
Looking ahead, Polycon Gulf plans to invest in and introduce PTFE linings for anti-corrosion protection at high temperatures. With this, the company aims to serve high-end applications in the oil and gas industry.