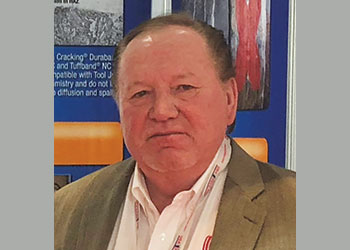 Day ... eliminating hardbanding removal
If the correct material is applied on new assets, the hardbanding is managed through inspection, and reapplication is performed well, the savings in time and cost are substantial, Scott Day from Hardbanding Solutions tells OGN
Hardbanding is the name given to hardfacing technology when applied to the drill string. Its purpose is to protect the tool joints from wear as they rotate against casing and the well bore during drilling operations.
The materials are also designed to prevent damage to the casing, providing lower friction on contact.
The use of hardbanding has become more important as advanced drilling techniques put more pressure on these assets.
However, since casing-friendly hardbanding was first used more than two decades ago, it has been accepted as normal practice to occasionally have to remove the hardbanding, repair the tool joint below it, and reapply a new layer.
Removal is required if there are cracks or other defects in the weld, or if the new hardband material to be applied is incompatible with the previous worn material.
The hard material can be difficult to remove, requiring plasma or specialised grinding equipment.
The remove, repair and re-hardband procedure is time-consuming, expensive, and it reduces the effectiveness of the hardband in comparison to a direct reapplication over the previous worn layer.
"There is no good reason in 2022 why hardbanding should need to be removed. Our goal is to eliminate hardbanding removal for our customers and ensure they are protecting their drill string and casing in the most cost-effective way," says Scott Day, Middle East Hardbanding Manager for Hardbanding Solutions.
There are a series of steps any drill string owner can take to eradicate hardband removal.

HARDBANDING MANAGEMENT
An automatic plasma system quickly removes hardbanding from drill pipe tool joints
Hardbanding can be ordered on new drill pipe, HWDP and drill collars from the manufacturer.
Adding it to the purchase specification ensures that the new assets will not be downgraded or taken out of service prematurely due to tool joint wear.
If managed properly through timely inspection and reapplication, there is no reason why drilling tools should ever be taken out of service or downgraded due to wear of the tool joint.
More long-term and substantial savings are only realised if the hardbanding, once worn, is reapplied at a local service companies premises, or at the customers chosen location by a mobile hardbanding unit.
Duraband® NC is always applied 100 per cent crack free, so when it eventually wears (according to independent testing, Duraband NC is extremely abrasion resistant), a second layer can be applied quickly and easily over the first.
Asset owners should avoid accepting hardbanding materials on new pipe which crack, or which are prone to complications when it comes to reapplication. Some materials marketed as crack-free will sometimes crack on reapplication.

PRODUCT SELECTION
Crack free hardbanding
With several hardbanding materials on the market, narrowing the field appears to be a daunting and intimidating task, but it does not have to be if a few rules are kept in mind:
Choose a 100 per cent non-cracking hardbanding, and beware of 'crack-resistant' products, it does not mean the same thing.
Ensure that the material manufacturers welding procedures are explicit, clearly described, up to date, cover all aspects of the hardbanding process and are endorsed by a notable third-party company, such as Fearnley Proctor's NS-1 accreditation program.
When it is time for reapplication, it is important to know the compatibility with the previous worn product.
Any service company applying hardbanding should have passed a certification process offered by the hardbanding material manufacturer.
Some products on the market will be applied crack-free on first application, but on later reapplications, when the chemistry of the hardband is less affected by dilution from the tool joint base material, they can begin to fail.
Reliability is the key to the optimum hardbanding material.
Judicious control of the chemistry, the amount and type of carbides involved in wear resistance and casing protection, is essential to providing a material which will give the highest cost savings for the lifetime of your assets.

SUPPORT
Timely inspection of hardbanding keeps drilling tools in service
Any product which is used in our industry must carry sufficient local technical support from the manufacturer.
Hardbanding Solutions has taken its responsibility in this regard very seriously, especially as the uptake of Duraband NC in the Middle East has grown.
This is achieved through holding product in Jebel Ali and Dammam for fast delivery, as well as training and improving the company's licensed network of applicators.
"We also visit end-users to give technical presentations and recommend how to add value to their assets by protecting their tool joints with hardbanding," says Day.
"We have also delivered several Skye hardbanding machines to the region, which give service companies the most modern technology to ensure quality and consistency of application," he adds.
The company's solution is to support its applicators by training them on their own equipment as they learn the hardbanding procedure to Hardbanding Solutions' own high standards, at no cost to them.
"We also understand that our end-users have many other aspects of the drilling process to be concerned about other than hardbanding, so we offer to be that resource," Day says.
"We make ourselves available to provide technical support and advice to drill pipe owners, and we like to be involved with every job undertaken in whatever way, and to whatever degree we are needed."

THE END OF HARDBAND REMOVAL?
Hardbanding Solutions are aiming to improve the way drill string protection is managed and understood in the Middle East region. It is possible to eliminate costly hardband removal from our industry.
The knowledge in procedure and the reliability in material to achieve this goal already exists.
"If the correct material is applied on new assets, the hardbanding is managed through inspection, and reapplication is performed well, the savings in time and cost are substantial," concludes Day.
In September 2022, Hardbanding Solutions launched a new online resource for drill string protection that can be found at www.hardbandingsolutions.com.

Hardbanding Solutions will be exhibiting at Stand 7410 at Adipec.