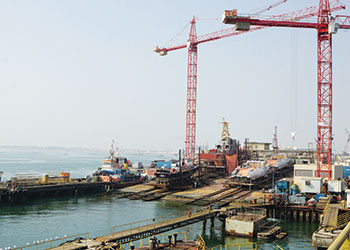 Basrec has two 80-m-long slipways of 1,000-tonne capacity each
The leading ship repair yard has built upon over 59 years of continuous success making it one of the most experienced and reliable in the region, N E Saadi tells OGN
From visitor to exhibitor, leading ship repair yard and engineering company, Bahrain Ship Repairing and Engineering Company (Basrec), will be debuting at Adipec against the backdrop of improving business at the start of this year.
"Our main aim in participating at Adipec is to update our prospective clients of our achievements and serve them better in their needs of ship repairs and maintenance works," N E Saadi, Basrec Director and CEO, tells OGN.
The company, which has clients all over the Middle East, will also use the event platform to growing its client base far beyond this region.
Since its establishment in 1963 in Bahrain, Basrec has covered a wide range of repairs and maintenance on vessels working in and around the Arabian Gulf.
Its workforce has built upon over 59 years of continuous success making them one of the most experienced and reliable in the region.
Over these years, Basrec has developed expertise in a wide range of domains in ship repair, including metalock cold stitching, welding, bollard pull test, small boat repairs, electrical and electromechanical works, steel and aluminium repairs, pipework, fitting, and laser and optical alignment.
Additionally, it is adept at fibreglass works and repairs, machine shop, propeller repairs, helifusion welding/cladding, painting/coating, machining works, hydraulic repairs, pump repairs, container repairs, hull thickness gauging, service agency appointments, and provision of mobile repair teams.
Basrec facilities include a floating dock 120 m by 18.5 m (inside walls) with a lifting capacity of up to 6,000-tonne deadweight, two 80-m-long slipways (of 1,000-tonne capacity each), and two repair quaysides, a 6-m minimum water depth and can accommodate vessels of up to 170 m in length.
The company complies with ISO 9001:2015 (Quality Management), ISO 14001:2015 (Environmental Management), ISO 45001:2018 (Health and Safety Management), Cyber essentials (Information Security) and ISPS (International Code for Security of Ships and Port Facilities).

EXPANSION PLANS
Basrec is in the process of acquiring a new floating dock with a lifting capacity of 7,500 tonnes.
It also established a specialised modern fully equipped independent workshop for repair and overhaul of all types of marine diesel engines, and negotiations are underway with well-known diesel engine builders in the international market in this regards.
Basrec will grab any opportunity that comes its way.
FUTURE OUTLOOK
Saadi says Basrec's outlook for 2022 is positive, and the company's focus will be on maintaining its strong financial position and preparing for any new challenges, in order to ensure its growth.
"Since the global pandemic hit, it slowed down most of the businesses. However, with the beginning of 2022, we have seen a potential increase in ship repair works in the marine industry," he says.
In Saadi's view, the emergence of new technologies and applications in ship building has completely changed the ship managing process, adding this will make things more challenging in the industry. Basrec successfully weathered the Covid-19 pandemic because of its flexibility, turning 2021 into a profitable year.

Basrec will be exhibiting at Stand 13713 at Adipec.