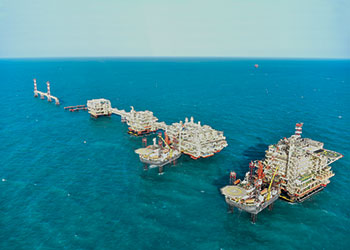 NMDC has in-house capabilities to develop critical offshore oil and gas projects
Among other displays, NMDC will highlight its expertise in renewable energy, green energy and CCS projects and reaffirm its continued commitment to supporting oil and gas projects in reaching and maximising their full potential
Adipec has become a staple event in the National Marine Dredging Company (NMDC) Group's calendar, and it is looking forward to participating in this year's edition and showcasing its commitment to the region and its economic growth as well as its plans on supporting the UAE's commitment towards achieving net zero emissions by 2050.
Speaking to OGN, Eng Yasser Zaghloul, the Group CEO for NMDC Group, says: "Adipec has evolved into one of the world's most impactful gatherings, bringing together the energy ecosystem to engage and identify new opportunities that will address some of the sector's most pressing challenges and unlock new value in a constantly evolving energy landscape."
NMDC's participation in Adipec 2021 was one to remember, he says.
"Among many momentous milestones in 2021 was signing an agreement with Adnoc to implement the Dalma Gas Development Project, as well as signing business cooperation agreements with regional EPC players to explore joint participation in major oil and gas projects in the Mena region."
This year, NMDC will explore new business opportunities, build new relationships with its peers, and, most importantly, showcase the group's reinvigorated capabilities and explore potential avenues in alternative and green energy.
The company is also looking forward to joining global NOCs and other major industry players and learning about the latest technologies and innovations that are positively disrupting and transforming the industry.
In addition to its full range of capabilities, NMDC will this year, highlight its expertise in delivering renewable energy, green energy and carbon capture and sequestration/storage (CCS) projects and reaffirm its continued commitment to supporting oil and gas projects in reaching and maximising their full potential.
NMDC's Ghasha suction hopper dredger
"We are also excited to share some of our most recent accomplishments including the newly formed joint venture, NT Energies, which was established to support the energy transition in the UAE, the region and North Africa," Zaghloul says.
NT Energies is the result of NMDC group company, National Petroleum Contracting Company (NPCC), signing a JV agreement with engineering and technology energy transition specialists Technip Energies. It aims to provide added value services in blue and green hydrogen and related decarbonisation projects and CO2 capture.
Additionally, NMDC will highlight some of the group's major prestigious projects underway for Adnoc Group and Saudi Aramco including:
FEED and EPC for Belbazem Block Development Project worth $740 million for Al Yasat Petroleum.
EPC of Dalma Gas Development Project for Adnoc worth $515 million.
EPC of Umm Shaif Long-Term Development Phase-1 under the US LTDP-1 Program worth $946 million.
EPC works for a new main gas line under the Lower Zakum LTDP-1 Program for Adnoc worth $548 million.
Five major field development and upgrade projects in Zulf, Manifa, Ju'ayma and Jafurah Fields with a collective value of over $3,226 million.

AN EPC POWERHOUSE
As a major marine and EPC leader, NMDC and its companies have complete in-house capabilities and know-how in developing and delivering critical onshore and offshore oil and gas projects involving FEED, engineering and design, procurement, construction, project management, transportation and installation, pre-commissioning and commissioning.
By getting involved early on with clients in projects of national importance, NMDC delivers complete EPC solutions with a proven track record, to the highest HSEQ standards, which distinguishes it as a standout performer in the oil and gas EPC business.
With well-developed procedures and industry approved practices in place, NMDC has achieved great success in winning major projects in the UAE and Saudi Arabia as well as other regions such as Southeast Asia, and Africa, more specifically, Egypt.
"We are also constantly engaged in discussions with IOCs and NOCs and join their development programmes at early stages and are involved during the design and engineering at the FEED and EPC Bid preparation stage," says Zaghloul.
This benefits the clients in optimising the design and engineering of the project, and in effect, reduces the bidding and project execution cycle times, as well as realising major savings in project costs.
NMDC's record-breaking performance speaks of continued client confidence in its capabilities.
During the last couple of years, the group has won projects in new geographies such as Southeast Asia, Malaysia and Taiwan in particular, and established itself as a trusted EPC contractor in delivering critical projects of greater importance to address the growing oil and gas demands in the region.
"Looking to the future, we plan to walk the talk through our strategic diversification focusing on building exceptional capabilities in the energy and marine business sectors during the next stage while ensuring our company is future proof for more success," concludes Zaghloul.

NMDC Group will be exhibiting at Stand 6130 at Adipec 2022.