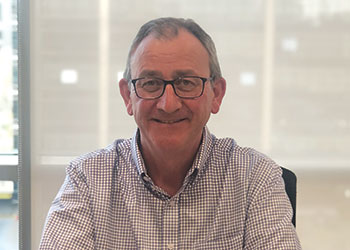 Fallon ... one-stop solution provider
Adipec is a valuable platform to demonstrate offering for the oil and gas industry and to showcase a wide range of products and turnkey solutions that will enhance performance and increase efficiencies, says Pat Fallon, Deputy CEO
Byrne Equipment Rental, one of the oldest equipment rental companies in the Middle East will be showcasing its fully managed onshore and offshore turnkey camp solutions for the oil and gas industry at this year's Adipec in Abu Dhabi.
In tandem with its sister company Spacemaker, Byrne has a team of modular building specialists who can design, manufacture, install and service any configuration of camp accommodation, whether full scale static or mobile main camp, or rig camp, from 10 to 10,000 people.
'Our complex purpose-built structures can be utilised for multiple purposes including VIP, senior and junior accommodation, fly, rig camps and accommodation villages, kitchens and supporting catering facilities, sanitation, mosques, recreation, prayer rooms and more,' Pat Fallon, the company's Deputy CEO tells OGN energy magazine.
Byrne's complex purpose-built structures can be utilised to serve
several functions
A fully managed one-stop solution provider, Byrne can not only provide the buildings but also supporting equipment to facilitate the entire running of the camp including power generation, external lighting, water supply, sewage treatment plants, integration of fire suppression and detection systems, furnishings, and remote site installation.
In addition to its camp solutions, Byrne will be showcasing its wide range of DNV-rated equipment including portable steam boilers, climate control, hoist and access, compressors, power generation, hybrid power, and cargo containers.
It will also be demonstrating its capabilities to provide support for all major shutdown, turnaround, commissioning, and expansion activity with HSE efficiency and productivity.
Over the last three decades, Byrne has established itself as a leading provider of unique services dedicated to the downstream industry, ranging from utilities to life saving applications which typically govern any shutdown or turnaround related activity.
'Our focus this year at Adipec, as with previous years, is to not only demonstrate our product and service offering but also to network with existing and prospective clients and connect with other exhibiting companies in the industry,' says Fallon.
Camp delivery of any size and type can be delivered whether 10 or
10,000 people
He says: 'We are looking forward to seeing what new technologies, trends and solutions are in the market, and particularly this year, we are looking forward to gaining insight into the UAE's energy transition roadmap, which is a focal point of this year's Adipec exhibition.'
Over the past few years, the UAE has implemented several projects to support its overall drive towards reducing carbon emissions, and the country is adopting a balanced, proactive, and positive approach to the energy transition that is pro-growth, pro-sustainability, pro-prosperity, and pro-climate.
Fallon says Byrne is taking steps towards a sustainable future by applying green solutions to its fleet, which includes solar powered equipment and power solutions.
'This is a step in the right direction and we are looking forward to broadening our insight into the UAE's energy transition, learning about various initiatives and see what other companies are adopting in line with it.'
With regards to technology, various advancements are transforming the oil and gas industry, from big data and analytics, which can help businesses reduce operational costs and carbon emissions, to 3D modelling and visualisation to automation in oil and gas.
Lifting frames ... secure transportation of cargo equipment to offshore
work locations
Automation technology is proving an attractive cost-saving investment for the oil and gas industry and it is increasingly applied to processes and procedures in the exploration and production value chain resulting in reduced costs, as well as increased levels of productivity and efficiency.
Automating many tasks also reduces the demand for skilled labor, and combined with technology, it will continue to improve the overall efficiency in oil and gas supply chains.
'It will be interesting to learn more about this by connecting with companies who are dealing with this first hand and broaden our knowledge of this within the oil and gas sector,' says Fallon.
Byrne has been exhibiting at Adipec for many years and looks forward to returning each year as the exhibition presents it with an important opportunity to network with new and existing clients and industry friends.
Fallon says: 'It is a valuable platform for us to demonstrate what we have to offer the oil and gas industry and enables us to showcase our wide range of products and turnkey solutions that will enhance performance and increase efficiencies. Adipec has always presented the company invaluable exposure and networking opportunities over the years and it has secured significant ROI. This is why we continue to exhibit year after year as it is an important tool for the growth of our business and awareness of our brand,' he concludes.
Byrne's product range is built upon its successful 'one stop solution' model to meet a wide array of equipment rental requirements for clients across various industries, including oil and gas, construction and infrastructure, events, manufacturing and logistics, medical, retail and commercial, marine and ports and defense and military.
Over the past 30 years, the company has built a dedicated team of 1,500 people spread across 20 operational bases in the UAE, KSA, Oman, and Bahrain, and has amassed an extensive fleet of over 14,000 items of equipment, enabling operational efficiency through equipment rental and lease solutions.
Along with its rental business, another arm of the Byrne Group portfolio is Yas Petroleum.
Yas Petroleum provides a fuel management and distribution service across the UAE and, utilised in conjunction with Byrne's equipment rental services, it enables Byrne to offer a complete end-to-end supply solution to clients.

Byrne Equipment Rental will be exhibiting at Stand 11630 at Adipec.