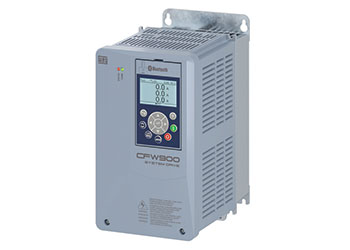 The CFW900 with increased power density
WEG, a global motor and drive manufacturer, will launch its new variable speed drive (VSD) for the oil and gas sector, the CFW900, and the Motion Fleet Management (MFM) digital tool for asset management, at Adipec.
Its VSDs range boasts increased power density, speed control in industrial applications and can be used to greatly improve efficiency in oil, gas and petrochemical applications.
The CFW900 integrates with a range of new digital tools such as MFM, a control and monitoring tool for the operation of industrial assets including compressors, pumps and fans, using cloud computing and the Internet of Things (IoT).
The MGM generates valuable real-time insights on motors, drives and other industrial assets, allowing engineers to make informed decisions about the efficiency and effectiveness of assets — leading to improvements in production processes.
Also showcased at Adipec is WEG Motor Scan, a remote and intelligent monitoring device for electric motors, which is used within MFM.
The technology uses artificial intelligence (AI) and machine learning (ML) to diagnose, monitor and indicate predictive maintenance in electric motors, gearboxes, pumps compressors and other plant assets.
Marek Lukaszczyk, Marketing Manager for WEG Europe and the Middle East, says: "Digital technologies are becoming increasingly present in all manufacturing operations and the oil and gas sector is no exception. A key part of WEG's ethos is to help our customers meet their efficiency goals — and the products we are launching at ADIPEC will certainly do this."
The CFW900 and the MGM are now available to the Middle East market.

WEG will demonstrate both technologies at Adipec at its Stand 11420.