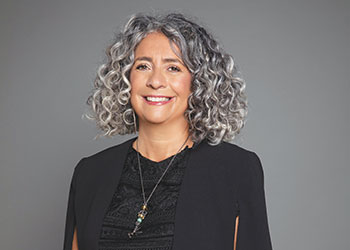 Raggi ... room for improvement in DEI initiatives
The industry must improve its perception as a home for talent, and more women need to be encouraged to take up STEM as a field of study, Celestina Raggi, Vice-President of Human Resources Middle East & Africa, Emerson, tells OGN
The future of work is upon us: Across industries, organisations are evolving to attract, retain and develop a new generation of future leaders into their workforce.
The pandemic and a strong global commitment towards sustainability and decarbonisation have acted as catalysts that are transforming organisational makeup all over the world.
The oil and gas industry has also been acting earnestly to accelerate diversity, equity and inclusion programmes across their organisations to ensure they compete for the best talent and create sustainable future businesses.
While these initiatives are not new, progress has been slower than expected, with several barriers to success that need to be addressed.

BARRIERS TO SUCCESS
There are several problem areas that need to be addressed around diversity and equity in the workplace, especially in the oil and gas industry.
Firstly, a smaller proportion of women choose science, technology, engineering, and mathematics (STEM) programmes as they look at graduate and post-graduate education. Only 27 per cent of women choose a STEM programme despite them making up as much as 54 per cent of post-secondary students.
Secondly, the appeal of the oil and gas industry as a talent destination has been steadily declining. A decade ago it was the 14th most attractive employer, but today it stands in 35th position, according to a study across 40 industrial sectors for STEM students.
The net result is a declining talent pool for entry-level positions. Organisations need to step up their initiatives to promote both STEM education and the oil and gas industry as career choices, and partnerships with local communities and academia are now more critical than ever.
Another problem is the talent pipeline and the way it is being managed across the organisational all levels.
While women occupy as much as 35 per cent of entry-level positions across the industry, these numbers decrease as you climb higher on the corporate ladder, reducing to as little as 10 per cent in executive leadership.
This is due to two main reasons; firstly, far fewer women get their first promotion from individual roles into entry-level management. This is known as the 'Broken Rung Problem', and it creates an imbalance that only gets worse as you progress on the corporate ladder.
The lack of promotions at entry-level increases the likelihood that women get ignored or overlooked for middle-level management and senior roles, and the organisational makeup progressively gets skewed towards men in the workplace creating a cycle that is difficult to break.
A likely reason for this is unconscious bias. It has been observed that women having high-performance levels often get passed up or 'overlooked' for promotions and bigger opportunities.
Furthermore, there are often expectations that employees need to take up diverse assignments to progress to bigger roles.
In combination, this means that the industry loses a lot of women talent early in their careers.
Organisations need to be cognisant of this perception as a staller, work on ways to weed out bias, and improve first-level promotions for women to improve their chances of success as their careers move forward.
Another hurdle often seen is the progression from middle and higher management into executive positions.
According to McKinsey, as we move from vice-president to senior vice-president roles and above, the proportion of women represented in the industry declines as much as 38 per cent — almost twice when compared to other STEM companies and other industries.
Again, here the broken rung problem at the entry-level manifests into the "Hollow Middle" problem, where the organisation has not developed enough female middle management to consider for more senior assignments.
This is compounded by another interesting aspect: Women are more likely to hold functional responsibilities, which are readily transferrable to other industries, and during periods of industry disruption, a lot of female talent moves over to other industries from the oil and gas sector.
In a nutshell, at this level in the organisation, there is a very small talent pool available for promotion into an executive role.
A meaningful approach to this would not only need a rigorous focus on development, training and mentorship, but also a robust talent acquisition strategy that looks at bringing over external talent that might currently be in other industries.

EMERSON MEA'S DIVERSITY AND INCLUSION FRAMEWORK
Emerson MEA has a vibrant Diversity, Equity and Inclusion (DEI) programme that was launched in 2017.
Since its launch, the company has made considerable strides in enhancing its performance across key focus areas, such as affirmative action, talent and professional development, strategic partnerships, and a strong culture focus through its our strategic DEI framework.
In order to measure success in MEA, Emerson has quantified goals around diversity for leadership composition, hiring, promotions and development.
The programme has become an inherent part of the regional company culture, which is now home to over 54 nationalities with very strong employee satisfaction rates and one of the lowest voluntary turnover rates in the industry.
Emerson's MEA leadership team composition has progressed in terms of female participation from 10 per cent in 2017 to 30 per cent today, with a quantified goal to reach 50 per cent by 2030.
To ensure a strong pipeline of female talent, the company has focused on creating a diverse slate of candidates for all new job openings. In 2022, as much as 53 per cent of all new hires and 30 per cent of internal promotions were awarded to women.
As part of its organisational review process, Emerson MEA has identified female successor candidates for over 50 per cent of critical job functions in Middle East and Africa.
As the company progresses on identifying candidates and laying out the path for them, it has a very strong focus on talent development.
Emerson MEA has a multi-tiered development programme, which focuses on formal upskilling, structured action learning programmes as well as formal and informal mentorship under key leaders across Emerson globally.
The objective of this programme is to ensure that as it expands the talent pool available, it equip them with the skills, exposure, and experience to move on to bigger opportunities.
Emerson MEA has a strong emphasis on strategic partnerships across industry, academia, and youth to support its future talent needs.
In 2020, Emerson recruited over 31 engineering students from 11 nationalities as part of its collaborative internship programme with the Rochester Institute of Technology (RIT Dubai).
More recently, Emerson signed an MoU with Abu Dhabi Polytechnic in February 2022 to support the latter's STEM students through learning programmes.
This year Emerson also kick-started its UAE National Graduate Programme, a rigorous two-year rotational programme that will propel Emerson's objectives around Emiratisation and local talent.
Emerson has been recognised by Forbes ranking in the top 500 diverse companies to work for (#298), and by Women Engineer Magazine as the Best Employer for Women (#12). Most recently, Emerson's president in the Middle East and Africa region, Vidya Ramnath, received the Women In Energy Leadership award at the Egypt Petroleum Show (EGYPS) 2022.

CONCLUSION
Although there has been good progress in diversity, equity and inclusion (DEI) initiatives in the oil and gas industry, there is still room for improvement.
There must be a conscious effort to improve the perception of the industry as a home for talent, and more women need to be encouraged to take up STEM as a field of study. For leading companies in this space partnerships with youth, academia and institutions are of critical importance.
Secondly, there must be a strong focus on talent development that supports organisational objectives around the promotion of women and the proportion of composition change.
Finally, diversity, equity and inclusion initiatives must go hand in hand with cultural change that fosters collaboration and inclusivity to create a sustainable organisation for the future.