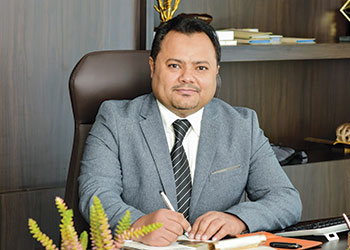 Zaman ... saving operators' costs
Innovar has helped clients avoid wells failures and claims it hasn't recorded a single failure from 2020 to 2022 when using its technology despite various activities with many different clients
Innovar Solutions, a fishing and wellbore cleaning specialist, emphasises the need for wellbore cleanup since unclean wells can lead to failures and heftily cost operators in downtime.
Wellbore debris is blamed for a third of all failed completions runs globally, while debris could result in multiple runs being required to set and test the completion, wireline or coil type mechanical or inflatable bridge plugs.
"For the operator, these are costly additional runs, and unnecessary non-productive time (NPT) that result in lost revenue," Qamar uz Zaman, Operation Manager Middle East at Innovar Solutions East, tells OGN.
The WirlTool cleaning tool draws debris
He explains, for instance, for fishing operations, conventional fishing techniques require expensive bottom hole assembly (BHA). The unknown here is if the fish has been engaged. This could result in potentially multiple runs, making the operations costly and incurring expensive NPT thus resulting in lost revenue.
Similarly, for blowout preventer (BOP) cleaning, conventional techniques utilise a jetting sub. But these have the potential to damage seals, and/or the seal face from water cutting, resulting in the BOPs being removed and dismantled. Here again, this results in costly repairs and lost revenue. 
But Zaman says Innovar has an alternative solution for wellbore cleaning, fishing, and BOP cleaning.
He explains: "Innovar provides field-proven, highly successful, easy-to-use magnets for wellbore cleaning and fishing operations to assist our customers increasing uptime and reducing costs."
These solutions have been developed for harsh environments, he says.
Through investment in R&D and from its own experience, Innovar has developed the Wirltool for BOP cleaning.
"The Wirltool generates a venturi effect when the horizontal flow passes the BOP cavities, sucking out debris from these. And combined with Innovar's powerful Magnum and Innomag magnets, customers you are ensured of the most efficient well cleaning assembly available," Zaman explains.
A Magnum fishing magnet ... feature laser focus magnet technology
Innovar tools, including Magnum and Innomag magnets and the Wirltool, offer many features and advantages:

• Magnum Fishing Magnets: These magnets feature laser focus magnet technology that centre the magnetic field focused towards the fish with no disturbing magnetic field towards the pipe wall. They also ensure up to 2,800 kg lifting capacity and a working temperature of 160 deg C. Also available is magnetic shielding for flight/helicopter, certified according to IATA regulations. This allows for quick mobilisation, thus reducing the time waiting for equipment.

• Innomag and Innomag HD String Magnets: These include traditional WBCU string magnets and heavy-duty string magnets for milling operations. Amongst their numerous features are their extreme magnetic range, due to the large magnet mass; large fluid by-pass; and easy cleaning and maintenance.

• Wirltool: This BOP cleaning tool creates a powerful circular flow pattern that establishes a vortex that draws/pulls debris from the BOP cavities and crevices. It minimises the risk of water cutting the BOP sealing elements as opposed to traditional jetting tools. The tool also reduces the risk of failing BOP pressure tests caused by metal shavings, prevents expensive and time consuming maintenance of the BOP on surface, and reduces spilling of mud on deck when the riser is laid down.
Innomag string magnet with
Furthermore, Innovar acquired new equipment this year, including its own patented combo scrapper and brush tool for wellbore cleanup services.
It also has other industry-leading technologies, such as powerful industry fishing flat bottom magnets, for slick line, E line, wireline, coil tubing, and string; and heavy duty string magnets for milling, sidetracking and cleanout.
Innovar also offers jet bailers for the slickline industry. These are bailers but with the additional advantage of having a jets on it.
"More tools will be added by the yearend, but more importantly new tools and technology will be developed especially for the regional market," says Zaman.

REGIONAL EXPANSION
Innovar Solutions has 20 years of experience in design, development and manufacturing of high-quality products.
Furthermore, Innovar solution has laid out ambitious plans to invest in Saudi Arabia and contribute to the local economy.
Localisation of manufacturing and manpower weighs heavily with Innovar Solutions, which has been spending steadily on expansion since it started operations in the Kingdom of Saudi Arabia in 2018.
The company marked a strong local presence when Innovar Solutions Middle East through its local partner DPC Drilling Performance Contracting Company formed a joint venture in the Kingdom named Innovar Solutions Saudi Company.
"We formed this JV to show our serious plans in Saudi Arabia for expansion and to increase localisation, which will eventually help us increase our business and our participation in Saudi Aramco's In-Kingdom Total Value Add (iktva) programme," says Zaman.
The company aims to add value to the local economy by employing robust Norwegian technology, which Zaman claims has no match in the market.
One of the many unique technologies it wants to promote is the strong laser focused magnet.
Innovar has been successfully helping clients clean their wells and avoid failures.
It claims it has hasn't recorded a single failure in the period from 2020 to 2022 while using its technology despite all-round activities with so many different clients.
Zaman says Innovar is the go-to company for anything related to well services. "We contribute R&D services or custom designed tools for that occasional challenge that occurs during the drilling of wells."
At its base in the Jurah district, the company has a fully-organised and ISO-certified workshop.
In future plans, it will to start manufacture its new requirements in the Kingdom to add local value.
"All our new equipment and technology will be entirely manufactured and fabricated locally in the Kingdom. And in fact we have already started some local manufacturing and fabrication locally," says Zaman.
Innovar Solutions Saudi Company is ISO 9001, 14001 and 45001 certified, and it meticulously follows the ISO standards for a safe work environment, both for its people and company assets.
The company will be moving to the King Salman Energy Park (Spark) in the coming years since that serves it well in its upcoming contracts.