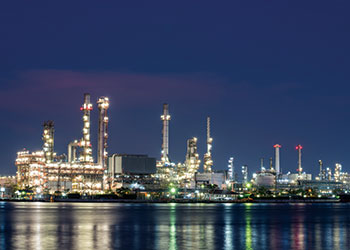 Refineries need high quality lighting for safe operations
Holistically-designed digital LED technology offers a sustainable solution that ensures long life, reduced maintenance, optimised energy usage, and reliable performance to benefit all parts of the plant, Daniel San Bernardino from ZALUX tells OGN
As hazardous areas, refineries present a challenging environment for lighting solutions. A combination of harsh environmental conditions and the need for high quality lighting to help ensure safe operation, mean lighting systems need to meet some very stringent requirements.
But what do modern lighting systems offer and what factors should operators consider when selecting luminaires to cover the varied needs of areas throughout the plant?

CHALLENGES OF A REFINERY ENVIRONMENT
Ensuring safe operation must be the highest priority and lighting solutions must comply with the strict safety standards in accordance with ATEX and IECEX regulations, or even UL products designed for the US market, as well as the most demanding of end-user specifications.
Bernardino ... optimising energy usage
The quality of the equipment should also guarantee its performance in the challenging areas found throughout a refinery facility.
Other issues when selecting an overall lighting installation include the variety of areas in which luminaires need to be fitted, such as storage tanks, cooling towers, walkways, staircases, catwalks, and platforms, both indoor and outdoor, which may have differing requirements and difficult to reach for maintenance purposes.
Luminaires may need to handle extreme temperatures as well as wind, rain, dust, and highly corrosive salt aerosols.
Depending on location, they may further be subjected to vibrations, corrosive gases or chemicals, and extreme soiling from dirt, grime, or oil mists.
Luminaires should provide extreme dust and impact protection with robust mounting to guarantee performance over long periods.
Construction also needs to be resistant to corrosion from sulphur and other chemicals in the atmosphere. Copper-free aluminium alloys will provide greater resistance to chemicals and the resulting corrosion of the luminaire.
Lighting further needs to be at the right level and quality to ensure operators can carry out their tasks safely and efficiently.
Above and beyond this, however, energy consumption is an important factor. Refineries operate 24/7 and the operating cost of a lighting solution in terms of energy must be considered as part of the overall cost of an installation.
Digital LED lighting solutions offer significant energy savings, much greater sustainability, longer life, and easier installation and maintenance.
Integrated smart solutions, such as DALI and Bluetooth, further enable the control of luminaires in terms of occupancy and daylight levels, with sensors ensuring the light is only on when and where it is needed. But how and why do these units provide such excellent return on investment?

REDUCING ENERGY COSTS
Bernardino ... optimising energy usage
LED is the most sustainable, tested, and proven technology available on the market today.
It can reach remarkable levels of efficiency and, with values above 200 lm/W, performs two or even three times better than traditional technologies, such as discharge lamps or fluorescence.
This equates to a remarkable 50 per cent saving in energy. Combined with the integration of smart technologies to control and configure lighting settings based on sensors detecting luminosity or presence of personnel, a modern lighting solution can nett around 80 per cent operational cost savings compared with traditional lighting technologies.
Such technology reduces wasted electricity and means lighting is provided at the level required and only switched on when it is needed.
By incorporating the lighting system into a communications network and using simple software, site managers can further begin to understand the behaviour of the lighting and its energy consumption to enable even greater energy efficiencies.

ENSURING ROBUST, RELIABLE, EFFICIENT PERFORMANCE
The lifetime of a luminaire depends on a combination of construction materials and design.
Glass, a traditional material choice for luminaires, is fragile and has a relatively lower impact resistance compared with more modern materials, such as PMMA.
Glass can, therefore, reduce the life of a product and increase overall maintenance overheads. It is also a much heavier material than PMMA, so traditional luminaires made of glass require more effort during installation and maintenance.
In addition, linear luminaires with copolymer covers are lighter than those with aluminium covers.
The lifetime of LED modules within a luminaire is affected by the temperature the module reaches and how external behave.
A design that uses a large casing and aluminium profile inside the luminaire will dissipate heat and reduce the internal temperature, thereby extending the life of the unit. Good electrical control will also extend life and reduce temperature.
In regions where extreme temperatures are experienced, units need to further offer a wide temperature operating range (at least, up to 55 deg C) to ensure long, reliable performance.
Even some lighting fittings can operate in an ambient temperature of 75 deg C, like OREx, from the Spanish manufacturer ZALUX, who is focused to meet Middle East requirements.

REDUCING INSTALLATION AND MAINTENANCE OVERHEADS
Refineries need high quality lighting for safe operations
LED technology offers up to 10 times longer useful life than conventional technology, significantly reducing maintenance overheads. Moreover, modern luminaires are available as a direct replacement for traditional fluorescent units, making the changeover incredibly straightforward.
The use of wireless intelligent controls can further optimise life expectancy and the data collected can enable predictive, rather than time-based, maintenance, while facilitating installation.
Many of the places where luminaires need to be installed may be difficult to reach, adding to maintenance difficulties and increasing safety risks.
However, the use of plastic housings (for example, made of PMMA), creates a lightweight solution that is easier to handle and install.
A selection of versatile and easy mounting options, including suspended installation, surface mount brackets, installation in poles or ceilings, will reduce installation costs.
Features such as the ability to use existing wiring, necessary EX quick fit accessories, long cables for direct connection to junction boxes, and wireless technology will all help lower the overall cost of a lighting solution.

MEETING THE WIDE AND VARIED NEEDS OF A REFINERY
Tank, oil storage, stairs, processing, maintenance, pedestrian, chemical product storage, and warehouse areas all have differing needs and requirements.
Finding a single vendor — registered with EPC and end users — that can meet all these requirements, with products approved to relevant safety and end user specifications, reduces the difficulties in installing new, more energy efficient lighting in existing or new refineries.
Choosing a manufacturer that also provides comprehensive lighting studies to ensure appropriate lighting in each of the different areas within the refinery will also give greater peace of mind and confidence that the best options are being utilised.
Maintenance areas with pumps and equipment with flammable fluids or chemical product storage areas require luminaires with high resistance to the chemicals present.
A gas-tight luminaire, such as STRONGEx, made by ZALUX in Spain, will stop gases entering the luminaire, which could damage electrical components within the unit, and a robust PMMA profile will give units resistance against both impacts and chemical agents.
Also from ZALUX, OREx is a high bay luminaire with a copper-free aluminium alloy housing, which resists corrosion from ammonia or hydrogen sulphide produced during oil processing, which will further ensure reliable, long operation.

SUMMARY
Lighting is an important safety and energy consideration for a refinery, but each installation has varied and demanding requirements.
Holistically-designed digital LED solutions offer a sustainable solution that ensure long life, reduced maintenance, optimised energy usage, and safe, reliable performance to benefit all parts of the plant.
The right luminaires also provide high resistance to environmental conditions and easy installation.
The wide variety of lighting solutions required throughout a refinery requires a broad range of versatile solutions and options to meet the unique challenges each operating area presents.
Having a guarantee from a well-known manufacturer will also offer the assurance refineries need.
ZALUX is showcasing its new addition to its innovative STRONGEx range of luminaires at this year's Adipec exhibition at Stand CN10 in the Concourse area.

*Daniel San Bernardino is ZALUX Business Developer Manager for hazardous area lighting and EPC projects. He has wide experience in projects for oil and gas, petrochemical and energy applications.