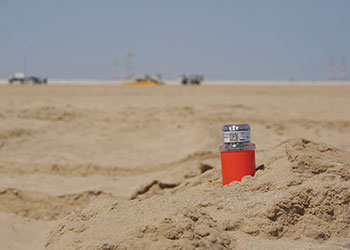 STRYDE's nodal system is easy to deploy
After decades of relying on cabled nodes, STRYDE is encouraging the sector to trial its miniature nodes to fully appreciate their powerful data capture and field efficiencies, Chris Einchcomb, Geophysical Consultant at STRYDE, tells OGN
Mirroring the rest of the world, the Middle East is pursuing ways in which it can continue its reputation as the lowest-cost producer for upstream activity, while also combatting the energy crisis, increasing sustainability, enhancing oil recovery, and mitigating energy security risks.
Operators across its key producing regions of Saudi Arabia, Iraq, the UAE, Kuwait, Oman, and Qatar, are all looking to achieve this by focusing their efforts on reservoir management, optimising production capacity, and developing enhanced oil and gas production to extend the life of mature and existing fields.
Innovative solutions and new technologies are being developed and launched to support this drive for improved optimisation including extended reach drilling to improve reservoir productivity, multistage fracture stimulation to enhance production, and coiled tubing drilling. All of which can be utilised to extract the maximum available resources from a reservoir, but there will always be more out there.

OPTIMISING O&G RECOVERY
So how can we better identify these 'sweet' spots?
Seismic data has long been the answer to understanding the ground beneath us. Often using its illuminations to understand not just subsurface structures and geological formations, but to identify where there are more hydrocarbons to be produced.
Einchomb ... holding the future of high-density mega surverys
The seismic data is processed to create 3D images of the subsurface to pinpoint where oil and gas production optimisation opportunities exist.
Data can then be interpreted by reservoir management teams to plan and monitor the development and production of a field.
But the historic use of bulky, expensive, and time-exhaustive seismic receivers has now reached a plateau caused by excessive survey costs and seismic crew sizes.
This is where STRYDE's nodal technology comes in. The world's smallest, lightest, and most affordable seismic receiver node offers autonomous recording and operational reliability – packaged in a robust and nimble STRYDE Node™ that is easy to deploy and acquires ultra-high-resolution subsurface images.
Cabled seismic acquisition systems have long dominated the market on large seismic surveys in the Middle East.
However, as the industry pushes for higher resolution imaging required to pinpoint reservoir optimisation opportunities, the challenges of deploying and moving huge amounts of cabled equipment have become more apparent and restrictive.
Not only this, but local seismic acquisition contractors tend not to have the equipment or resources to service the over 500,000 seismic channels that are required for Middle East surveys.
Although operators may be keen to explore high-density data, the opportunity is missed due to restrictions caused by the acquisition technology.

VIABLE OPTION FOR LARGE-SCALE, HIGH-DENSITY SURVEYS OF THE FUTURE
The benefits of STRYDE are clear to see. Now operating across the globe and working on large-scale projects for oil and gas exploration, STRYDE could hold the answer to the future mega surveys of the Middle East.
Node vs cabled geophones ... eliminating the need for cables
Driven by the large scale of oil and gas fields, typically found in Middle East regions, seismic surveys, which utilise STRYDE's receivers, can offer a better subsurface visual guide to secondary recovery techniques and enhance recovery.
By combining STRYDE's cutting-edge seismic technology with its fast-track data processing service, companies can now acquire sophisticated subsurface insights for these mature basins far quicker than ever before, at a significantly reduced price point and with less exposure to HSE risk.
Traditional cabled acquisition systems consist of thousands of kilometres of copper and fibre optic cable sections containing analog to digital convertor units to record the seismic signals (digitisers).
Analog geophone strings were connected to each digitiser, adding several thousands of additional copper cables in the field.
These digitisers required power provided by hundreds of large heavy 12 V vehicle batteries distributed around the survey.
The digitised seismic signals were transmitted back to a central recording unit for archiving onto tape or disk. Any cuts to the field cables often resulted in hours of lost time daily.
Since these traditional copper and fibre optic cabled geophone systems are extremely heavy, bulky, and complex to operate and maintain, the density of the receiver sampling is limited, which is why cabled stations are often separated by as much as 50 m.
The use of this technology often comes with unnecessary costs, risks, and inefficiencies for land seismic, especially in the difficult terrains typically found in the Middle East.
These range from higher equipment purchasing costs, larger crew sizes being required, and more vehicles needed, to enhanced exposure to HSE risk, larger environmental footprints, increased chances of technical downtime, and reduced productivity.
STRYDE Nodes have been ground-breaking for reservoir management projects; the state-of-the-art solution is lightweight, lower-priced, and easily transportable, enabling high-density surveys producing high-quality imaging of the subsurface, with users benefiting from better seismic images and significant cost efficiencies.
STRYDE's nodal system significantly reduces field personnel requirements and simplifies the logistics of seismic teams required, while also reducing the need for line preparation, creating a step-change in land seismic operations.
With the nodes being easy to transport and deploy, more equipment can be rolled faster, which will in turn allow use of more efficient shooting techniques to speed up the project timeline, thus reducing costs.
If the source technique and source speeds over rough terrains are the limiting factors, then the receiver geometry can be made denser to reduce the number of source points.
Using STRYDE Nodes allows the survey designer to strike the right balance between receiver and source densities and techniques.

WHAT NEXT?
After decades of relying on miles and miles of cables, with connectors that often wear out and become defective, STRYDE is encouraging the sector to trial the latest and greatest technology to fully appreciate the powerful data capture and field efficiencies that its miniature nodes can offer.
Initial data collected is so complex that in most cases, it can take months or even years to be able to analyse it to a standard that can then be shaped into an image for consideration and project planning, but with the right survey design and by leveraging both the power of high-trace density and high-performance computing the data can now be available in almost a third of the time.
The technology is now being adopted as the nodal receiver technology of choice across the Mena region, and the company recently delivered the world's largest nodal channel count seismic system to date, used to deliver an onshore oil and gas exploration project in Oman.
The technology opens a world of opportunity for these critical resources, allowing ambitious market-leading operators to efficiently optimise capacity from existing reservoirs, explore large-scale survey areas or projects previously untapped because the exploration phase was either uneconomical or impractical.
This also provides an opportunity for emerging industries to flourish, including geothermal, hydrogen, and Carbon capture, utilisation and storage (CCUS).
With interest in these renewable industries beginning to grow in the region, STRYDE's technology offers a low-cost solution for the exploration and monitoring of these critical resources.
STRYDE's technology enables the push to enhance production while reducing capex and opex costs - a complete game-changer for the industry.
It's clear to see that STRYDE holds the key to unlocking the future of high-density mega surveys – and that the future is ready to be unlocked now by forward-thinking oil and gas operators who are ready to embrace a modern breed of seismic technology.