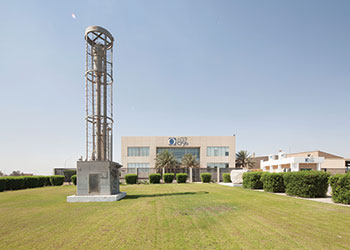 Gulf Cryo has expanded liquid CO2 production in Kuwait
The company is currently finalising multiple opportunities to build carbon capture plants across the region with an estimated annual CO2 capture of 200,000 MT, Sami Huneidi, Chief Administrative Officer, Gulf Cryo, tells OGN
Gulf Cryo is developing a fascination for building carbon capture plants across the region. The company, a leader in industrial gas production, has plans to build (some underway) facilities that will save hundreds of thousands of tonnes of the primary driver of global warming from being emitted into the atmosphere.
Stepping up efforts to help the region reach its net-zero goals, Gulf Cryo is investing increasingly in solutions that will put CO2 to use and increase the production of hydrogen – two elements it sees at the core of global energy transition.
In an exclusive interview with OGN energy magazine, Sami Huneidi, Chief Administrative Officer, Gulf Cryo, details the company's projects, and describes the company's ambition to build holistic roadmaps for hydrogen and CO2 through partnerships with the public and private sectors, and eventually realise a circular carbon economy.

• What major projects is Gulf Cryo currently executing?
It is an exciting time for Gulf Cryo as we expand our operations and production on different fronts and across multiple markets.
We are currently finalising multiple opportunities to build carbon capture plants across the region with an estimated CO2  capture of 200,000 MT (Metric Ton) per annum. We expect to make announcements very soon.
Currently, we are building a mega carbon capture facility at Petro Rabigh's premises in KSA's Western region. The project, which will recover 300 MT of CO2  per day from their ethylene glycol plant, is expected to be fully operational by Q3-end.
Separately, we have concluded a 20-year agreement with International Maritime Industries (IMI), Aramco's JV and one of the biggest shipyards in the region, to install permanent storage facilities and air gas supply. And we will soon announce a new air separation unit (ASU) project.
In Kuwait, we have expanded our liquid CO2 production facility to produce up to additional 16,000 MT per annum.
And in Egypt, we are building a new ASU to produce liquid oxygen, liquid nitrogen and liquid argon. Meanwhile, another ASU project is on the way.
We have also expanded our specialty gas facilities to increase mixing capacity.
Furthermore, another much larger carbon capture project will be announced soon. And we are developing a technology and application centre in KSA.

What emerging technologies are you introducing in the region?
Gulf Cryo CO2 plants capture, clean and reuse CO2 emissions from boilers
We are making further investments in carbon capture, utilisation and storage (CCUS), helping industries to decarbonise and giving a new life to CO2  waste by reusing it in various downstream applications.
In this regard, we are piloting several solutions with technology partners, for example, CO2 utilisation in concrete ready-mix, a sector that records high carbon-intensity. In addition to reducing cement content without compromising on quality or performance, this solution will embed the CO2  in the concrete and thus stop its release into the atmosphere.
Other CO2  utilisation applications include algae growth, agriculture, water desalination, and enhanced oil recovery (EOR).

• How is Gulf Cryo supporting energy companies to help boost the region's energy stream?
We have consistently provided international oil companies (IOCs) and national oil companies (NOCs) new applications and services within the CCUS value chain and within the local sustainable parameters in each country.
In fact, Kuwait's Equate was our first ever project in carbon capture. This partnership paved the way for our current position in CCUS solutions and projects.
In addition to CCUS projects, we provide EOR/EGR (enhanced oil and gas recovery) solutions, and N2 solutions for purging, pressurisation and leak tests during shutdowns and commissioning of new plants. We do this through the deployment of our wide asset range and under the supervision of skilled professionals.
We work with key regional energy stakeholders, such as as Saudi Aramco, Adnoc and KOC, and not to mention Sabic, Sadara, Bapco and KNPC, to whom we supply air gases and specialty gases as well as a variety of other services and technical solutions.

• Where do you see growth opportunities in your industry and how will Gulf Cryo capitalise on that?
In order to achieve net-zero goals, governments and companies are looking into investing increasingly in solutions to reach their mid-long targets. CO2  and H2 are at the core of that global energy transition.
As a regional leader in clean CO2  production, Gulf Cryo is intensively investing in carbon capture from heavy industries. This is evident from our current operations in Kuwait with Equate/Dow Chemicals, our on-going project in with Petro Rabigh/Aramco (KSA) and other projects in the pipeline. This is on the upstream side of the CO2  value chain.
On the downstream, we are deploying utilisation solutions for the recovered CO2  in agriculture, food and beverage, water desalination, algae production and building materials decarbonisation.
Through all of that, we are pushing towards a more circular carbon economy.
Besides the energy sector, Gulf Cryo is developing new hydrogen demand in growing sectors such as mobility and the process industries (manufacturing).

• What possible challenges do you see for the industrial gases industry?
Currently, many large oil and gas companies are looking into transforming their business model by including hydrogen in their portfolio. This was not the case a few years ago.
In this energy transition, industrial gas companies are key players and should be involved in building national strategies, because they have a holistic experience and expertise in the hydrogen value chain — from production to utilisation. The same applies to CO2  regulations.
All stakeholders should connect and discuss a holistic approach of how to manage the energy transition efficiently and pragmatically.
In fact, we would like to invite MOEs and key energy producers to sit with us and other gas experts to build together hydrogen and and CO2 roadmaps.

• What are your plans for green hydrogen production?
As an industrial gas company, we are experts in producing hydrogen through electrolysis. Turning our plants into green hydrogen facilities is part of our short-term plans. we are continuously evaluating different technologies and solutions to help develop the green hydrogen economy. We strongly believe in its potential, and we expect to play a key role in its development.

• Does Gulf Cryo have its own carbon emission reduction schemes in place?
Being a hydrogen producer, we are working on a hydrogen mobility pilot for our own fleet to reduce our supply chain carbon footprint. In addition, we are internally generating clean energy through solar power in our Dubai facility, and we plan to increase our clean energy share for our operations across the region.

• What are Gulf Cryo's plans to go circular?
This is exactly our focus – a circular CO2 market. We make a valuable industry resource out of CO2  waste. Gulf Cryo controls the full clean CO2 value chain, from capture to utilisation.

• What are Gulf Cryo's regional expansion plans?
We have ongoing growth plans in Egypt, KSA and the UAE, and will continue to focus on our core markets. We expect to invest over $100 million across the region over the next three years in new air gases and CO2  production facilities including the supply chain assets required to cater to growing demand.

• What does value creation mean for Gulf Cryo?
We define value creation as producing a product or a service that helps make the world a better place. Imagine a world without gas, where hospitals run out of oxygen or where oil and gas companies and steel mills operate without industrial gases.
The gas industry significantly moved the world forward; it now touches a vast range of core industries and provides solutions to increase productivity and lower costs overall. We create value out of thin air.

• What is Gulf Cryo's progress with regard to the ICV programme?
We have improved our ICV by 10.3 per cent compared to 2019 and continue to further improve it by sourcing more UAE-made products, increasing investment, and following the nationalisation directives.

• As an industry leader, what's your take on the UAE's energy transition roadmap, and your vision of a well ordered plan in this regard?
Through its Net Zero by 2050 strategic initiative, the UAE is adopting a balanced proactive approach to the energy transition through increasing investments in low carbon energy sources and growing its renewable portfolio.
The plan targets an energy mix that combines renewables, nuclear and clean energy sources, and it is progressing rapidly.
There are new significant initiatives from the UAE government, such as the Taziz Blue Ammonia project and the 2025 energy goals, which we believe will be achieved.
This pragmatic and transparent solid approach encourages private capital to take risks in pilot projects within the UAE, and this certainly accelerates the march towards the expected mid- to long-term change.
By hosting COP 28 next year, UAE has shown another serious commitment to global clean energy transition.