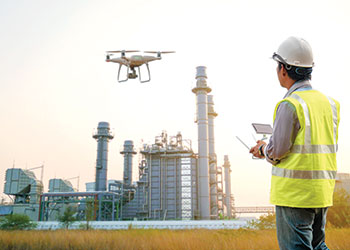 The use of drones has increased in the GCC region over the past few years
As countries eliminate restrictions on their use, civilian end-users now have more freedom to employ drones in the GCC region, which is projected to improve business possibilities
Owing to the popularity of drone technology and the associated advantages, its use will increase in the energy sector for various functions including inspection, refining, detection and handling.
Using software-controlled flight plans in its embedded systems, a drone is a flying robot that can be remotely commanded or fly autonomously while utilising onboard sensors and a global positioning system (GPS).
Over the past few years, the use of drones has increased in the region. As a result of regional countries eliminating restrictions on their use, civilian end-users now have more freedom to employ drones in the GCC region, which is projected to improve business possibilities.
Globally, the market for drones is anticipated to increase from $13.7 billion in 2021 to $89.6 billion in 2030.
According to GlobalData's projections, the market share of commercial drones is anticipated to rise from 34 per cent to 64 per cent over the projected period. This growth will be assisted by significant adoption in the oil and gas industry.
Ravindra Puranik, Oil and Gas Analyst at GlobalData, says: 'In the past decade, the oil and gas industry tentatively experimented with drone deployment to monitor field equipment scattered over large areas. The industry then began collaborating with drone manufacturers to develop devices suitable for industry specific deployment. Over time, newer use cases were identified and implemented for drones, such as methane management.'
Drones can collect data more effectively using image sensors or cameras that have visible (RGB), infrared (IR), and lidar (light detection and ranging) capabilities. Additionally, drones equipped with gas detectors can gather data on emissions.
'Advances in drone-based imaging, sensing, and data transmission are helping the oil and gas industry to devise newer use cases for drones. The role of drones in inspection has expanded from capturing RGB pictures/video to using infrared and laser technologies to record corrosion, weathering, and spacing characteristics of the asset under consideration,' Puranik says.
Drones are used in the oil and gas industry for many different tasks, including for inspecting offshore platforms, refining machinery, finding leaks in midstream assets, responding to emergencies, and transporting materials.
According to Elsight, a company that develops solutions to deliver reliable, real-time connectivity in challenging and remote areas, a few applications include:

• Drone upstream operations: During upstream operations, drones are deployed to increase safety, efficiency, and regulatory compliance. They are utilised for several purposes, including tracking gas emissions, identifying spills, and monitoring vegetation
• Drone rescue operations: Drones can be a crucial component of an emergency response. High-definition footage and images from drone can map oil spills and fires, assisting decision-makers in allocating resources efficiently to achieve a resolution to the incident.
• Drone deliveries: Instead of dispatching a boat or helicopter to reach the rig, drones can execute material, replacement parts, and supply deliveries to offshore rigs and other remote operations.
• Drone pipeline inspections: Drones can inspect thousands of miles of pipes for a tenth of the price of helicopter inspections. Equipped with thermal imaging sensors, drones can conduct inspections that aid in predicting the condition of vital equipment and assist to foresee probable malfunctions.
• Drone refinery inspections: During severe weather, drones are utilised to assess obscure places like cranes and derricks. Inspection of installation jackets and risers prevents risky rope access, and thermographic imaging inspection of splash areas can find corrosion that would be difficult to find.
• Drone facility inspections: Instances of drone facility inspections include looking inside chimneys to search for cracks and anomalies and checking storage tanks for corrosion and leakage.

DRONE DEPLOYMENT IN THE REGION
Early this year, leading non-destructive testing service provider, NDT Corrosion Control Services (NDTCCS) and international drone service provider, Terra Drone, successfully used drones to conduct online flare inspections for the Abu Dhabi National Oil Company (Adnoc).
The examination was conducted with a drone with the intention of employing a visual and thermal infrared camera to assess the flare's condition while it was active rather than when it was shut down.
It was the first time that NDTCCS has used drone technology.
The work took place in an Abu Dhabi production facility operated by Adnoc Offshore. And the drone utilised is the M300 RTK with Zenmuse H20T, the most recent model from DJI.
A high-resolution ultra-zoom camera was used for the visual inspection, and a high-accuracy thermal infrared camera was used for the thermal inspection.
The upside of employing drones for the work is that flare inspection may be done while the facility is open, saving the facility owner the significant loss of revenue that often results from turning off flares.
To ensure safe, dependable, and effective operations, Adnoc is promoting the use of more state-of-the-art technologies, such as drones, in its daily operations.
A prominent electricity supplier in Oman, Mazoon Electricity Company, has established a partnership with Esbaar, an Omani company that specialises in drone asset inspection solutions and artificial intelligence (AI).
According to a statement from the firm, this is a part of Mazoon's strategy to integrate drone technology into its network.
Mazoon, a significant player in the Omani energy market, is principally responsible for the regulated supply and distribution of electricity in the governorates of Al Dakhiliya, South Al Sharqiya, North Al Sharqiya, South Batinah, and Suwaiq in North Batinah.
Mazoon stated it continuously looks for state-of-the-art technologies and innovations that help serve customers better. This trial offers an opportunity to implement advanced drone technologies and smart solutions for inspections for electricity network, it stated.
Engineer Mohamed Nasser Al Sawafi, Head Asset Performance, Mazoon Electricity, says: 'The new innovative AI technologies and drone-powered solutions will transform aerial data and site footage into comprehensive, accurate, and actionable insights to enable smart, well-informed decisions.'
In a world first, Yokogawa Electric Corporation and JSR Corporation used AI to autonomously run a chemical plant for 35 days in a field test.
Drones would be part of JSR's orientation toward making production smart that also include a proactive incorporation of IoT sensors, cameras, and other new technologies.
The test confirmed that reinforcement learning AI can be safely applied in an actual plant, and demonstrated that the technology can control operations that have been beyond the capabilities of existing control methods (PID control/APC) and have up to now necessitated the manual operation of control valves based on the judgements of plant personnel.
By ZAINAB AL TAITOON