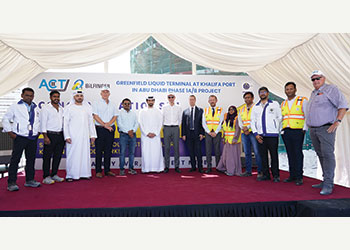 Guests and teams from ACTAD, Bilfinger and AMISTAD on site for the safety celebration
With multi-modal capability and connectivity, linking the sea with the UAE's extensive road and future GCC railway network, ACTAD is ideally situated to provide a broad range of logistic solutions to a wide variety of clients, Mike Cromack tells OGN
Arabian Chemical Terminals Abu Dhabi (ACTAD), the Emirate's first greenfield commercial bulk liquid storage and distribution terminal at its flagship deep-water Khalifa Port, continues to demonstrate its commitment to the golden trinity of safety, quality and service.
ACTAD is the latest addition to a fleet of terminals owned and operated by the Reza Investment Company, which has successfully run comparable sites in Yanbu since the 1980s and in Al Jubail since 2012.
Adjacent to KIZAD (Khalifa Industrial Zone Abu Dhabi) ACTAD is strategically located between Ruwais and Jebel Ali and almost equidistant from the cities of Abu Dhabi and Dubai.
'With multi-modal capability and connectivity, linking the sea with the UAE's extensive road and future GCC railway network, it is ideally situated to provide a broad range of logistic solutions to a wide variety of clients,' says Mike Cromack, Commercial Manager, Arabian Chemical Terminals Abu Dhabi (ACTAD).
1 million LTI free hours work was celebrated by all on site and safe work
recognition awards were presented
When complete in 2023, the facility's capabilities will include strategic storage, industrial terminalling and specialised product handling of liquids and gases.
It will perform a number of breakbulk functions for the import, export, and distribution of a broad range of basic and specialty chemicals including ammonia, hydrogen, liquid organic hydrogen carriers (LOHCs), hydrocarbons and vegetable products.
Bilfinger Tebodin Middle East was commissioned as the project management consultant (PMC) and the UAE's AMISTAD was appointed engineering, procurement, construction and commissioning (EPCC) partner.
Phase 1 construction started in May 2021 on the initial 50,000-sq-m plot, and work recently passed the significant safety milestone of one million hours completed without any lost time injury (LTI).
This event was celebrated at a ceremony when all those on-site were joined by distinguished guests and senior management representatives of AMISTAD, Bilfinger and ACTAD.
This first phase of construction involves a total of 40 storage tanks, each of 2,500 cu m in both stainless and carbon steel.
Each tank will have dedicated pipeline and pump connections between berth and gantry to ensure contaminant-free handling to trucks, marine tankers, ISO tanks and IBCs. Vessels will be able to dock at a dedicated berth with 16-m-deep sea access.
A comprehensive range of specialist marine services will also be available including fuel bunkering, MARPOL disposal, degassing and stevedoring.
Independent laboratory services for testing, inspection and certification of products will be provided onsite in a unit operated by Bureau Veritas.
A second phase expansion of an additional 150,000 sq m surrounding the original location will see ACTAD expand into gas handling.
'The opportunity is attracting a lot of interest from industrial companies based at KIZAD with multiple projects under appraisal,' says Cromack.
ACTAD is also already gaining industry recognition and the company was presented with the 'New Terminal Project Development of The Year - Middle East 2022' award at the recent Global Ports Forum event in Dubai.