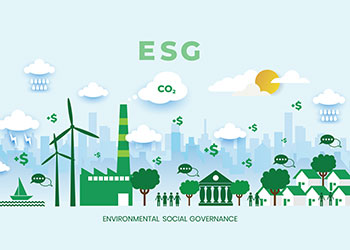 The oil and gas industry recognises the importance of ESG issues as critical pillars on which the industry can build for long-term, sustainable success, Bilal Hasan Ashraf, Head – Energy and Marine, National Bank of Fujairah, tells OGN
The fossil fuel sector has been instrumental in energising the world and bringing prosperity to many societies. However, that function has come at a dear cost to the environment.
The industry's operations is estimated to account for 9 per cent of all human-made greenhouse gases and that the burning of the fuels it produces creates another 33 per cent of global emissions.
According to IEA, CO2 emissions from energy combustion and industrial process accounted for close to 89 per cent of energy sector greenhouse gas emissions in 2021.
On the other hand, reports such as Deloitte's say that the sector is showing renewed emphasis on environmental, social and governance (ESG) goals to 'improve' its image.
There isn't much choice left for the industry, which has seen new investments crash because of the environmental concerns, to not invest in green energy projects.
Financial institutions are also under pressure from investors to stop financing fossil fuel projects.
In an exclusive interview with Bilal Hasan Ashraf, Head – Energy and Marine, National Bank of Fujairah, tells OGN energy magazine about how the financial temperament towards oil and gas is shifting.

• Are ESG issues important for businesses in the oil and gas sector?
Ashraf ... sustainability is critical for long-term business success of oil firms
Environmental, social and governance (ESG) issues are especially important for businesses in the oil and gas sector, as climate change becomes the defining issue of our time.
Given recent geopolitical shifts, we are witnessing increased demand for hydrocarbons, and thus there are increased funding requirements to meet this increased demand.
Furthermore, a focus on key ESG areas such as enhanced worker safety, supply chain diversity, and community impact played a key part in the oil and gas industry coming through the Covid-19 pandemic.
Ultimately, the oil and gas industry definitely recognises the importance of ESG issues as critical pillars on which the industry can build for long-term, sustainable success.

• Are these concerns voluntary or forced through regulation?
In recent years, a comprehensive ESG programme has become vital for oil and gas companies as lenders and investors place greater value on the sustainability of businesses.
There can be no doubt that the effects of climate change we have witnessed recently have also left businesses no choice but to implement decisive climate action and societal impact strategies.
To sum up, ESG issues have been pushed to the forefront by a mix of prudent business planning, and pressure from investors, governments and society at large.

• What risks could ESG financing pose to companies in the sector?
The biggest risk from ESG financing is the risk of losing access to capital markets and a negative impact on reputation.
Oil and gas companies are addressing these risks by publicly setting out their sustainability goals and undertaking projects to:
Developing carbon capture, utilisation and storage (CCUS) technology.
Transforming the energy mix.
Implementing energy efficiency programmes.
Exploring the circular economy.
ESG financing also presents companies with an opportunity to make use of innovative finance solutions for their sustainability projects.
Financers also have a responsibility to come up with appropriate products and support oil and gas companies in their transition to a low carbon economy.

• Are there any current standards around ESG financing for the oil and gas sector?
There are currently no globally recognised published standards. However we are encouraged to see standards developing at a very fast rate.

• How do you ESG screen investments in the sector?
It is important to realise that when it comes to screening investments, not all methods are created equal. It is often a blended approach that provides the most robust investment strategies within this volatile industry.
We implement several ESG screening methods:
Positive screening: Actively investing in companies that have concrete ESG strategies in place and demonstrate ESG leadership.
Negative screening: Consciously divesting carbon intensive companies or excluding companies that do not meet pre-determined ESG criteria.
Norm-based or minimum standards screening: Screening investments that do not meet the minimum criteria set by international bodies like the United Nations.
Best in class screening: Investing in companies that have performed the best with regards to achieving ESG goals, compared to their peers in the industry.
Sustainability-themed screening: Choosing oil and gas companies that have an increased renewable/sustainable energy mix.
Impact investing: Investing in companies that are intentionally generating positive societal impact either through gender/racial equity within their business or by uplifting indigenous communities in emerging nations.

• What is the investor feeling/interest about ESG financing in the sector? Is it still positive or are they holding back due to environmental concerns?
Investors are realising that ESG financing must not exclude the continuous development of fossil fuels alongside green investments in renewables and decarbonisation strategies as there is a need to provide energy today.
Investors are aware of the challenges and are not expecting perfection in year one. However they are looking for companies that are engaging with the pertinent ESG issues and showing progress over time.

• Investment in oil and gas has crashed over the years? Do you see it picking up in the backdrop of more concerned and environmentally-aware investors and consumers?
Investment in the oil and gas industry declined in 2020 and 2021, mostly due to the pandemic, but we see it picking up now to meet increased energy demands and also to support decarbonisation and energy transition goals.
As a result of sustained pressure from various quarters, oil and gas companies are realising the urgent need to advance sustainability and are working hard to digitise operations and develop new technologies so they can decarbonise and diversify into more environment-friendly energy products.
Complex processes, aging equipment, disparate policies and insufficient resources are making the transition more difficult. However, with investment in new technologies, improved analytics, new partnerships, and enhanced regulations and transparency, oil and gas companies can gain the trust and capital of ESG investors.

• If investment stays where it is now, what will that mean for the oil and gas and the energy demand at large?
Despite the world moving towards cleaner energy options, the demand for fossil fuels will continue to grow, at least, for the next decade or so, to meet the urgent current energy needs.
Fossil fuels currently meet 75 per cent of the global energy demand, and investment in the fossil fuel industry will continue and potentially grow in the short term.
That said, investors remain reluctant to fund companies that fail to address the key ESG issues, and are increasingly demanding commitments and concrete plans from oil and gas companies to meet the UN Sustainable Development Goals (SDGs).

• Can oil and gas companies ignore global ESG concerns for long since they are doing business as usual? Are they in for some harsh reality?
The oil and gas industry has committed to improving their ESG/sustainability profile and is working very hard to change the perception that it is only greenwashing, without taking concrete steps towards action.
Most major oil companies have committed to net-zero goals in the past year and now treat sustainability as a critical pillar for future long term business success and competitiveness.

* Before Bilal Ashraf joined the National Bank of Fujairah over 15 years ago, he had worked in various other roles at the bank covering energy and marine.
He has operated both within conventional and Islamic finance, with a niche focus in maritime and offshore, logistics, energy, government and large corporates.
Prior to NBF, Ashraf had roles in other banking and non-banking financial institutions, including Emirates Islamic Bank and American Express.