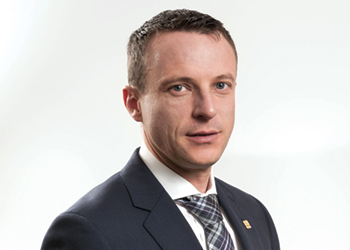 Strohmeier ... reducing cost through digitalisation
At the forefront of embracing the digital philosophy, the company has set itself to be agile and flexible to simplify work or change the way business gets done and to create seamless and engaging experiences for customers, Jan Strohmeier tells OGN
The year 2020 has been one of dramatic and fast-tracked changes in both private and business life: work from home (WFH), social distancing, and almost everything had to be done remotely, with no face to face meetings, no travel, face masks and so much more.
'We know change typically does not happen overnight; it's gradual and takes time. But with the pandemic, we were forced to adapt and come to terms with not one but several changes almost immediately,' says Jan Strohmeier, Digitalization Manager for Endress+Hauser Middle East.
Both individuals and organisations dealt with the changes in many different ways.
For companies, which were foresighted enough to have embarked on the digitalisation journey some years back, adapting to these sudden changes was easier compared to companies who are still not onboard or who started late.
As is evident, Covid-19 has brought a new urgency to meet the digital transformation goals and has made it imperative for all businesses, without exception, to accept and acknowledge the importance of digitalisation at all levels.
In today's competitive business environment, tackling the challenges of reducing costs, optimising processes, or increasing efficiency with yesterday's solutions will not yield the required results to create a competitive advantage. Availability of big data for analysis, increased connectivity, and secure cloud based applications connect people, processes and assets, providing continuous inputs and improvement opportunities.
Endress+Hauser has always been at the forefront of embracing the digital philosophy and hence has set itself to be agile, flexible, and ready to grow right from the beginning, whether it is internal IT projects to simplify work or change the way business gets done, to creating seamless and engaging experiences for customers.
'For the safety of all, when WFH became imperative, we quickly moved to handling both, internal collaboration and serving our customers with state-of-the-art online tools without any major business interruption,' says Strohmeier.
He says the investment in digital transformation paid off as they were able to conduct easy and seamless exchange of information with their customers. 'One simple example is that we are able to co-work with our customers on a shared file without worrying about the version handling and ensuring everyone is working on the latest version using existing cloud based tools. This eliminates human error and speeds up the exchange of critical data.'
Additionally, keeping in touch with customers and supporting them during the difficult times was not an issue for Endress+Hauser as it used its existing video conferencing tools. With no geographical restrictions, it was able to get customers, its experts from the factory and SMEs on one online platform without any hassle.

THE DIGITAL JOURNEY CONTINUES TO EVOLVE
Endress+Hauser certified Netilion IIoT ecosystem for asset utilisation and
management is open to 3rd-party field devices and clouds
Endress+Hauser is committed to supporting its customers along the road to digitalisation. Tailor-made cloud solutions make use of specific data from production processes and serve to increase efficiency alongside conventional plant topology.
Meanwhile more than 40 million Endress+Hauser instruments in use worldwide are constantly creating a huge amount of data and valuable information for the customers. So, a lot of efforts go into developing innovative technologies and products that are future ready.
With the conversion of Endress+Hauser's website into a smart and powerful cooperation platform, the company opened a new window for customers into Endress+Hauser, accessible 24/7 from wherever they are.
Strohmeier says through the personalised section on the website, customers can easily conduct all operations within a few minutes, manage transactions, buy products, order spare parts, download documentation, and get access to their contacts, in the office, field or on the go. 'We have put the power in our customers' hands and our sales team is always present to help them in any way needed.' It's a win-win solution.
The latest addition to the already powerful interface is the 'My Project' tool. It helps the customer's engineering department to easily engineer hundreds or thousands of line items and keep close control of version handling and mass download of related documentation in one place.
Additionally, the website makes directly available several online tools, which simplify work, and save time and cost. 'It is only through constant innovation that we can keep pace and even get ahead of today's fast changing demands,' says Strohmeier.
Micropilot FWR30 ... the cloud-connected IIoT radar level sensor
from Endress+Hauser
When it came to products, Endress+Hauser was already one step ahead on the path of digitalisation, when it introduced pioneering sensor technology for liquid analysis in various industries such as chemical, power and energy, food and beverage, and water and wastewater over 13 years back.
For example, 'Memosens' sensors measure the pH-value in liquids and transform it into a digital signal while still in the sensor and which is passed on via a contactless system that provides extremely accurate, reproducible, and reliable measurement results. Memosens won the 'Digital Champion Award' in the category Digital Products and Services in June 2017.
With the industrial internet of things (IIoT) Radar FWR30 and the Battery Mag Meter, Endress+Hauser has the first instruments in its portfolio that send data directly via 3G/LTE into the company's Netilion cloud based ecosystem.
Strohmeier says they have thought about brownfield installation and have solutions to enable any field device to be connected to the cloud using either Bluetooth or wireless Hart. In case customers already have a digital field communication, these can be easily connected to Endress+Hauser's edge device, which will send the device data into the cloud.
The company has also created digital services using the most modern and secure internet technologies. In this way, users can empower themselves and their teams with the right data.
With just two steps — registering and connecting devices — customers can digitalise their plants and start benefitting immediately.
While digitalising plants, customers can create digital twins of all their assets and build the initial connections with them. This will be the first step to many future functionalities and improvements.
Users get an overview of what equipment is currently installed, create lists, organise assets the way they like and increase their knowledge about their installed base and make their plants transparent. There are several benefits to this, including:
• Customers can reduce their maintenance effort by getting evaluations on obsolescence and standardisation possibilities of their equipment and reduce the complexity in the field and for their teams.
• Get to know which assets are not available anymore and automatically receive replacement recommendations; act consequently and increase reactivity thereby reducing risk and increasing plant's uptime. 'Netilion analytics' use present and past information to reveal improvement potential that users would have never thought of before.
• Handling documentation becomes effective as there will be less supporting documentation to manage.
• And the best part is once users have collected data of an asset, it is instantly available on all their devices and wherever they are.
Most importantly, Endress+Hauser knows and considers that user data is valuable. That's why it protects it just like their e-banking activities. It is well secured and fully transparent.
But Strohmeier says digital transformation is not limited to just products. 'We would think that after-sales service would always happen in person. However, during this pandemic, with travel and movement restrictions, this was out of the question. However, we took care of after-sales service and service in general without any issues as our service team had a remote support tool at their disposal.'
By accepting a link sent to their mobile phones, Endress+Hauser's customer service team was able to go live with a team from the site, where both teams were able to work together to resolve matters in real time without mobilising at the site.
In conclusion, Strohmeier says: 'Endress+Hauser strives to create a unified and memorable journey for the customer, from the first contact till the after sales support. We focus on improving our digital touchpoints with our customers to make it as easy as possible without compromising on the human connection in all of this.'