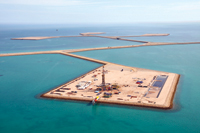 Manifa ... a flagship achievement
GLOBAL energy demand is forecast to increase. That's why Saudi Aramco completed a range of massive, multi-billion dollar projects to help boost its ability to deliver petroleum.
This helped the company increase its maximum sustainable crude oil production capacity from 8.5 million barrels per day (mbpd) in 2007 to 12 mbpd in 2009, the highest production capacity of any company in the world.
This is a significant accomplishment, but Saudi Aramco is not a company that rests on its laurels.
The company is developing an impressive array of operational projects, from oil and gas processing facilities to petrochemical plants – each one engineered to meet international standards and built to surpass expectations. Some of the latest are listed below:
Manifa: Considered Aramco's flagship achievement of 2012, the Manifa crude oil increment is a testament to the company's commitment to both the expansion of its production capacity and its stewardship of the environment.
The development, scheduled to go online in 2013, includes 41 km of causeways, three km of bridges, 27 drilling islands, 13 offshore platforms, 15 onshore drill sites, water supply wells, injection facilities, multiple pipelines and a 420-MW high-efficiency cogeneration plant.
By the time it reaches its full potential by the end of 2014, the Manifa field will produce 900,000 bpd of Arabian Heavy crude oil, 90 million scfd of gas, and 65,000 bpd of hydrocarbon condensate.
Aramco's capability in environmental protection efforts surrounding the Manifa operation earned the company a Unesco environmental responsibility award nomination.
Karan Gas Programme: Karan, Aramco's first non-associated offshore gas field development, has helped to boost the kingdom's gas production. Discovered in 2006, the Karan field has been developed to help meet the kingdom's demand for sales gas and industrial feedstock for water desalination and electric power generation.
The development was completed in 2012 ahead of schedule and under budget, reaching a full peak production capacity of 1.8 billion scfd. For the Karan Programme, Aramco made efforts to improve local participation in construction and procurement.
Early in the programme, local design offices performed a portion of the engineering studies in preparation for the detailed design.
A total of $498 million of the equipment was manufactured or procured in-kingdom, and more than half of the contractors on the construction work were local contractors.
Another key achievement of this programme is its operational safety record, including 62 million incident-free man-hours, a result of activities such as safety culture workshops and a zeroing down on lost-time injuries over the past year.
Wasit Gas Programme: The Wasit Gas Plant will be one of the largest gas plants Saudi Aramco has ever built and along with Karan, will further raise the kingdom's gas processing capacity by about 40 per cent. As a stand-alone gas plant, its integrated facilities will process 2.5 billion scfd of nonassociated gas from the offshore fields of Arabiyah and Hasbah.
Under normal conditions, Wasit is expected to supply 1.75 billion scfd of sales gas, though the two offshore fields have a production potential of up to 3.05 billion scfd of raw gas during emergencies or demand peaks. The Wasit complex will also be able to fractionate NGLs produced elsewhere into ethane, propane, butane and natural gasoline. Wasit will be the first in the kingdom to use innovative gas-treating technology to improve the efficiency of sulfur recovery up to 99.3 per cent.
Motiva Refinery Expansion: With its inauguration ceremony in May 2012, expansion of Motiva's Port Arthur Refinery, a joint venture facility with Shell Oil Company in the US, was completed.
The project added 325,000 bpd of capacity to the refinery, for a total plant capacity of 600,000 bpd, making it the world's sixth-largest refinery and the largest in North America, and raising Motiva's refining capacity to 1.105 mbpd. Startup activities were interrupted by an operational incident that required repairs to the crude oil distillation unit, which were nearing completion at year's end.