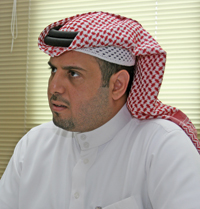 Al Zamil ... expansion on the cards
WITH major long- term contracts secured with Saudi Aramco, Zamil Offshore is still in a highly expansive phase with many exciting projects and major investments in hand to meet the needs of the future.
Among the numerous services and support mechanisms, the company provides – customers operating in the oil and gas sector – offshore vessel chartering, shipbuilding, ship conversions, renovations, repairs and several different offshore and onshore engineering and construction services including hook-up and diving.
Zamil Offshore continues with its remarkable fleet expansion and diversification programme. The company has added 19 new vessels of different types to its fleet in 2012 and beginning of 2013 and is in the process of converting four offshore supply vessels into dive support units capable of working in shallow and medium waters.
Last year, Zamil also bought a self-propelled jack-uplift boat, with accommodation for 50 persons as part of its ongoing diversification plans. And this year, it is planning to buy another larger one with accommodation for 80 persons and bigger cranes.
With a fleet of 71 vessels of various rolls and sizes and average fleet age of 6.3 years, however, this will be expanded further with the addition of new vessels currently under construction.
Also, when it comes to its fleet utilisation rate, Zamil is considered to be one of the world's leading players, with a rate of 98 per cent recorded in the first quarter of 2013.
Zamil's fleet, includes anchor handling tug supply (AHTS), offshore support vessels (OSVs), work boats, supply vessels, crewboats and dive support vessels, and it primarily supports Saudi Aramco operations.
A new joint venture (JV) has recently been set up between Zamil Offshore and Mermaid, a subsea construction and drilling services company, to take on a five-year inspection, repair, maintenance installing and fixing offshore facilities contract for Saudi Aramco.
This will involve the provision of a full range of diving services, remotely operated vehicle (ROV) intervention, inspection and routine repair and maintenance work in offshore fields in the Red Sea.
Zamil's first self-propelled jack-up lift boat
now chartered to Saudi Aramco
Aramco had already contracted Zamil-Mermaid JV to provide five offshore supply/ dive support vessels and one dedicated saturation dive support vessel. Meanwhile, Mermaid will provide up to 110 divers, three ROVs and scuba replacement packages.
While the focus of Zamil's offshore operations will remain on the Middle East, it is planning to spread its wings further afield. A number of its older vessels over 15 years of age are due to be deployed in South East Asia later this year.
Zamil shows no signs of slowing down its new build and acquisition programme and currently has three vessels under construction, two shallow draft flat bottom diving support vessels (DSVs) at its own shipyard and one crew boat at a regional shipyard.
The fleet expansion plan also includes the construction of a series of medium size platform supply vessels (PSVs) and 80 to 120 tonnes bollard pull AHTS vessels.
Alongside its offshore fleet investments, Zamil is about to complete the building of Zamil's new shipyard on 200,000 sq m reclaimed land inside the port of Dammam, next to its existing facility.
It is scheduled to be operational by the end of November this year.
Although the yard will be open for third-party business it has been set up primarily to provide an in-house repair and maintenance facility for Zamil's growing fleet operating in the Gulf.
The new yard will also target offshore rig maintenance work, new offshore, merchant and naval vessels construction and conversion.
Reclamation work of 200,000 sq m has already been completed; the ship lift steel construction modules have been built at its existing Port Marine Yard.
Fabrication of the closed workshops and the ware houses steel construction modules is almost 60 per cent complete.
The TTS transfer rails have been constructed and will be fixed to the ground during the next month. The new shipyard waterfront quay walls are almost 75 per cent complete.
"Some modules and blocks will be constructed at our existing facility for two shallow draft flat bottom DSVs ordered by our Zamil Marine Operations Division and will be transferred for final erection at our new shipyard and will be launched during the opening celebration," says Eng Sufyan Al Zamil, president, Zamil Offshore.
Zamil Offshore Zamil has also added a further yard on the Red Sea coast in Jeddah to support its growing operations in support of Aramco drilling and exploration work in this region. The company has secured a 10-year lease contract to operate Jeddah King Fahad Ship Repair yard and took over the management of the yard from June 11.
Upon receiving the shipyard management and operation, Zamil Offshore started full rehabilitation and modernisation plan of all the shipyard facilities including extensive refurbishing the two floating docks, cranes and workshops.
The total rehabilitation and upgrading investment is expected to be around $50 million on 10 years.
King Fahad Ship Repair Yard is strategically located inside Jeddah Islamic Port on the Red Sea. The only competitor on the Red sea will be the Egyptian Suez Shipyard.
Jeddah port is the busiest sea port on the Red sea with almost 6,000 vessels calling at that port annually.
Zamil Offshore management is targeting to market Jeddah repair yard services to all vessels navigating in the Sea and those calling at Jeddah Sea port with total traffic of almost 26,000 vessels, annually.
More and above, Zamil Offshore decided to start small vessel building at the yard starting with building a tug for Saudi Royal Navy this year.
Zamil is looking forward to render Jeddah shipyard services not only to the merchant vessels but also to all offshore support vessels working in the Red Sea serving the offshore oil and gas sector including Saudi Aramco and its contractors.
Saudi Aramco is mobilising more offshore vessels and rigs in the Red Sea to promote exploration and production in these waters. Zamil will be able to use Jeddah yard to support its operations in the area and, in particular, its fleet diversification programme for which the Jeddah yard is well suited.
Zamil Shipbuilding & Ship Repair division undertook the management of the shipyard on June 11 and immediately started hiring skilled engineers, technicians and workers to operate the new facility.
Jeddah Shipyard facilities include two floating docks and two jetties:
• Large floating dock: 19,000 tonnes lifting capacity (max vessel length 215 metres by max vessel breadth 32 metres);
• Small floating dock: 11,000 tonnes lifting capacity (max vessel length 165 metres by max vessel breadth 23.5 metres); and
• Two jetties each 90 metres in length and 15 metres in width.