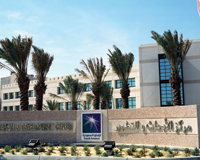 R&DC ... a long-term endeavour
THE world is changing at an ever-increasing pace, and Aramco succeeds because it enables innovation in its employees and its collaborators for the rapid development and implementation of solutions, says Saudi Aramco in its 2012 Annual Review.
Beyond a doubt, Aramco's business is technology intensive. Far from being a limitation, it provides Aramco significant opportunities to produce new, game-changing technologies and improve the ones on which it currently relies.
Technological improvements and innovative solutions are helping Aramco deliver a number of distinct contributions to itself. New technologies are helping it increase its ability to find and recover precious oil, and turn it into clean fuel to meet energy demand.
New innovations are helping it expand into new markets for chemicals and renewable energy. These developments are also helping it with its approach to carbon management – and contributing to the effective mitigation of the challenges posed by climate change.
Saudi Aramco continued in 2012 laying the groundwork for becoming one of the foremost creators of technology in the world. Research and development (R&D) of this calibre is a long-term endeavour and requires ongoing commitment. To achieve a position of leadership in the technology field and meet its commitment to excellence, Saudi Aramco is making a quantum leap in capabilities and building on the technological advancements it has made so far.
In doing so, Aramco is working to be well-positioned to help strengthen the company and the kingdom's economy. To access the best research talent in the world, leverage global scientific expertise, and strengthen collaboration in addressing technical challenges and encouraging innovation, Aramco is establishing international research centres at some of its subsidiaries in strategic locations around the world, as well as broadening and deepening its relationships with world-class universities.
Aramco scientists at work
The first of many international research centres was officially inaugurated in 2012 at Delft University of Technology (TU Delft) in the Netherlands. The centre at TU Delft, a part of Aramco Overseas Company, concentrates on geophysics research in near-surface characterisation and data-driven seismic processing, and is one of two embedded research groups closely aligned with universities.
The second research group, at King Abdullah University of Science and Technology (Kaust), undertakes projects related to bio-capture, robotics, fuel technology, chemicals, membranes and advanced materials.
In addition, five stand-alone research centres are well under way. A technology office in Aberdeen, Scotland, is nearing completion and will handle partnerships, collaboration and other business functions largely related to production and drilling technologies.
A centre planned for Houston will span all upstream disciplines. A standalone research centre is also under way in Cambridge, Massachusetts, adjacent to the Massachusetts Institute of Technology (MIT), to support computational reservoir modeling, nanotechnology and advanced gas membrane systems.
A centre in Beijing will emphasise research in reservoir and production chemistry as well as geophysics. A southeast Michigan centre will focus on carbon capture from mobile sources and fuel technology research, and Aramco's Fuel Technology Team – in collaboration with leading research organisations – will be conducting joint research on fuel and engine development at IFP Energies Nouvelles facilities in France.
All centres are expected to be fully operational in 2013. Access to cutting-edge technologies Aramco's commitment to innovation is further demonstrated by the establishment in 2012 of Saudi Aramco Energy Ventures (SAEV), Aramco's corporate venture subsidiary. Its mission is to invest globally in start-up and high-growth companies with technologies of strategic importance to Saudi Aramco, and to accelerate the development and deployment of these technologies kingdom-wide, ensuring that innovation will continue to be at the heart of Aramco's operations.
Following SAEV's incorporation in April 2012, the first fund investment, to Braemar Energy Ventures Fund III, was completed in June. It was followed by a second fund and two direct investments approved in December.
While Aramco Energy Ventures was incorporated to support its venturing activities in North America, engagement between SAEV and the Norway-based Energy Capital Management was entered into to manage all venture-related activities for upstream investments in Europe.
Individual investments are expected to range from $1 million to $30 million per company, depending on the stage of development, size of opportunity, strategic relevance to Saudi Aramco and capital intensity. SAEV will invest in technologies of strategic importance that will enhance Saudi Aramco's position as a technology leader in the global energy industry and support its broader kingdom-wide initiatives in advancing sustainable domestic energy and water consumption.
Expec Arc ... symbol of Aramco's
commitment to innovation
SAEV's investments will ultimately contribute to Saudi Aramco's economic strategy as innovations are applied to new commercial opportunities, cost reduction and performance improvement.
In 2012, the Saudi Aramco Entrepreneurial Centre (Wa'ed) Information and Communication Technology business incubator was opened at King Fahd University of Petroleum and Minerals (KFUPM), focusing on startups and developing talent in the area of information and communication technology (ICT).
Wa'ed's vision is to provide leadership and promote entrepreneurship in support of economic growth, diversification and social development in Saudi Arabia. Its mission is to facilitate targeted end-to-end programmes through development of sustainable mid-sized businesses, expansion of the kingdom's pool of entrepreneurs, and development of an entrepreneurial ecosystem.
In 2012, Wa'ed interviewed 391 entrepreneurs, trained and coached 284 entrepreneurs on business plan formulation and development, and funded the top entrepreneurial ventures. The funded ventures are expected to create numerous high-calibre jobs for the Saudi market.
Wa'ed Venture Capital (VC) is Wa'ed's venture capital arm and will contribute to the development of the venture capital ecosystem and the Saudi society and economy by creating quality jobs for Saudis and accelerating the development of high-impact, innovative ventures.
In 2012, Wa'ed VC approved a number of investments and several loans for funding. Agreements were signed with General Electric, Sadara and Schlumberger, targeting the localisation of products and services within these companies' supply chains, in line with Wa'ed's delivery channel for developing small and medium-sized enterprises.
As part of its commitment to innovation, Saudi Aramco is a strategic partner with KFUPM in Dhahran Techno Valley Company (DTVC). Established to facilitate creation of a research and development hub in Dhahran, DTVC is nurturing long-lasting ties between academia and the energy sector.
Over 15 major companies were already operating in DTVC in 2012 in the areas of advanced materials, geosciences and petroleum engineering, refining and chemical processes, water management, production and treatment, energy efficiency and renewables, and advanced computing.
Saudi Aramco's commitment to innovation is evidenced by Aramco's continued investment in R&D. Aramco's two pioneering research centres, the Research and Development Centre (R&DC) and the Exploration and Petroleum Engineering Centre Advanced Research Centre (Expec Arc), provide the ideal environment to foster innovation, allowing Aramco to continue to push the boundaries of what Aramco can achieve in energy research.
In 2012, Saudi Aramco received 58 patents, a record number for Aramco's company. Examples of these now patented inventions include a tool for locating and plugging lateral wellbores, flare stack and combustion apparatus, automated real time reservoir pressure estimation, advanced petro-physical algorithms fostering the shift from well-centric to model-centric workflows, and an illuminated directional wind speed indicator. These are just a few examples of the many instances of innovation across the company and demonstrate Aramco's commitment to investing in new technology.
Innovation in Aramco's operations is not limited to new discoveries and energy reserves but also extends to Aramco's environmental and safety activities. Saudi Aramco continues to lead the effort to develop facility-specific Flare Monitoring Systems and Flaring Minimisation Plans.
In 2012, Aramco avoided flaring of 68,100 barrels of crude oil by introducing a programme of zero flaring of fluids during offshore well intervention programmes. In alignment with Aramco's strategy to conduct safe and environmentally responsible operations, Aramco have also reduced sulphur dioxide emissions from the company's facilities by almost 70 per cent between 2005 and 2012, despite the ongoing expansion of Aramco's operations.
Shaybah NGL Recovery Program Evidence of Saudi Aramco's history of innovation lies in the towering, bright orange sand dunes of Shaybah in the Rub' Al Khali, where in 1998 Aramco began producing crude oil in one of the world's harshest climates.
More than 800 kilometres from Aramco's headquarters in Dhahran, Shaybah represents one of the industry's most astounding challenges yet and one of Saudi Aramco's most celebrated success stories. Aramco continued to build on that success story in 2012 with progress on the construction of a massive natural gas liquids recovery facility at the existing Shaybah crude oil producing site.
The programme includes building a grass-roots NGL recovery plant, increasing gas handling of the existing Shaybah gas oil separation plants (GOSPs), and building a new pipeline to deliver the recovered NGL for further processing.
The new facilities, expected to be completed in 2014, have the capacity to extract high-value NGL components from 2.4 billion scfd of Shaybah associated gas arriving from different GOSPs.
Solar energy is a key area of investment in Aramco's renewable energy programme. Creating a viable solar energy business has the potential to ease domestic demand on oil and gas products, thereby making more product available for export and increasing future revenues.
Aramco's venture into harnessing the sun's energy is both functional and exploratory. In 2012, Aramco commissioned the thin-film technology solar plant that generates up to 10 MW of power from shades covering 4,500 parking spaces at Aramco's Al-Midra office building.
Aramco also commissioned a 3.5 MW polysilicon solar system developed for the King Abdullah Petroleum Studies and Research Centre (Kapsarc) in Riyadh which will be increased to 5 MW.
On the research side, Aramco have been investing in developing innovative methods for efficiently harnessing solar power.
Significant progress was made in 2012 toward the programme's objectives of proving the economics of utility scale projects, testing high power yield technologies, and developing a solid understanding of the challenges that the technology is likely to face across the kingdom.
In 2012, Saudi Aramco also developed and installed a solar test field in Dhahran. The site accommodates 31 technologies, provided by 26 vendors, which are being tested to determine the highest yield possible in the kingdom's climatic conditions.
Analysis will be undertaken over different seasons to achieve the most accurate results and to determine the impact of the heat and dust accumulation in Saudi Arabia.
Continuing to explore the potential in renewable energy deployment, collaborative efforts were initiated in 2012 with leading international technology centres and local research institutes to identify specific renewable energy technologies exhibiting promising short- or long-term potential for Saudi Arabia.
First, Saudi Aramco and Kaust engaged in the analysis of robust automated cleaning solutions for solar photovoltaic modules, which have a high priority given the environment of Saudi Arabia.
A framework for collaboration is being developed between Kaust and Saudi Aramco, further enhancing knowledge building on the performance of various renewable technologies in the kingdom.
Second, under the MIT Energy Initiative Framework, a number of research projects were identified for collaborative R&D efforts. Innovations, including low-cost high-efficiency crystalline silicon solar cell technology and organic photovoltaics were selected mainly on their true breakthrough potential, which if successful, could have a great strategic value to the kingdom.
Third, mutual agreements with King Abdulaziz City for Science & Technology (KACST) took place in 2012. The initiated collaboration includes locating concentrated photovoltaic systems, which are manufactured by KACST, on Saudi Aramco properties and sharing the cleaning experiences and dust mitigation techniques.
In line with Aramco's strategic objective of mitigating fuel consumption for power generation, an initial evaluation of Saudi Aramco facilities across the kingdom that have potential for replacement with renewable energy sources was conducted in 2012.
Various facilities were identified that could utilise solar photovoltaic systems. The Earth's thermal energy is tremendous and could be extracted to generate electric power to reduce reliance on hydrocarbon fuels.
In 2012, Saudi Aramco completed a study on geothermal potential in the kingdom.