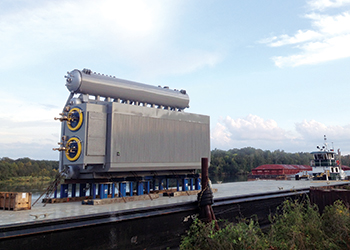 B&W's industrial boilers offer fuel flexibility with low-emissions
Babcock & Wilcox (B&W), which is based in the US and has a growing presence in the Middle East and Africa with offices in the UAE, Saudi Arabia, Egypt and South Africa, is a global leader in advanced energy and environmental technologies and services for the power, industrial and renewable markets.
With 5,000 package boiler units sold worldwide and extensive global experience in industrial steam generation and environmental technologies, B&W was chosen to supply key parts to the Integrated Refinery and Petrochemical Complex (IRPC) in Rayong, Thailand.
IRPC's Rayong facility is the first fully integrated petrochemical complex in Southeast Asia, and is located in an industrial area of Rayong, with energy and seaport operations to support the area's businesses. A subsidiary of Global Power Synergy, IRPC Clean Power Company (IRPC CP) owns and operates a cogeneration plant that produces and sells steam and electrical power.
B&W was selected through engineering, procurement and construction (EPC) contractor TTCL to supply IRPC CP's combined heat and power (CHP) plant, CHP II, with an industrial boiler capable of generating and supplying steam to a neighboring factory.
B&W engineered an elevated three-drum water-tube boiler for IRPC
in Thailand
The project required a steam generation solution that could provide five minutes' worth of water retention in case of a loss from feedwater pumps before a low-water trip to the boiler. The overall work scope included the supply of a 143,150 kg industrial boiler with steam capacity, including deaerator (DA) pegging steam, of 115,000 kg/h at 62 bar and 440 deg C; dual low NOx burners; dual forced draft fans (one for redundancy); economiser; and a control system.
The cost, transportation and environmental considerations were also factored into the design.
To meet all requirements of a high-capacity, factory-built unit, B&W engineered and delivered its first elevated three-drum water-tube boiler. It was designed to accommodate ample water holding capacity, much greater than a two-drum design.
In this project, the large steam drum was mounted prior to shipment, but for instances in which shipping height and weight limitations exist, the steam drum could be transported separately and assembled onsite.
Manufactured in the US, the unit was transferred by truck to the Tennessee-Tombigbee Waterway, then by barge to a port near Houston, Texas, from where it was shipped to IRPC's dock in Rayong and delivered by truck to the plant.

RESULTS AT FINAL COMMISSIONING
The drum level did not deviate more than 15 mm from set point during normal plant load swings.
The unit, which was rated at 100 tons/h (net steam flow), was observed running at up to 110 tons/h.
CO and NOx emissions were well below required levels. Additionally, NOx levels below 25 ppm were achieved over the entire boiler load range via the flue gas recirculation (FGR) system.
The results showed a boiler efficiency of 84.42 per cent (HHV basis) achieved.