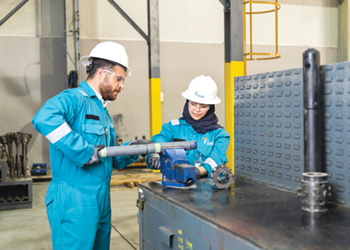 TAQA is nurturing young local talent to ready them for the industry
TAQA has grown to become a reliable oilfield services provider to its customers with the launch of its 2021 strategy and the new brand, which is structured around three pillars representing its three stakeholders: shareholders, customers and people.
TAQA continues to deliver advanced, flexible, efficient, and cost-effective products and solutions with a relentless focus on customer satisfaction.
The company also continues to demonstrate its commitment to providing customers with cutting-edge technologies while offering innovative approaches to deliver the best services and support through focussed technology development projects.
TAQA is developing technologies, products and services, and at the same time nurturing the young and local talent needed by national oil companies, to find and produce our region's natural resources in abundance.
Some of TAQA's recently launched technologies include:
• PulseEight: Developed by Tendeka, TAQA's Well Completion Center of Excellence, PulseEight is a dynamic downhole reservoir management system and the world's first redeployable wireless completion with control, power, monitoring and communications already on board.
In contrast to a fixed intelligent completion, operators can deploy PulseEight on wireline in any well at any depth, programme it to dynamically manage drainage with infinite variability, then pull, re-programme and re-deploy it elsewhere.
• ION Downhole Data Capture: Developed by Cougar Drilling Solutions, TAQA's Drilling Center of Excellence, ION is a sophisticated downhole sensor designed to capture a range of downhole drilling conditions, specifically targeting downhole drilling dysfunction.
This system can be placed in any BHA component with sufficient wall thickness, in the shank of the drill bit, or in a standalone sub.
Cougar's analysis systems provide an in-depth report based on the data gathered downhole, including three axis shock and vibration logs up to 1,000 Hz sampling rate, rotation and temperature.
ION allows operators and service companies to comprehensively understand downhole dynamics, validate other data sources, and prove the value of specific downhole drilling tools.
• The Target DISCOVERY™: Developed by Target, TAQA's Well Intervention Center of Excellence, is an intelligent downhole tool for well testing.
Its unique design allows buildup shut-in formation testing, flowing of the well, acid stimulation or nitrogen lift to be performed in a single run operation.
A multi-set packer is set above the zone to be tested. Nitrogen can be pumped through the tools flow port to assist the well flow. The multi-cycle electric shut-in valve provides instant shut-in of the well. The pressure build-up curve is displayed at the surface for continuous reservoir data evaluation.
Superior data accuracy is delivered by measuring the measurement at the reservoir with quartz sensor accuracy.
The Target DISCOVERY tool is fully electric powered. All functions are controlled from the surface, providing superior operator control.
Established in Saudi Arabia in 2003, TAQA is a well services company, which provides products and solutions to the energy industry, enabling the performance of its customers.
TAQA continues to innovate by developing and deploying technologies, products and services and building long-term customer relationships.
With more than 5,500 employees, TAQA's well services portfolio includes coiled tubing, cementing, wireline, frac, directional drilling, downhole tools, completions, contract drilling and seismic acquisition services.