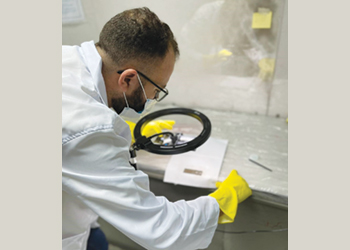 SOGEC does internal corrosion testing at its laboratory
The company has established an internal corrosion monitoring services team with proper online coupon retrieval equipment and enough experience in the domain to serve oil and gas plants and facilities
In an attempt to broaden its horizons and reach new heights, Specialised Oil and Gas Engineering Company (SOGEC) is frequently branching out by adopting new products and embracing the latest technologies.
"One of the many ways in which SOGEC is seeking to diversify its capabilities is the recent establishment of an in-house internal corrosion laboratory that deals with cleaning retrieved coupons with proper chemicals and weighing them to calculate metal loss and evaluate environment corrosivity, in addition to the microscopic analysis of pitting activity and bacterial testing to determine the type of corrosion," Waleed Rajab tells OGN.
To aid with this initiative, SOGEC has also established an internal corrosion monitoring services team with proper online coupon retrieval equipment and enough experience in the domain to serve oil and gas plants and facilities.
As a testament to its efforts in expanding its services, SOGEC landed its first anodic protection (AP) design project in 2022, an initiative which, alongside its technical partner in Canada, will open the door to future collaborations with highly esteemed institutions in the region, such as SABIC and Ma'aden, as well as other companies in the AP domain.
SOGEC has also been awarded a surveying project for 6,000 km of pipelines all over the Kingdom, the scope of which includes geological study, soil corrosivity, terrain analysis, and automatic continuous soil resistivity measurement. Work on the project has already commenced in the northern area and is progressing very well.
Another way in which SOGEC has been transforming and evolving throughout the past few years is by pursuing new partnerships and collaborations with the best and brightest companies.
SOGEC's monitoring team with tools for on-field testing
SOGEC frequently works with its sister company IK Energy, a company dedicated to renewable energy that is also currently introducing the smart car parking management system in the Kingdom, an initiative that will raise the bar in the parking systems domain in the region.
IK Energy has recently partnered with Parklio, a forward-looking company that was launched in 2016.
Parklio is focused on building original solutions that are needed for the 21st century and beyond.
The core of the business is smart parking products that excel in functionalities and have a user-friendly interface that can be adopted by large markets, and customers seeking the latest technologies and solutions.
"What makes Parklio different and superior to similar companies in the marketplace is the product quality and the technology incorporated within its systems. All the software and hardware are built in-house by a team of dedicated employees, with an emphasis on product quality above all else," says Rajab.
By using artificial intelligence, machine learning, and predictive algorithms, among other methods and solutions, Parklio makes the best parking products that strive to make sure that parking is a worry-free experience for customers.
ENVIRONMENTAL SUSTAINABILITY
In addition to embracing the newest products and technologies, SOGEC is always looking into the latest technologies and building amenities that can help reduce the company's carbon footprint.
"As an example, the servers in mother company Kabbani Construction Group's head office data centre were recently converted to more energy-efficient models, and the company moved to a virtualised platform that also cut down on the amount of energy and cooling needed. This effort reduced energy usage by 50 per cent," says Rajab.
Parklio ... smart parking solutions
The company is also researching environment-friendly options including the utilisation of elemental factors for building maintenance, in addition to the fact that it is a member of the US Green Building Council (USGBC).
SOGEC consistently strives to make sure that its employees are able to participate in helping and protecting the environment as well.
Employees are highly encouraged to recycle as much as possible and also submit any ideas they have to make sure all offices and workplaces are as green as possible.
"SOGEC greatly cares about the planet and strives to minimise the impact of its activities on the environment as a whole. By helping to set the bar as an environmentally responsible company, it will hopefully encourage others to follow in its path," Rajab says.

TALENT ACQUISITION & SAUDISATION
In an effort to achieve all of these goals and more, SOGEC also looks to hire the best and brightest of employees, aiming to provide equal opportunities for everyone so that they may contribute to society to the best of their abilities.
Rajab says SOGEC values talent and abilities above all else, giving everyone the chance to showcase their skills and talent in a diverse, respectful and collaborative environment that supports growth.
"SOGEC is constantly looking for new individuals to employ in its company at all levels, starting from entry to upper management, as well as providing recent Saudi graduates with training programs to help introduce and integrate them into the workplace," Rajab says.
SOGEC's mother company Kabbani Construction Group also offers an induction programme that aims to increase Saudisation in line with Saudi Arabia's Vision 2030, by recruiting talented Saudi graduates and placing them in jobs that suit their skills and capabilities.
This programme offers fresh Saudi graduates of high schools or universities, and those who hold diplomas, bachelors or masters degrees, comprehensive training focusing on the values of teamwork and customer satisfaction, soft skills such as delivering presentations, effective communication, and creative thinking.
Throughout the course of the programme, participants are trained for the challenging work environment based on their tasks. This involves vocational training, practical exercises, and, most importantly, on-the-job training sessions at the office or on construction sites.
"Through these initiatives and enterprises, among many other pathways and methods as well, SOGEC can ensure that it stays at the forefront of the oil and gas industry, providing its long list of esteemed clients with only the best and most innovative services and solutions that will bring their companies to new heights, and help them unlock their full potential," Rajab concludes.
SOGEC is a member of the Kabbani Construction Group, which is the contracting vehicle of the IKK Group, one of the largest and oldest business institutions in Saudi Arabia.
Established in 1977 as a roofing contractor, Kabbani Construction Group has evolved and expanded over the years to become the largest specialised subcontractor in waterproofing, concrete repair and maintenance, oilfield services, industrial insulation, airfield construction, digital transformation, and much more.
SOGEC was initially launched as a member of the Kabbani Construction Group in 2001 to meet the acute needs of cathodic protection, non-destructive testing, heat treatment and corrosion control (VCI) as required by the oil and gas industry, through the vast experience gained by the division's engineering and technical staff.
SOGEC has since managed to acquire extensive professional experience in the field of cathodic protection, non-destructive testing and heat treatment for pipelines, plant piping, tanks, vessels, jetties, steel reinforcing, and much more.