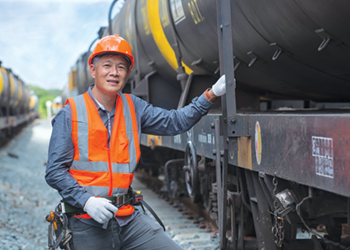 The oil and gas industry has an ageing workforce
The industry has an ageing workforce, and while fewer students are graduating in disciplines such as geology and petroleum engineering, many of them are more interested in clean tech industries, Yan Simard, CEO, Kognitiv Spark, tells OGN
After the huge disruptions of the Covid pandemic, the current rocketing energy prices should mean the oil and gas sector is in great shape.
Yet although revenues are increasing, the industry faces another significant after-shock from the pandemic – the early retirement of skilled professionals who will take much of their specialist knowledge with them.
More than 35,000 people aged 50 to 70 became economically inactive after leaving professional, scientific or technical activities in the UK between 2019 and 2021, according to the Office for National Statistics – the largest change among the employment groups surveyed.
A study by the Institute for Fiscal Studies also found almost half-a-million fewer people in this age-group were in paid work in Q1 of 2022, compared with before Covid.
Covid is not all to blame, however. A study into US oil and gas job searches published in 2020 estimated half the workforce was "tenured" with the majority set to retire within five-to-seven years.
The oil and gas industry has an ageing workforce, while fewer students are graduating in disciplines such as geology and petroleum engineering. Many of them are in any case, more interested in "clean" tech industries.

KNOWLEDGE LOCKED INSIDE WISE OLD HEADS
What exacerbates the problem is that much knowledge is undocumented and few organisations undertake comprehensive knowledge transfer before workers move on.
In oil and gas, where innovation and maximum efficiency are equally imperative, the range of specialised roles is so broad that the tide of retirements threatens to create a significant industry-wide problem.
On a day-to-day basis, younger engineers at the sharp-end may face all kinds of unexpected events and challenges and they need all the help they can obtain.
With technology constantly advancing, engineers must constantly adapt. Younger engineers or technicians are keen to learn but they need that 'experience baseline' to build on before they can adapt at the same pace as their more experienced colleagues.
It's here that technology is likely play a key role, helping to augment employees' cognitive capabilities and support them in delivering in complex situations and dynamic environments.
Indeed, the use of immersive mixed reality technologies to enhance workforce skills and alleviate the looming talent shortage is one of the recommendations in the 2020 report into the industry by professional services giant Deloitte.
TECHNOLOGY TO SUPPORT HANDS-ON LEARNING
As part of this injection of technology, mixed reality-based worker support in which physical reality and digital content combine to enable interaction with and among real-world and virtual objects, has application in many situations.
This approach allows remote workers to establish a secure video and audio call with more experienced colleagues when they face a complex problem.
The expert, who can be located virtually anywhere, can see what the remote worker sees through the headset, and use holographic assets to support the task, all while keeping the user heads-up and hands-free.
This approach is highly-effective in complex operations at any upstream or downstream facility.
Being able to resolve difficulties or malfunctions 'on the fly', through mixed reality technology, helps eliminate downtime and reduce overall time-to-resolution. In addition, mixed reality saves the time and expense of travelling for expert oil and gas professionals.
And in a principle older than the industry itself, a younger worker who resolves a challenge hands-on for the first time is far more likely to retain the knowledge than if they were reading a manual in the classroom.

USE CASES ARE ALMOST LIMITLESS
Use cases for mixed reality are as wide-ranging as the snags and problems that bedevil any oil and gas installation, including routine inspection and maintenance of equipment and complex troubleshooting.
Encouraging workers to use mixed reality may require a degree of change-management, but is unlikely to be a serious challenge because the technology is intuitive to use, especially for someone accustomed to interacting with a smartphone.
Adoption is more likely to advance "virally" if it starts with enthusiasts within the business who can excel in its use and demonstrate to others within the business the benefits they can deliver.
Questions about the cost of any new technology are understandable. But in terms of ROI, mixed reality solutions pay for themselves rapidly with regular use, slashing downtime and travel expenses.
It is clear that mixed reality is here to stay in the highly complex and highly competitive world of oil and gas where all companies must extract the last microgram of efficiency.
It is a proven technology that equips younger, less experienced workers to conduct inspection, maintenance and repair tasks without the physical presence of a more experienced and highly skilled colleague.
Getting expertise on site to assist less experienced staff has been a problem for some time and mixed reality helps to address it.

HIGH-PERFORMING HARDWARE USING 5G & SATELLITE CONNECTIVITY
Oil and gas businesses more clearly see and understand the many use cases for the technology, which is why conversations between vendor and customer are more concerned with achieving accurate use case definitions and operationalising the solution and application, whether for worker support, for fixing complex problems efficiently or for knowledge transfer.
In terms of hardware, performance will improve, battery life will extend and headsets will become smaller.
This will enable mixed reality devices to be used by engineers and technicians throughout the week rather than just for one-off scenarios.
Constant use will improve the utility of the technology and the gains it delivers.
The spread of 5G connectivity and low earth orbit satellites will also boost performance regardless of location.
Security will be essential, of course, but such enhanced connectivity will, in turn, lead to richer applications and broader use cases.
It is no exaggeration to say that mixed reality technology is set to become an important asset in initiatives to transform the efficiency of oil and gas as traditional skills bases go through a prolonged period of adjustment and the industry experiences significant change.
Matsubara further said: "I think this very difficult achievement of autonomous control in an actual distillation column and the fact that the level of practical application has been raised to the point where the entire production process and safety are integrated into one system have great significance for the entire industry. I look forward to seeing what happens next with this technology."
Meanwhile, Yokogawa Electric Vice-President and Head of Yokogawa Products Headquarters, Kenji Hasegawa, said the field test suggested that an autonomous control AI (FKDPP) can significantly contribute to the autonomisation of production, maximisation of ROI, and environmental sustainability around the world. Yokogawa led the world in the development of distributed control systems that control and monitor the operation of plant production facilities, and has supported the growth of a range of industries.
He said: "With our gaze fixed firmly on a world of autonomous operation that forms the model for the future of industries, we are now promoting the concept of IA2IA – Industrial Automation to Industrial Autonomy. "