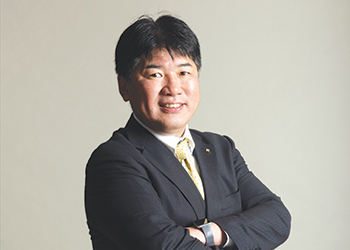 Shigeno ... boosting the Kingdom's energy stream
Yokogawa has not only remained staunch in transferring knowledge through the training and development of Saudi men and women, it has progressively created knowledge indigenously through its R&D centre in Dhahran Techno-Valley
Yokogawa has demonstrated a strong commitment to the localisation of manufacturing and technological development in the Kingdom of Saudi Arabia through its manufacturing facilities, such as the one at the King Salman Energy Park (Spark).
The state-of-the-art facility, which manufactures analysers, transmitters and control systems, is running at full capacity after a little over a year in operation, and is already bracing for expansion to meet growing local and regional demand.
Yokogawa has not only remained staunch in transferring knowledge through the training and development of Saudi men and women, it has progressively created knowledge indigenously through its R&D centre in Dhahran Techno-Valley.
In an interview with Abdulaziz Khattak of OGN energy magazine, Kunimasa Shigeno, President and CEO of Yokogawa Middle East & Africa, and Ahmad Al-Abdrabbuh, SEVP and Board Director, Yokogawa Saudi Arabia, discuss the company's progress and future plans for the Kingdom
• What significant role has Yokogawa played in Saudi Arabia's economy after the start of its manufacturing facility at Spark?
Shigeno: Yokogawa's spark manufacturing facility was established mainly to expand our business market in Saudi Arabia and the region.
The facility drives several economic values that contribute to the Kingdom's overall advanced technology industry, both directly and indirectly.
Additionally, the Spark facility is our only manufacturing facility in the region of its kind with production to meet the market demands of the entire GCC and wider Mena regions.
This will also help increase KSA exports in line with Vision 2030, which aims to diversify non-oil exports and increase its share in the non-oil GDP from 16 per cent to 50 per cent in 2030.
After the Spark facility's opening, we are now completely independent and have significantly reduced the dependence on imports by producing our own analyser systems in Kingdom.
The factory is running close to full capacity and is full with orders just within a year of establishment, thanks to the support from our customers like Saudi Aramco, Sabic, Saline Water Conversion Corporation (SWCC), and others.
Other key dimensions of evident and direct economic contribution are the significant increase in local spending on related goods and services and our continuous efforts and investment in localising the value chain.
I am pleased to share that we are already working on the expansion of our Spark facility to accommodate the healthy business demand both locally and regionally.
• How is Yokogawa partnering with Aramco to help boost the kingdom's energy stream?
Shigeno: The relationship between Aramco and Yokogawa goes back to the early 1990s when Yokogawa delivered its first project at the Riyadh Refinery.
Our commitment is to deliver to and maintain Aramco's robust automation systems and measurement devices, helping it to continue providing the world with reliable and sustainable energy.
In addition, we have been continuously collaborating with Aramco on automation technology and solutions related to energy management and operational optimisation.
• What other emerging technologies is Yokogawa introducing to the Kingdom?
Al-Abdrabbuh ... aggressively driving Saudisation
Shigeno:
Digitalisation is a key area for our Saudi customers and we have several products and technologies in this area, starting with our IIoT sensors, which can wirelessly monitor vibrations, pressure and temperature measurements in remote areas. These AI-enabled sensors can predict a failure before it actually occurs.
This is only an example and taste of Yokogawa's roadmap toward the future in this area.
Yokogawa globally is driving the technology from 'Industrial Automation to Industrial Autonomy', dubbed IA2IA. With a vision and drive towards symbiotic autonomy to realise the complete autonomous operation of facilities enabling the plant to plant business without barriers across the value chain.
Our development in the Kingdom is fully aligned with this drive and our R&D centre and execution teams are continuously contributing to indigenizing these technologies and transferring knowledge in the most effective approach.
As part of our commitment to localise technological development, Yokogawa has established an R&D centre at its Dhahran Techno Valley (DTV) facility to focus on emerging technologies, such as AI applications, process optimisation, and energy and robotics/drones.
Several research themes created with local and global partners have resulted in patents, publications and prototypes as a way toward commercialisation.
At the facility, Saudi researchers are leading and contributing to solutions development. For example, they help build an intelligent maintenance recommender system for a global chemical company to improve maintenance operations efficiency.
• How much of its In-Kingdom Total Value Add (iktva) programme goals has Yokogawa achieved so far?
Al-Abdrabbuh: So far, Yokogawa has successfully achieved and exceeded all localisation targets set out in the MoU signed with Aramco on February 24, 2020. Thus, Yokogawa has further updated its plan to cover up to 2030 and to include higher targets for each localisation dimension to reach overall 70 per cent iktva by 2027. We are committed to maximising value through impactful and effective localisation.
• How is Yokogawa developing Saudisation and the capabilities of Saudi engineers and technicians?
Al-Abdrabbuh: Yokogawa is aggressively driving Saudisation at different levels of the organisation from the fresh graduates to executive management and the board. We aim to increase Saudisation to 90 per cent by 2030.
Yokogawa recognises employees as its most important asset. Accordingly, we strive to develop workforce knowledge and skills through intensive training and development programmes. Several successful programmes are in place to train and develop Saudi men and women in various technical, professional, and leadership fields.
Saudi nationals undergo different soft and technical training programmes based on the skill sets and competencies required. Succession planning and talent management programmes are implemented to ensure Saudis progress in climbing the organisational ladder at an accelerated pace.
Additionally, Yokogawa provides programmes for fresh graduates, technicians, and coop training in collaboration with King Fahd University of Petroleum and Minerals (KFUPM), Jubail Industrial College (JIC), Prince Mohammad Bin Fahd University (PMU), Yanbu Industrial College (YIC), King Saud University (KSU), and other universities locally and internationally.
A success story we have at Yokogawa is Sakeena Al-Awami, an elite female engineer who joined Yokogawa Saudi Arabia in 2008 under the 'One-Year Graduate Training Program'.
Sakeena was sent to Yokogawa, Japan, and other international affiliates as part of the development programme along with her peers. She is now one of Yokogawa's senior project managers executing several mega projects for Aramco and other key stakeholders.
We confidently see her and other home-grown Saudi leaders effectively lead the company locally, regionally and globally.
• How does Yokogawa address social issues through its business activities?
Al-Abdrabbuh: Yokogawa is committed to environmental, social, and economic sustainability goals in line with the UN SDGs and the Paris Agreement (COP21). We think of them as our 'three goals':
• Response to climate change (achieving net-zero emissions).
• Quality of life (ensuring well-being for all), and contributing to the realisation of Vision 2030 by driving localisation of manufacturing and job creation.
• Circulation of resources and efficiency (transitioning to a circular economy).
To achieve these goals, we are working on establishing and realising indicators based on our long-term business framework, setting short-term business targets as well as mid-term social impact objectives.

• How is Yokogawa contributing to the local renewable energy industry?
Al-Abdrabbuh: Yokogawa has developed several technologies and solutions to support and grow the green energy sector. Such technology deployment and contribution in collaboration with local stakeholders are progressing well. More will see the light in the near future, including green modular hydrogen production with very low operational cost and fully autonomous operations.
We see this novel solution contributing and fueling the glorious strides this country is taking towards its ambitious Saudi Vision 2030 and supporting the net-zero emission goals set creating a successful role model globally to be followed.