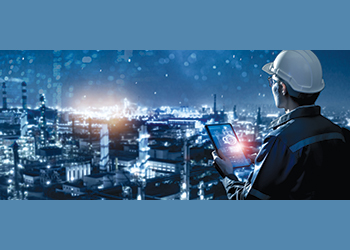 Emerson offers solutions for modern refining and petrochemical complexes
A key focus area when working with stakeholders such as Saudi Aramco has been industrial emissions and energy consumption, Janka O'Brien, MEA Director of Sustainability, Emerson Automation Solutions, tells OGN
With a keen focus on reducing industrial emissions and energy consumption of its customers in the Middle East, Emerson has deployed an extensive portfolio of technologies that support these sustainability objectives.
Additionally, the company has followed an aggressive localisation, of both manufacturing and manpower, in Saudi Arabia. As the capacities in its production facilities expand, new opportunities are created for local talent.
In an interview with OGN energy magazine, Janka O'Brien, MEA Director of Sustainability, Emerson Automation Solutions, gives a detailed overview.

• What is Emerson's sustainability approach and how is it aligned with your business goals?
Emerson's sustainability framework — the greening of, by and with framework — is a comprehensive look at Emerson's own facilities and processes, our products and the end use of our solutions, and our global presence and knowledge base to accelerate our collective journey towards a more sustainable planet.
Recently, we published our global ESG report with a committed goal of reaching net-zero around Scope 1 and 2 greenhouse gas (GHG) emissions by 2030, and the ambition to reach net-zero for Scope 1, 2 and 3 GHG emissions by 2045.
To achieve net-zero in our Scope 1 and 2 emissions, we have a comprehensive global programme that focuses on a close look at our own facilities around the world and identify opportunities to reduce energy intensity, look at potential for decarbonisation of existing energy sources through captive renewable solutions such as rooftop solar, and look for neutralisation opportunities using technological solutions.
Another important focus area for Emerson has been supporting the sustainability objectives for our critical customers. In the Middle East there has been a strong focus on energy use optimisation, emissions management and carbon capture. Emerson has an extensive portfolio of technologies that are proven in use and are being deployed today towards these goals.
Finally, Emerson has been working with industry bodies and regulatory authorities to forge partnerships that accelerate pathways to sustainability through knowledge sharing and shaping industry practices.

• How can Emerson as an automation solutions provider help Saudi Aramco reduce emissions, manage its energy profile, reduce its carbon footprint and drive towards decarbonisation?
Emerson works with key stakeholders like Saudi Aramco for a purposeful reduction in carbon footprint and emissions intensity.
A key focus area here has been industrial emissions and energy consumption.
A typical hydrocarbon refinery that has an optimised energy management model in place can offset as much as 2 to 3 per cent of its overall energy usage.
Energy costs depend on several factors, including fuel types and their costs, equipment efficiency, operating conditions, etc. A large portion of the energy is also often lost as wasted energy.
It is often useful to understand consumption at a unit level to allow benchmarking and optimisation practices.
Once a holistic picture of energy use is in place, the focus must then shift towards immediate and short-term targets for energy efficiency.
Emerson has several applications that serve as opportunities for modern refining and petrochemical complexes based on the scale and scope of energy management.
At a unit level, our Plantweb Insight analytics platform allows operators to leverage critical condition insights and performance analytics around critical assets such as compressors and heat exchangers.
At a plant level, our predictive analytics platform helps operators improve their operational energy consumption metrics by heling them identify crucial variables through data capture.
This has unlocked major energy related cost savings for our customers and supported both their operational efficiency and profitability goals.
Emissions management and reduction is another critical area. A primary focus needs to be around emissions profile through flaring, venting and leaks.
Saudi Aramco has been a pioneer in running enterprise level programmes to reduce routine flaring.
Fugitive emissions are another key contributor to industrial emissions, constituting roughly 5 per cent of overall GHG emissions globally.
A solution could include focus on valves, which make up 60 per cent of all fugitive emissions at plants.
Leaking valves must be replaced and all pressure relief valves, tanks and remote isolation valves should be monitored to detect emerging leaks.
Another approach include gas sensors to detect low pressure leaks and acoustic sensors for detecting high pressure leaks.
Most refineries today invest in continuous emissions monitoring systems (CEMS). However, CEMS analysers don't allow much room for operators to make proactive decisions for the plant.
An emerging alternative to CEMS are Predictive emissions monitoring systems (PEMS), which monitor several relevant factors around emissions and calculate effluent outputs in real time based on the designed combustion models.
Since PEMS deployments do not factor expensive and time-consuming operation and maintenance of traditional analyser systems, they are often cost effective when compared to CEMS systems.
• What are the highlights of Emerson's localisation journey over the years, and some key milestones? How much have the local facilities reduced dependence on imports?
Emerson's investments in local manufacturing, execution, and services moves towards addressing the needs of our market while also bolstering our support for Saudi Vision 2030.
For over a decade, local manufacturing and service presence has always been an important part of our strategy enabling us to achieve 60 per cent Saudisation across all our facilities in-Kingdom.
At the IKTVA Forum 2022 in Dhahran, we signed an MoU with Saudi Aramco to reinforce our support for IKTVA and Saudi Vision 2030.
The agreement recognises Emerson as a major manufacturing and services provider of process automation systems and instrumentation.
At the event, we reiterated our commitment to investing in local and sustainable solutions as we seek to support Vision 2030 objectives as well as the plans outlined in the Saudi Green Initiative.
Last year, despite the obvious challenges that the global pandemic presented, Emerson continued its goal to strengthen our local presence in manufacturing and supply-chain.
We recently held an event to commemorate a milestone in our local manufacturing. Today we have the capability to manufacture our control valves entirely through locally sourced raw components including critical pressure retained parts such as castings.
Our expanded manufacturing footprint in our Jubail facility has added pressure regulators, pilot-operated and conventional relief valves to our already extensive production and service capability in the area.
We recently opened an instrumentation manufacturing facility in Dammam 2nd Industrial City.
This has allowed us to increase capacity while also adding new products including a wireless portfolio previously never manufactured anywhere in-Kingdom.
The opening of our fluid and motion control facility in Jubail in February this year — where we will manufacture solenoid valves, air filter regulators and control panels — again brings new products and technologies to the Kingdom that support a broad sector of diversified industries including manufacturing, food and beverage, and life sciences.
Of course, our investment in local manufacturing and the supply chain as well as other efforts around engineering and development has allowed us to expand our workforce creating exciting new value-adding opportunities for local talent with a continued priority commitment to increasing gender diversity in our team.
These developments have been possible through the visionary leadership of Saudi Aramco and the Saudi government that has created an ecosystem to promote investment in talent and capabilities across the value chain.
As the world grappled with an unprecedented supply chain crunch globally, decades of focus on localisation helped in-Kingdom operators manage critical project timelines.