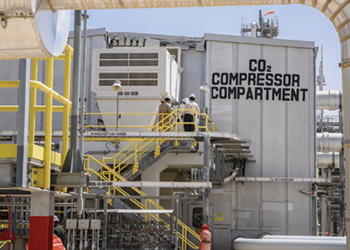 The Hawiyah Gas Plant captures 30 million standard cu ft of CO2 every day
Aramco commends itself as a low-cost producer with one of the lowest upstream carbon intensities in the industry.
The world's largest oil producer is working to increase production from multiple energy sources, including oil and gas, as well as renewables, and blue hydrogen.
Last year, Aramco published its first sustainability report, which outlines plans to achieve net-zero Scope 1 and Scope 2 greenhouse gas emissions across its wholly-owned operated assets by 2050.
The report also sets interim targets, including capturing, utilising, or storing 11 million metric tons of CO2 equivalent annually by 2035, and investing in renewables with an aim to generate 12 GW of solar and wind power by 2030.
These and other initiatives will support the company's ambition of reducing more than 50 million metric tons of CO2 equivalent (CO2e) annually, and the reduction of upstream carbon intensity by 15 per cent — from 10.2 kg CO2e per barrel of oil equivalent (boe) to 8.7 kg CO2e/boe — by 2035.
This target takes into account Aramco's anticipated increases in oil production and maximum sustainable capacity (from 12 million bpd to 13 million bpd by 2027), and the expansion of its gas business.
Additionally, Aramco aims to produce 11 million tons of blue ammonia, a carrier of blue hydrogen, annually by 2030.
In June, Aramco inaugurated the Aramco Research Center at the King Abdullah University of Science and Technology (KAUST) to accelerate the development of lower-carbon solutions.
The centre uses artificial intelligence and machine learning to develop innovative ways to enable a circular carbon economy.
Estimating Scope 1 and 2 GHG emissions to increase to 119 MMtCO2e, Aramco aims to reduce this to 67 MMtCO2e by 2035.
Globally, however, Aramco's 2021 upstream carbon intensity was among the lowest of major oil and gas producers at 10.7 kg of CO2e per boe.
Aramco's current focus is on GHG intensity from its upstream operations, which contributes the largest portion of its emissions.
In 2021, Scope 1 emissions increased by 4 per cent following the start-up of the Fadhili Gas plant. But on the other hand, Scope 2 emissions decreased 14 per cent due to a shift in consumption of electricity from third-party to company-owned power generation.
To reduce GHG emission, the company is focusing on five key levers: energy efficiency across its upstream and downstream assets; further reductions in methane and flaring; increased use of renewable energy sources; CCUS; and development or purchase of offsets to help address hard-to-abate emissions.
To minimise flaring, Aramco employs a variety of solutions, which helped it maintain a flare volume of less than 1 per cent of total raw gas production since 2012.
Similarly, Aramco's upstream methane intensity in 2020 fell to 0.05 per cent, and compares with an Oil and Gas Climate Initiative (OGCI) OGCI average of 0.20 per cent
To improve energy efficiency, the company in 2021 implemented more than 300 energy initiatives at its local facilities, resulting in 11.85 mboed of energy savings, equivalent to 1.26 million tons of CO2 emission reduction.
In another key area, Aramco is working on developing long-term sequestration goals. Its CO2 EOR Demonstration Project can capture 800,000 tons of CO2 per year. The captured CO2 is piped 85 km and pumped into a mature oilfield to enhance oil recovery (EOR) and sequester CO2.
An important part of Aramco's net-zero planning is the use of offsets and carbon credits. By setting up the Riyadh Voluntary Exchange Platform, Saudi Arabia committed to developing a trading platform for carbon offsets and credits produced in the Mena region.
In March Aramco, national carrier SAUDIA, ACWA Power, Ma'aden, and ENOWA signed MoUs to become partners of the initiative known as Mena regional Voluntary Carbon Market, or VCM.