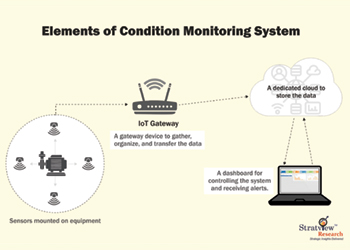 Figure 1 ... elements of a CMS
The industry can leverage condition monitoring systems to maximise output, reduce maintenance costs, extend equipment lifespan, obtain energy efficiency and improve worker safety, Chandana Patnaik from Stratview Research tells OGN
Heavy duty pumps, compressors, pipelines, storage tanks and other countless components power the flow of oil and gas from underground and undersea reserves.
If equipment are taken care of regularly, everything goes right. But when checkups are missed, it can lead to potential hazards, such as leakage of liquids and gasses or large-scale explosions.
Providing a safe and regulated environment at such critical spaces becomes the foremost responsibility of any operator.
In oil and gas, when machinery breaks down or downtime occurs, operators face many consequences, including loss of revenue, increasing material and labour costs (as result of delays in production), extra costs for non-maintenance, insufficient materials for supply (resulting in service failure, and lower customer satisfaction), and worker safety and even large-scale hazards.
On an average, an oil and gas company goes through an unplanned downtime of, at least, 25 days each year, costing it approximately $35-40 million.
Therefore, monitoring can help companies in the industry improve their functioning and also serve as a handy tool for the site's predictive maintenance, thus saving a huge amount.
MANUAL MONITORING OR CONDITION MONITORING?
Initially, the industry relied on manual health checks or scheduled maintenance checks to enhance productivity.
Facing a shortage of workers and the potential risk to their lives, the industry started opting for improvised solutions to meet demands with desired results. The focus thus shifted to automation or condition monitoring (CM).
As the name implies, CM is a procedure that monitors and predicts a machine's safety and functionality.
It uses a variety of techniques, including vibration analysis and thermography, to aid the detection of mechanical issues and provides early warning of flaws and potential damage.
Condition monitoring systems (CMS) help in improving plant operations and decision making.
Due to this there has been an increase in their adoption in several industries like aerospace, defence, automotive, oil and gas, marine, metal and mining, and others.
Compared to other industries, the maintenance expenses are much higher in oil and gas, owing to unplanned shutdowns due to the frequent failures of the associated machines/equipment/systems.
In 2021, the global CMS industry was valued at $2.7 billion, and oil and gas accounted for about 36 per cent of this value.
Some of the cases where CMS is leveraged are pump condition monitoring, vessel maintenance and monitoring, virtual rig monitoring, tank pressure monitoring, plant performance monitoring, and IoT pipeline monitoring.
A CMS consists of four elements (Figure1):
• Wireless sensors placed throughout the oil and gas plant on motors, pumps, turbines, heat exchangers, and compressors, etc.
• A gateway device to gather, organise, and transfer the data.
• A dedicated cloud (to store the data).
• A dashboard for controlling the system and receiving alerts.
The CMS provides critical alerts, which are sent immediately to the respective personnel, and the gathered real-time data is accessed in order to take actionable decisions.

CONDITION MONITORING TECHNIQUES
The most common techniques used for gathering real-time data through a condition monitoring system include:

• Vibration analysis: This is a process for measuring the vibration levels and frequencies of a machinery. It can detect imbalance, bearing failure, mechanical looseness or misalignment, motor faults, and shaft position, etc.
• Oil analysis: This is a routine analysis of machinery lubricants, oil contamination and machine wear-n-tear. It detects moisture check, dirt/contamination level in oil, level of iron to indicate wear components, corrosion check, etc.
• Thermography: A thermal imager is used to detect radiation emission, which is further converted into temperature and display in a form of image. This is used to detect abnormal temperature patterns within a machine which could indicate machine inefficiency.
• Ultrasound: This is used for low-high speed mechanical applications and pressure fluid situations. It helps
in detecting high-frequency signals emitted from bearings, and is used alongside vibration analysis.
• Acoustic emissions: These are a part of vibration analysis but this method works at higher-frequency by using ultrasonic stress waves to identify defects in materials. This method detects and monitors the release of ultrasonic stress waves caused by cracking or other damages.
The CMS offers the oil and gas industry several benefits, including maximising production output; reducing maintenance costs through effective management; extending equipment lifespan; energy efficiency for upstream facilities; materials degradation (corrosion) monitoring; improved safety conditions; pipeline management; and controlling greenhouse gas emissions.

MONEY SAVED IS MONEY EARNED
Estimates suggest that the US refineries lose $6.5 billion because of unplanned downtime and poor equipment maintenance.
Condition monitoring takes this cost pressure off the oil and gas companies to a good extent.
According to the US Department of Energy, predictive maintenance helps companies save 8 per cent to 12 per cent over preventative maintenance, and more than 40 per cent over reactive maintenance.
A study by McKinsey found that predictive maintenance could reduce machine downtime by 30 per cent to 50 per cent and increase the life of machines by 20 per cent to 40 per cent.
Spanish multinational energy company Repsol, for example, has reduced unplanned maintenance by 15 per cent, leading to $200 million in annual savings in its operational expenses.
Owing to such offerings, most companies are investing in CMS in order to save downtime or maintenance charges.

CONDITION MONITORING IN WELL SERVICES
During production, oil wells are subject to extreme conditions including high temperatures and pressure. As a result, well servicing is the most critical element not only for safe and continuous operations, but also for the extended life of these wells.
Throughout their lifespan, the well equipment faces several issues. One of the main problems is sand production. Sand clogs the performance in the well and causes erosion damage of the equipment, and even collapse of the reservoir.
To limit the sand production, operators close the choke valve from 20 per cent to 75 per cent, resulting in reduced oil and gas production and reduced revenue.
Similarly, corrosion in machineries also causes losses. Due to exposure of metals to certain chemicals during drilling operations, corrosion is common in machineries.
According to the US Cost of Corrosion Study, produced by NACE International, corrosion costs the US oil and gas exploration and production industry $1.4 billion a year. Downhole tubing accounts for a third of this amount.
Industry experts suggest that 30-40 per cent of this cost can be prevented by taking the right measures, including predictive maintenance.
Some of the other common problems which can be addressed through condition monitoring in well servicing include leaks, valve issues, and aging pumps.

MONITORING WELLS USING CMS
The US Energy Information Administration estimates that the total cost of a well has fallen from $4.5 to $8.0 million over the years.
But that is a secondary cost (and not the actual cost of the well) and includes land acquisition and capitalised drilling.
Any big or small mishap can cost much more than the amount invested in the well construction. The loss can include downtime costs, repair costs, and even shut the entire process down.
The safety and security of the wells and well equipment protects workforce, the equipment, and also the investment. And to maintain safety, one needs to monitor every single machinery used in the entire oil and gas extraction process.
Some of the equipment that need monitoring include wellheads, drill pipe, separation tanks, burners, and mud pump.

THE CMS MARKET
The growth in oil rigs indicates the growing demand of oil and gas consumption. From July 2021 to July 2022, there were more than 390 additional rigs globally, with the total tally reaching to more than 1,770 rigs.
The US owns more than 750 rigs of the total rigs, followed by Middle East owning around 300 rigs.
The International Energy Agency (IEA) states the global oil demand is rising gradually and is expected to rise by 3.3 million barrels per day in 2022.
With these numbers growing, it is quite obvious that the demand for digital/real-time condition monitoring systems will also rise.
According to Stratview Research, the demand for oil and gas condition monitoring systems will cross a value of $1,300 million by 2027.

WHAT DOES THE FUTURE HOLD?
The oil and gas industry has taken a path of digitalisation of operations and processes to improve efficiency and profitability. Though these systems demand a big capital outlay, the long-term returns in terms of savings and efficiency enhancement are huge.
For instance, IoT solutions can improve production by 25 per cent, reduce maintenance costs by 30 per cent, and equipment downtime by 45 per cent.
That's why oil and gas biggies such as ExxonMobil, Shell, BP, and Chevron are already exploring technologies powered by AI and IoT, such as predictive maintenance, to cut costs and improve efficiency.
And it's just a matter of few years from now, when these next-gen technologies will make their way to the mainstream in oil and gas industry.
To view full Oil & Gas Condition Monitoring System Market Report, visit https://www.stratviewresearch.com/2586/oil-&-gas-condition-monitoring-system-market.html