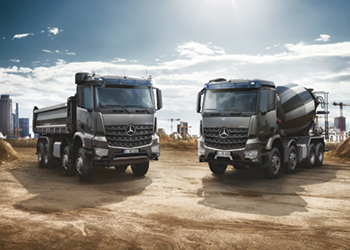 The Actros and Arocs tipper and mixer
Juffali Commercial Vehicles (JCV), a Saudi leader in the commercial automobiles industry, is playing a vital role in the construction and development of one of the world's most ambitious new mega-developments.
Neom is described as a vision of what the new future might look like. The estimated $500-billion regional development in northwest Saudi Arabia on the Red Sea is being built from the ground up as a living laboratory and a place where entrepreneurship will chart the course for this new future.
Heiko Schulze, the CEO of Juffali Commercial Vehicles, says: 'The scale and ambitions of Neom are second to none and it is incredibly rewarding to see our Mercedes-Benz Trucks Actros and Arocs working so hard for this world-class project'
Schulze ... reliability focus
He says: 'The top-of-the-range heavy-duty Mercedes-Benz Trucks brand is synonymous with reliability. Our customers receive a truck with components that are designed to work together to deliver higher production levels and versatility.'
The new generation of Mercedes-Benz, Actros and Arocs heavy-duty trucks, which are assembled at the National Automobile industry (NAI) factory — a JCV subsidiary — in Saudi Arabia, has added a new dimension of efficiency and strength.
These have been developed specifically for Saudi Arabia's extreme weather conditions with specifications that make them bear the most difficult operating requirements.
'The Actros, and Arocs trucks have proven to be highly efficient and durable, making them a favourite for many customers around the world,' says Schulze.
With the first phase of the development expected to be complete by 2025, Neom will be a destination and a home for people who dream big and want to be part of building a new model for exceptional livability, creating thriving businesses, and reinventing environmental conservation.
Neom ... a home for people who dream big
Neom will be the home and workplace of more than a million residents from around the world. It will include towns and cities, ports and enterprise zones, research centres, sports and entertainment venues, and tourist destinations.
As a hub for innovation, entrepreneurs, business leaders, and companies will come to research, incubate, and commercialise new technologies and enterprises in groundbreaking ways.
The residents of Neom will embody an international ethos and embrace a culture of exploration, risk-taking, and diversity – all supported by a progressive law compatible with international norms and conducive to economic growth.
Advertorial