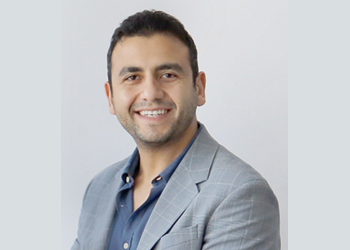 Yehia ... emissions control focus
SFRC specialist Twintec voices its commitment to developing sustainable solutions through extensive research and development and considers reducing environmental impact a social responsibility, Managing Director Ahmed Yehia tells OGN
Twintec, one of the leading companies worldwide dealing with steel fibre reinforced concrete (SFRC) flooring solutions, recognises the environmental impact of concrete-related works.
As a specialist SFRC 'jointless' flooring contractor, Twintec provides a personal product through a total offer concept with a high level of performance, environmental sustainability, and aesthetics worldwide.
Based in the Kingdom of Saudi Arabia and with a quantifiable track record of completed projects, Twintec offers a unique design-build-guarantee service to deliver excellence in design, workmanship, and life cost value.
With a highly professional management team, in-house engineers, highly skilled, experienced workers coupled with specially developed state-of-the-art machinery, quality materials, and a commitment to ongoing research and development, Twintec provides end users, consultants, and contractors with high performance, quality, and aesthetically superior floor slab.
Concrete has a huge impact and contribution to the overall carbon emissions
Concrete has a huge impact and contribution to the overall carbon emissions (CO2e) drastically affecting the environment due to the materials contained in the slab-on-grade such as concrete and steel for reinforcement and other materials.
"Many of our clients (main contractors, developers and end-users) have specific 'green' policies and express a desire to be 'working towards net-zero emissions' or something similar. But is this 'desire' carried through into the way new developments are specified, procured, resourced and funded? Is the design of the floor slab even discussed in relation to the 'green' policies?" asks Ahmed Yehia, Managing Director, Twintec Saudi.
It is widely known that the embodied carbon, or ECO2, emissions of concrete, steel, and associated materials required for concrete floor slab construction have an impact on the environment as they require energy to produce and distribute.
Figure 1 … The steel reinforcement used in ECO Freeplan reduces CO2 emission
According to studies, cement is the source of about 8 per cent of the world's carbon dioxide (CO2) emissions which is one of the main components of concrete that measures roughly around 307.59 kg CO2e/cu m for a C28/35 mix design.
On the other hand, steel rebar reinforcement emits around 2.77 kg CO2/kg for newly manufactured steel.
The following can be done to minimise this impact, says Yehia:
• Optimise the design through a combinations and types of reinforcements, and consider revalued steel fibres.
• Reduce concrete floor slab depths: Less concrete is equal to less ECO2 emissions.
• Detailed analysis of locally available concrete components for optimised concrete mix design and consideration of cement replacement products and shrinkage control materials that absorb CO2.
• Specialist equipment, less pollution and more efficient working practices.

Twintec integrates sustainability throughout its businesses. It considers reducing environmental impact a social responsibility to care for and to protect the environment for the current and future generations.
Twintec is continually investing in research and development to lessen its contribution to carbon emissions.
Figure 2 ... ECO Freeplan can significantly reduce steel requirements
"Our in-house research and development team consists of structural engineers, concrete and material specialists, carefully selected supply chain, and together with universities in Europe, we examine in detail all facets of our works, refining where needed, evolving when appropriate, and are leaders in continuously bringing new technologies to market," says Yehia.
WHAT TWINTEC CAN OFFER?
• ECO Freeplan® environmentally sustainable 'jointless' SFRC ground-bearing floor slabs: ECO Freeplan floors are designed to optimise environmental sustainability and cast in large panels using SFRC - all the benefits of a Twintec Freeplan® floor plus a reduced environmental impact.
It combines design solutions to optimise slab thickness and reinforcement, with specific materials and defined production processes for an overall reduction in embodied carbon (average 30 per cent).
• Optimised design: With the expertise of its research and development team, Twintec's slab design is optimised to provide a reliable solution to end-user with the highest consistency in design calculations and lessen the effect on the environment.
Twintec ensures that specifications, loading requirements and all technical considerations are well measured and undergo value engineering assessment resulting in an optimised slab thickness design compared to the traditional slab resulting in a lesser concrete volume.
• Eco-friendly materials: Twintec is committed to developing sustainable solutions to floor slab design as a fundamental part of business practice. This includes designing with revolutionary and eco-friendly reinforcement.
The steel reinforcement used in ECO Freeplan is a combination of AFT® fibres extracted from end-of-life tires steel and manufactured fibre that can significantly reduce the steel requirements and corresponding CO2 emission as shown in figures 1 and 2.
"One of the most vital parts in designing and constructing ECO Freeplan floor slab relies on the correct combination of appropriate tensile strength characteristics and dosage of steel fibres along with high-quality concrete mix and local reinforcement against the calculated loads," says Yehia.
"This will ensure that the loading capacity of the slab can absorb bending moments and shear stresses. Steel fibres act as linkage and reinforcement to concrete that transmits stresses across the cracks to resist the widening of fractures and avoids shrinkage and deformations," he adds.
• Zero-emission equipment: Equipped with state-of-the-art equipment using laser-guided and computer-generated multi-leveling functions designed and developed by Twintec's sister company Topp & Screed, the TS6100e Electric Superflat Screed is one of the most recent innovations in construction ecology.
"It is the world's first fully electric zero-emissions concrete screed, setting new standards in environmental protection compliance with an automatic operator laser system for laying flatter concrete floor slabs," says Yehia.
TS6001e works with a high accuracy rate in terms of flatness and rapid screeding that increases daily productivity output with an average of 600 cu m per day.
It can also eliminate flatness and quality issues that may arise during the construction process.
Using the TS6100e, Twintec enhances its capability to deliver quality flooring solutions in the most efficient way and with the highest quality possible in a shorter period and in an eco-friendlier way.
• Shorter casting period: Twintec's site management professionals and highly skilled manpower working day and night adhering to all design specifications fully capable of delivering substantial daily output in terms of concrete pouring that can reduce pouring days up to 70 per cent compared to typical slab laying without compromising the quality and work.

With the combined resources of state-of-the-art equipment and high skilled and experienced manpower, the implications of emitting CO2 can dramatically decrease due to a much shorter period of casting.
"Twintec has long since recognised the importance of reducing the effect our activities have on the world, we live in," says Yehia.
"Care for the environment and a commitment to developing sustainable solutions is demonstrated by an ongoing extensive research development programme. And we will continue to innovate and enhance our approach, materials and techniques to an eco-friendlier way," he adds.
Yehia concludes: "The impact of the concrete floor slab on the environment and the life cost of your building will be reduced by talking to Twintec as we provides a personal product through a total offer concept with a high level of performance, environmental sustainability and aesthetics worldwide."