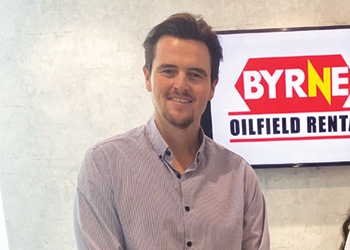 Chandler ... keeping ahead of trends
Given its depth of fleet and long reaching arm of value developed over 30 years, the company has stood the test of time and gone from strength to strength, says Matthew Chandler, Branch Manager for Abu Dhabi
Byrne Equipment Rental's strategy is to meet the stringent demands of the industry, which is becoming more discerning of its needs for equipment rentals.
As the most diverse supplier of rental equipment across the GCC and one of the largest in its segment, Byrne has its finger on the pulse of the industry to anticipate its changing dynamics.
In an interview, Matthew Chandler, Branch Manager for Byrne Equipment Rental in Abu Dhabi, discussed in detail the business outlook, both for the company and from the perspective of the industry.

• Tell us about your role in the company?
I am currently Branch Manager for Byrne Equipment Rental in Abu Dhabi. I joined the company four years ago in a Sales Manager capacity, and have evolved in the business. Today I oversee the Abu Dhabi depot holistically from a commercial and operational stance, managing key performance indicators and ensuring we are aligned on strategy across the business.
I liaise with the management across the Group and ensure the right communications are reverberated through the team.

• What are the challenges of the rental industry and how do you overcome them?
Byrne trucks on their way for camp istallation
The rental industry is very much sporadic by nature so it is essential that we ensure our fleet is in the right place at the right time.
We have built fantastic relationships with our clients over the years that we strive to maintain, strengthened by consistent communication.
We are constantly in touch with our clients and understand their schedule of work. Whether their projects are being pushed back or brought forward, it is our duty to stay in the loop as we centrally communicate to our 20 depots across the GCC so we can quickly mobilise and transport equipment by land or sea to meet their exact requirements, on-time.

• What are your predictions for the rental industry in the next five years?
Currently, we are witnessing an increased demand from clients for a single source solution provider to accommodate their equipment rental requirements. I foresee this to become a key trend in the rental industry over the next five years.
The rise of multifaceted sites with various applications and scenarios taking place are generating a demand for this as clients are looking for a single source to control the horizontal and vertical supply chains.
Centralising their source for equipment by using one provider increases efficiency for clients, as well as saving them time and headaches from dealing with multiple vendors.
In terms of equipment, the bulk of our fleet today is a product of the demand and circumstances in the market and it will be interesting to see where the next five years will take us and our fleet.
Prominent market players are deploying advanced technologies and solutions to increase efficiency and knowhow, as well as solutions to help overcome social and environmental challenges.
Integrating such advanced technologies into products entails additional costs, which can make the purchase of said equipment unaffordable for some.
Those in turn will prefer to rent equipment to utilise the benefits without the burden of capital spend as well as Opex upkeep and maintenance; which bodes well for us as a business.
One of our most sought-after products is our camp solutions. Nearly all operations on site require manpower, so there is naturally a demand for accommodation and site infrastructure facilities.
Naturally, given a positive project market outlook, our demand should ebb and flow in-line.

• What are the current key trends in the region's oil and gas industry?
There is a buoyant demand in the global energy sector, and this is expected to increase by 48 per cent in the next 20 years owing to the precipitous increase in the global population. But for now the impact on the oil and gas industry is imperceptible.
Populations and economies will continue to grow and will require and demand reliable, affordable energy but until fossil fuels are displaced at scale, oil and gas demand will grow alongside it.

• In your opinion why do you believe Byrne is one of the leading equipment rental companies in the region?
Byrne has been operating for 30 years and this is testament to our people and business strategy.
We have grown from a small business to a very sizeable organisation with over 14,000 items of equipment, 1,500 people, and 20 operating depots across the GCC.
What makes us unique is that we have a reach across the GCC but retain a local approach in each country. No order is too small for us and we treat each client with the same professional conduct and expertise.
Whether it is a three-day hire for a portaloo or a multi-million dollar contract powering the grid, each client is given equal importance.
Given our depth of fleet and long reaching arm of value developed over 30 years, the company has stood the test of time and gone from strength to strength.
I believe the future for Byrne is bright. As long as there is demand, Byrne will have a place in the industry.
We have tremendous belief and support for the local market and market creation.