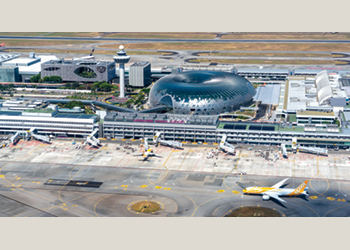 ExxonMobil this year delivered the first certified SAF to Singapore Changi Airport
Renewable diesel can reduce GHG reduction more than EVs, allowing for faster decarbonisation of existing fleets in the short-term, even though the costs of using sustainable fuels are anticipated to be higher than alternatives in the long run
Decarbonisation is apparently going to be an ongoing and enduring trend around the world, and sustainable fuels can be a significant alternative and renewable energy measure in achieving decarbonisation targets.
Sustainable fuels can provide greenhouse-gas (GHG) reductions comparable to battery electric vehicles (BEV) and are applicable in multiple sectors.
A report, 'Charting the Global Energy Landscape To 2050: Sustainable Fuels', by McKinsey and Company reveals the role that sustainable fuels will play in decarbonising energy systems.
Biofuels like hydrotreated vegetable oil (HVO) or bioethanol are examples of sustainable fuels, as are synthetic fuels like ammonia or methanol. They can be used in conventional internal combustion engines (ICE) as drop-in fuels.
The use of 100 per cent renewable diesel, such as HVO, can achieve comparable lifecycle GHG reduction to that of electric vehicles (EVs), allowing for faster decarbonisation of existing fleets in the short-term, even though the costs of using sustainable fuels are anticipated to be higher than alternatives in the long run.

SUSTAINABLE FUELS & TRANSPORTATION
Over the next 20 years, the demand for sustainable fuels is anticipated to quadruple. According to many possibilities, sustainable fuels are anticipated to become more and more crucial in the transportation industry, even in challenging areas like aviation and heavy-duty transportation.
"Most transportation in the region, particularly in cities, is dominated by road infrastructure and privately owned vehicles, leading to considerable CO2 emissions, congestion, and the consequent economic costs," explains Mark Haddad, Principal Strategy& Middle East.
According to Strategy&'s report, where private transport makes up roughly 30 per cent of all mobility in major global cities such as Singapore, London, Stockholm and Barcelona – GCC's urban mobility leaders Dubai and Doha have a 75 per cent to 80 per cent ratio of private vehicles. The GCC average is a staggering 91 per cent, with Riyadh having the highest private vehicle share of 95 per cent.
Depending on national net-zero ambition levels by 2050, the percentage of sustainable fuels in transportation's energy demand might range from 7 to 37 per cent.
Road transportation accounts for the majority of the growth in sustainable fuels up until 2035, when it reaches 290 million tonnes (Mt) in the further acceleration scenario. After that point, aviation becomes more and more significant.

SUSTAINABLE FUELS & DECARBONISATION TARGETS
Reaching regulatory GHG reduction targets for transportation could necessitate a considerable contribution from sustainable fuels, even in a future with rapid EV uptake—where EVs account for about 75 per cent of all vehicle sales by 2030.
BEVs are becoming increasingly popular among consumers of passenger vehicle, while commercial heavy transportation, including trucks and buses, is only anticipated to electrify in the long run.
Before electrification is complete, using sustainable fuels (both bio-based and synthetic) in already-existing fleets of ICE engines will be necessary to satisfy GHG reduction targets in the majority of countries.
Sustainable aviation fuels blended with kerosene in conventional engines may be the only viable method for lowering GHG emissions in the aviation industry. The decarbonisation potential of alternative propulsion technologies like battery electric and hydrogen is limited by aircraft design constraints.

NEED OF NEW ADVANCED FEEDSTOCKS FOR SUSTAINABLE FUELS
To meet the growing demand for sustainable fuels, new advanced feedstocks will likely be required. The predicted increase in EV market penetration after 2035 may result in a decrease in ICE vehicle use and a corresponding decrease in liquid fuels, and hence sustainable fuels, in road transportation.
On the other hand, growing requirements in aviation may balance the reduction, leading to a rise in the overall demand for sustainable fuels, which would reach over 400 Mt by 2050 in the Further Acceleration scenario.
Given the current food crisis brought on by the conflict in Ukraine, growth in edible oils and sugar feedstocks must balance the requirement to satisfy food consumption cautiously.
The worldwide supply cap of 30 Mt is expected to be reached in the late 2020s unless intentionally produced volumes of low indirect land use change (ILUC)/cover crops are rapidly scaled due to the highly constrained availability of waste oil feedstocks.
In fact, a large increase in the usage of other feedstocks outside oils and sugars is required to meet the rising demand for sustainable fuels. These additional feedstocks include lignocellulosic materials, renewable fuels from nonbiological origin (RFNBO), and CO2 and H2 for synthetic fuels.

SUSTAINABLE FUEL INVESTMENTS GAINING MOMENTUM
By 2025, 46 Mt of capacity for sustainable fuels is anticipated, with a pipeline of $40-$50 billion in total planned investment, of which around 70 per cent is already post-final investment decision.
Transitioning to sustainable mobility is a crucial link in the green agenda spreading through GCC economies – a move that could unlock a $400-billion monetary benefit in the next two decades, according to a new Strategy& report.
Saudi Arabia's Alfanar group will confirm a new £1 billion ($) investment in the Lighthouse Green Fuels Project in Teesside, UK, utilising innovative technologies as it aims to become the first company to produce sustainable aviation fuel (SAF) from waste at scale in the UK.
Jamal Wadi, CEO of alfanar Global Development, says: "We believe Alfanar and Lighthouse Green Fuels can help the UK lead the way in decarbonising the aviation sector."
Elsewhere ExxonMobil has delivered the first certified SAF to Singapore Changi Airport, fuelling Singapore Airlines and Scoot's flights from the airport beginning July.
Lee Wen Fen, Senior Vice-President Corporate Planning for Singapore Airlines, says: "Sustainable aviation fuels are a key decarbonisation lever, and this pilot demonstrates our commitment to achieve net-zero carbon emissions by 2050."
To achieve decarbonisation commitments and regulated demand, however, further investments totaling between $1 trillion and $1.4 trillion are required by 2040.
Business cases may need to take into account integrated production logic in the future decades as traffic shifts from the road to the air, where profitability of production is anticipated to depend on supply-demand balance, feedstock availability, and customer appeal.