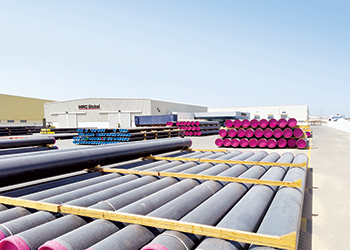 MRC Global operates approximately 300 service locations worldwide
MRC Global is the leading distributor of pipe, valve and fitting (PVF) products and services to the energy and industrial markets around the world. That position is built upon nearly 100 years of customer service and product expertise.
"Over the course of our history, more than 120 separate legacy companies have joined together to form the great company we are today," says MRC Global President & CEO, Andrew R Lane. "By uniting our strengths, we have become something very special. Yes, we are the largest in our space, but we are also the best PVF distributor in the world, and that includes stainless and high alloy products."
UNMATCHED SERVICE FOOTPRINT
MRC Global operates approximately 300 service locations worldwide, including a regional distribution centre in Dubai. While the sheer number of locations is impressive on its own, what really makes the MRC Global network stand out in a crowd is its hub and spoke distribution model.
"Our hub and spoke model makes us who we are," says Robert Stein, Senior VP – Business Development. "We are the global leader with all the size and benefits that are part of that distinction, but our extremely efficient distribution model is what makes us agile. We are built for both strength and speed."
Local branches tailor their inventory to fit the needs of their specific customer base, then regular replenishments or special orders are delivered from the hub locations, also referred to as regional distribution centres (RDC). Often, shipments are sent out from the hub to its spokes on a daily basis.
"We have spent decades perfecting hub and spoke, and no one else in our industry can run it as efficiently and quickly as we can," Stein says. "It allows us to provide a level of service that other companies just can't match. And for our customers, especially in the middle of a turnaround or plant outage, time is money. We have built a network that creates value by responding to our customers' needs quickly while maintaining our high levels of quality, safety and reliability."
TRUSTED QUALITY ASSURANCE
Quality assurance is always important but when speciality materials are called for, it is paramount that the product is what it says it is. This assurance is especially vital to the safety of the facility, the people who work in it and the community it serves. The MRC Global Quality Program is a proactive approach to this process.
"With our quality process, we focus on identifying manufacturers who can be trusted to produce a consistently high quality product that matches our customers' specification," says John Bowhay, Senior VP – Supply Chain Management, Valve & Technical Product Sales. "Then, we invest in the relationship with regular site visits, audits and long-term problem solving."
The resulting MRC Global Approved Manufacturer List (AML) is so well respected that many of the company's customers have adopted it as their own for all of their sourcing considerations.
"We are constantly developing additional sources for the products our customers need but we have a very high standard for inclusion on our AML," Bowhay continues. "It is extremely important that our AML process is rigorous, robust and reliable, so that MRC Global can consistently supply world class products to our customers."
The company credits its proactive quality process, versus relying solely on after-the-fact product inspections, as the reason it is able to consistently provide high quality options to its customers in a timely manner.