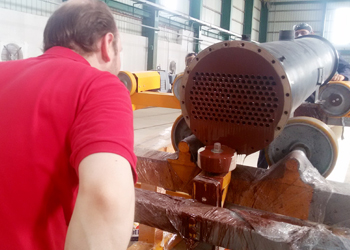 DLPS is involved in a number of projects
DLPS, the company that provides responsive services to the oil and gas, petrochemical, power and other industries in the region, has successfully introduced new management technology to Saudi Aramco, which helps in remote monitoring of its various metering stations.
The Al-Khobar-based company, which has been associated with Saudi Aramco since 2001, is supplying specialised products and services to the oil giant to be utilised by it at both onshore and offshore facilities.
Giving details about the major milestones achieved by the company during the last one year, DLPS CEO Rajeh Al-Fhaidi says that Saudi Aramco has also approved its ultrasonic highly sophisticated robotic inspection technology for pipeline inspections.
"Currently we are working with Saudi Aramco in Shaybah, Yanbu, Haradh, Khurais, Riyadh and Northern Area Pipelines Department (NAPD) projects," reveals Al-Fhaidi.
Elaborating on the scope of works involved, he says: "We provide a wide range of services that include ultrasonic pipeline inspection, pipeline rehabilitation, internal/external coating, pipeline reconditioning, cathodic protection, and tank cleaning. Additionally, we specialise in installation services for cross country pipelines, flowlines, trunk lines, and High Density Polyethylene (HDPE) liners. We also have one of the largest robotic internal girth weld coating fleet in the kingdom."
REMOTE LOCATIONS
Commenting on the challenges in implementing the work, Al-Fhaidi says: "Most of the work we do is in remote locations across a hot and dry landscape, unsheltered from the elements. Our project team has to manage working in extreme temperatures, remote areas, on projects that have seen their fair share of corrosion and erosion. Specialised equipment has to be used to tackle these challenges, ranging from custom tools to vehicles used to travel across the unpaved terrain. Our teams' collective experience in this industry makes us fully prepared to deal with all the above challenges and to foresee any new ones that may arise."
The company believes that massive changes have come about in Saudi Arabia's industrial landscape after the announcement of Saudi Vision 2030 and is continuously opening new opportunities for local businesses as well.
"Industrialisation rate has seen rocket growth, the number of Industrial cities has doubled since Saudi Vision 2030 was introduced," Al-Fhaidi says.
"As a contribution to Vision 2030 we have built state-of-the- art coating facility in Salasel providing custom coating expertise. Proudly, I should mention that we exclusively provide baked phenolic coating application in the region," he adds.
IKTVA TARGETS
The DLPS facility
DLPS sees Saudi Aramco's brainchild In-Kingdom Total Value Add Program (IKTVA) as one successful vehicle for Saudi Vision 2030. "IKTVA has developed policies to encourage technology giants and manufacturers from around the world to open manufacturing facilities in the kingdom to continue their business with Saudi Aramco. This has resulted in increased job opportunities for Saudi nationals, transfer of technology and decreased rate of dependency on imports," Al-Fhaidi says.
DLPS has initiated multiple joint ventures with foreign companies to build manufacturing facilities, research and development (R&D) and training institute to meet in-country needs and also develop the kingdom as a regional hub for these technologies
and services.
Additionally, during the last one year, DLPS has added more Saudi females to its workforce, which has doubled its Saudisation rate compared to last year. The company has also formed an online valve maintenance division.
Going forward, the ISO 9001:2015 certified company plans to increase its Saudisation and keep increasing its IKTVA score to be in line with the Saudi Vision 2030.