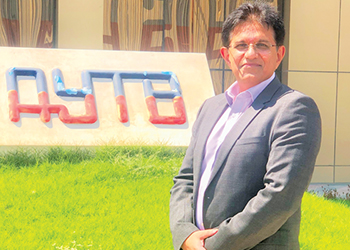 Zakaria ... focusing on projects
With more than 6,000 employees, AYTB offers solution services in the fields of construction and fabrication, operation and maintenance, industrial cleaning, shutdowns and turnarounds as well as housing and catering
Al Yusr Industrial Contracting Company (AYTB), a leading Saudi integrated group providing a range of services and solutions, is gearing up to tap new emerging opportunities as the kingdom strongly diversifies away from oil through rapid industrialisation.
The company which has been a major player in Saudi Arabia's oil and gas landscape for the last four decades, plans to march ahead in the fast-paced environment by maintaining its core strengths and forming new alliances with the leading know-how providers.
"There are a number of initiatives to moving away from oil. They include specialty chemicals, gas monetisation, processing of mineral resources and efficiency improvement in existing plants. All these initiatives open new prospects for companies like AYTB. We maintain our core strengths and are adding new capabilities in men, machine and technology. New alliances are being formed with the best in class know-how providers to remain relevant," says Salman Zakaria, business development director, AYTB.
With more than 6,000 employees, AYTB offers solution services in the fields of construction and fabrication, operation and maintenance, industrial cleaning, shutdowns and turnarounds as well as housing and catering to the oil and gas, hydrocarbon processing industries, steel and aluminium mills and desalination and
power plants.

NEW OPPORTUNITIES
Commenting on the prevailing business scenario, Zakaria admits that the current situation is tough and fraught with challenges. According to him though there has been a little slow down in new plant construction project, however, in aged installations works related to debottlenecking and plant maintenance have been steadily growing and are seen as an 'opportunity' by the company.
"AYTB see this as an opportunity and has diverted its focus towards brownfield construction works. As always, opportunities come with challenges. The availability of suitable resources is a concern and at the same time contracting community has also become very congested," Zakaria says.
The company which has the capability to offer construction services as a general contractor taking up civil, mechanical and E&I works says its Construction & Fabrication (C&F) Division has been faring well and has been quite busy since the last few years.
The division is focusing on projects directly with Saudi Aramco and its affiliates whose requirements are stringent and of higher standard. The recent grant of General Commodity Materials (9COM) for well head skids to AYTB by Saudi Aramco is a typical example. All the requirements were met, and the audit approved the facilities after one visit only, Zakaria says.
"The recent award of 9COM project is considered a positive development allowing AYTB to focus on a new line of business. The local manufacture of various process skids goes well with Saudi Aramco's In-Kingdom Total Value Add Program (IKTVA) initiative. AYTB has already supplied a few oil and gas skids for Aramco Uthmaniyah Ethane Deep Recovery project and is bidding for Skid packaged equipment for Marjan Offshore platforms," he adds.
While AYTB's association with Saudi Aramco has been since its inception, it was only since 2010, the relationship took off positively and has been since expanding. Currently, the company's C&F Division is executing four sizable projects for Saudi Aramco and its affiliates including Ras Tanura refinery, Sadara Chemical Plant, Safaniya GOSP and Petro Rabigh Complex.
"We plan to further develop the relationship with Aramco and work more as a direct contractor," Zakaria reveals.
There are several new projects in the pipeline that offer opportunities for its C&F Division, he informs. These include Marjan Field development project, which offers several prospects. In addition, the Berri increment program and Jafurah Field Development are other major projects from Saudi Aramco. In the petrochemical sector, Satorp Armel project and Crude Oil-to-Chemicals (COTC) are in the pipeline and offer host of opportunities to local construction and fabrication contractors.
Saudi Aramco in July awarded 34 contracts with a total value of $18 billion for the engineering, procurement and construction of the Marjan and Berri increment programs. The company plans to boost the Marjan and Berri fields' production capacity by 550,000 barrels per day (bpd) of Arabian Crude Oil and 2.5 billion standard cubic feet a day (bscfd) of gas.

MAINTENANCE CONTRACTING MODEL
Having taken up outsourcing of maintenance contracts in a big way, the company is now actively pursuing the progress of its Operation & Maintenance division.
"We clearly see that the trend for outsourced maintenance contracts is picking up. Satorp gave AYTB its first major opportunity for totally outsourced plant maintenance work and since have also been awarded a similar contract by Sadara. The award has come after careful analysis gives confidence to AYTB and totally outsourced maintenance contracting model.
"We see several other new plants under commissioning and few already in operation are evaluating the concept. AYTB strongly believes that this model will be in vogue in other major parts of the oil and gas sector. The industry can see the benefits / advantages that outsourced maintenance contracts bring to plant owners," he says.
Further, the Industrial Services Division of AYTB is primarily supporting its clients in the field of high-level industrial cleaning. Its third party certified super suckers and vacuum trucks are deployed to remove liquid industrial waste. The vacuum trucks are also licensed to carry the liquid to disposal locations. The anti-static hoses deployed during these operations avoid any untoward incidence.
Another line of work regularly performed by its Industrial Services Division is hydro-jetting using pumps up to 40K PSI. The remotely controlled multi-head hydro-jetting machines ensure safety of the operator and gives a consistent level of cleaning, Zakaria explains.
"Chemical cleaning is a newer area of focus and in a short period of time, significant jobs have been executed for not only the conventional oil and gas clients. The power and mining sectors have also recognised our capabilities. Currently we have a number of long-term contracts for undertaking this service," he adds.
The introduction of latest technology to achieve best results in a competitive and safe manner has been AYTB's focus. The state-of-the-art robotic cleaning for furnace convection sections has been introduced in collaboration with Tubetech, a UK-based company. Already a job has been completed with Petrokemya with excellent results and minimum execution time. This success will encourage other clients to use the robot for cleaning furnace tube surfaces,
he says.
The company's Housing & Catering Division (H&C) continues to serve its clients with residential camps in the areas of Jubail, Yanbu and Turaif. In other areas of Saudi Arabia, the company is offering camp management services, especially in remote locations where drilling operations are located.
ATYB's client includes Halliburton, Baker Hughes and Schlumberger. It has recently been awarded a contract for catering and camp management by Arabian Geophysical & Surveying Company (Argas) for a 1,000 main facility in Nariya area, 100 km from any nearest city.
"AYTB H&C team has developed a niche for themselves to operate camp facilities in remote areas. The high standard of service being offered is recognised by clients by expanding our role to other locations," says a proud Zakaria.

IKTVA TARGETS
AYTB sees the IKTVA programme as an opportunity to develop local capabilities and businesses. It is also encouraging several international players to transfer know-how within the kingdom and get associated with the local partners.
"We as a service provider to the oil and gas sector, got involved in the programme in 2017 with a plan to improve our IKTVA score by 2 per cent annually for the next five years. We started with a score of 23 per cent and achieved 27 per cent in just one year," Zakarai reveals.
This year the company hopes to achieve a score above 30 per cent. The approach adopted includes inducting Saudi nationals at senior level positions of the organisation, increased local procurement and training and development of local vendors and subcontractors.
"As a Saudi-owned company, localisation has been our focus throughout the various divisions of the company. Also from the sustainability point of view, AYTB must have a high localisation score. The IKTVA initiative of Saudi Aramco is being followed to enhance our localisation. Since joining this programme, AYTB has consistently been scoring higher than the target. Currently, we have reached 30 per cent score in the third year of joining the programme,"
he adds.