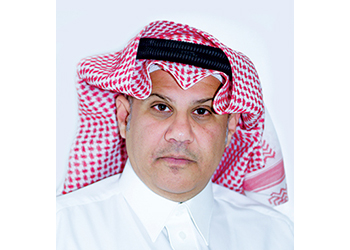 Waleed Al Hazmi
Al-Suwaidi, both as main contractor and sub-contractor, has been executing various small, medium and mega projects(short form and long form contracts) in the downstream segment for Saudi Aramco and its JV companies across the kingdom
Saudi-based Al-Suwaidi, a leading contractor, intends to penetrate new markets (including upstream) whilst continuing to cater earnestly to the existing market segments.
Besides, the company plans new technology migration towards achieving less labour-intensiveness and cost-effectiveness as well as exploring strategic alliances and joint ventures to drive operational synergies, Waleed Al Hazmi, CEO of Al-Suwaidi, which was set up way back in 1960.
In order to meet the market demands and challenges, Al-Suwaidi has been investing in various equipment that boost its capability development, including embracing new technologies, aiming for cost-effectiveness, both in the interest of the company and its clients.
The company, which has a full-fledged fabrication facility at its head-quarter in the Jubail Industrial City equipped with state-of-the-art equipment/machineries to manufacture modular and injunction skids, has acquired equipment to improve its capability development and to enhance safety and reliability during shutdowns.
These include an automated tank cleaning robot; catalyst handling equipment; hydrocarbon decontamination chemicals, which shorten the time of the shutdown and can start the mechanical work safely in the contaminated process equipment; truck-mounted bundle puller; and super suckers for hazardous waste transportation.
In recent years, Al-Suwaidi has added to its business portfolio new services including a new scaffolding system that enhances the erection time and promotes safety; catalyst handling; hydro-jetting (manual and automated); chemical cleaning and decontamination; waste transportation (hazardous and non-hazardous); super sucker (wet and dry); bolt torqueing and tensioning; and dewatering, Al Hazmi explains.
Al Hazmi says ever since Al-Suwaidi was established in the year 1960, it has been one of the major contractors of Saudi Aramco and its JV companies. "Al-Suwaidi values its longstanding business relationship with Saudi Aramco and its JV companies and remains committed to cater to their requirements," he asserts.
Al-Suwaidi, both as main contractor and sub-contractor, has been executing various small, medium and mega projects (short form and long form contracts) in the downstream segment for Saudi Aramco and its JV companies across the kingdom. The scope of work includes a wide spectrum of industrial services.
Al-Suwaidi also has a separate division that offers Staff and Labour Accommodation Services, Catering Services and Facilities Management Services across the kingdom. Accommodation Services are provided through owned and leased camps, and Catering Services are rendered from owned kitchen or client kitchens.
Referring to the company's major ongoing projects Al-Hazmi says Al-Suwaidi is executing a long-form contract at Aramco's Riyadh refinery for tank cleaning, repair and painting services. It is working on two projects at Aramco's Yanbu refinery – one providing tower services at yard (2019 turnaround) and the other involving tank vessels and drums services.
For Sabic, it is involved in 65-tonne bundle pulling at Petrokemya and executing a master agreement for chemical cleaning and hydrocarbon decontamination services.
Last year, Al-Suwaidi entered into a long-form contract for tank cleaning and repair services at the Yasref refinery. Besides it signed a blanket agreement for general maintenance works at LRJ and LRY at the Luberef project. It was engaged in a stabilizer plant shutdown at Aramco's Al Hawtah plant.
It was also involved in a maintenance supplementary manpower contract at Samref and painting and surface finishing services for the MPC Complex at Maaden. Moreover, in 2017, Al-Suwaidi inked a 10-year maintenance service contract with PetroRabigh.
To a question on Saudi Vision 2030 and Aramco's IKTVA programme, he says IKTVA is designed to drive increased investment, economic diversification, job creation, and workforce development within the kingdom. To achieve Al-Suwaidi's IKTVA targets, it has undertaken various initiatives, namely, attracting Saudi talents, imparting trainings to existing Saudi staff/new recruits in various trades towards honing/developing their skills, increasing dependency on indigenously manufactured products, etc. "Al-Suwaidi, as a corporate citizen, is fully committed to the government realising its Vision 2030," he asserts.
Following the launch of Vision 2030, Al-Suwaidi has implemented various strategic initiatives to support it. The major strategic initiatives that have been implemented were changing its business model and restructuring the organisation against the backdrop of the prevailing market scenarios.
Today, Al-Suwaidi has Saudi nationals not only in various technical, non-technical and supervisory/managerial roles, but also at top-level management to spearhead the organisation. Attracting Saudi talents will be an unceasing objective at Al-Suwaidi, he says. Al-Suwaidi's objective is not merely fulfillment of the Saudisation requirements, but primarily to localise as many positions as possible as part of its social responsibility.
Various training courses are being conducted at Al-Suwaidi's Training Centre for the Saudi staff towards their career development, namely, English speaking, inter-personal skills, including trade-related like pipefitting, welding, hydrojetting, scaffolding, chemical cleaning and hydrocarbon decontamination, catalyst handling, bolt torqueing and tensioning, insulation, etc.
Talking about business, he says ever since the oil prices have tumbled, business, in general, has been impacted adversely, and Al-Suwaidi is no exception. Against the backdrop of the prevailing market challenges and those lying ahead, Al-Suwaidi has implemented various strategic initiatives like organisational restructuring/rightsizing, changes in the business model and capability development.
"In the prevailing market conditions, business sustainability is a challenge. Al-Suwaidi sees every challenge as an opportunity and will remain committed to its valued clients in meeting their requirements without any comprise on quality and safety," he concludes.