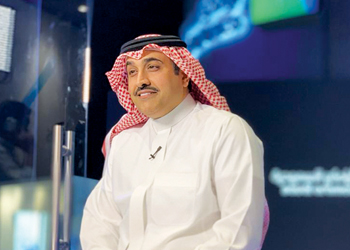 Rasheed Al Rushaid at the IKTVA Conference and Exhibition held in November 2018
Headquartered in Khobar with manufacturing facilities in Saudi Arabia, UAE, UK, US and the Far East, the firm has developed technologies and expertise in Saudi Arabia and exported it internationally
Saudi-based Al Rushaid Group, a leading diversified group operating both nationally and internationally, is planning to set up more joint ventures in the kingdom to facilitate more technologies being localized, which will offer more jobs for Saudis.
"This will help achieve Aramco's IKTVA targets and meet the requirements of Vision 2030," says Rasheed Al Rushaid, Vice Chairman and President, Al Rushaid Group, which has been a major presence in Saudi Arabia's energy sector, building offshore platforms, manufacturing drill bits and spare parts for refineries, as well as turnaround maintenance services.
The company has maintained its growth strategy by adding new JVs to its portfolio including one in the health sector with SOS International and in the pipe coating sector with Shawcor and further expansion in the mining sector with exploration drilling services.
"Our local manufacturing facilities are also expanding their footprint to fulfil market needs. The group is also flexing its muscles in SPARK where we have a big area to locate our new companies and expand the existing ones," he points out.
A worker at an Al Rushaid facility
Ever since its founding in 1978, Al Rushaid has branched into Hospitality, Construction, Property and Facility Management, Offshore Services, Oil Field Services, Mining, Logistics, Healthcare Services, Trading and Manufacturing and has been involved in some of the major infrastructure projects in the country. "Our company has become a regional leader by offering products and services at international standards and quality in the fields of oil and gas, petrochemical Industries, and energy. Al Rushaid's values express its shared understanding of what it believes, how it aims to behave and what it aspires to be as an organization through Leadership, Integrity, Quality, Commitment, Value Creation and Teamwork," he says.
Headquartered in Khobar with manufacturing facilities in Saudi Arabia, UAE, UK, US and the Far East, the firm has developed technologies and expertise in Saudi Arabia and exported it internationally. It is the region's largest manufacturer of rock bits, under its business Arabian Rock bits, a partnership with Halliburton subsidiary Security DBS. Other international partners include Oil & Gas giants Baker Hughes, Schlumberger, Weatherford, Cameron, GE, Flowserve and others.
Al Rushaid Group offers a diverse range of manufacturing and service related operations to facilitate the demands of the fast growing economy in the Kingdom of Saudi Arabia. Each company has been formed to take advantage of every process required to bring the raw materials to the end user. From seismic evaluation of potential and operational oil and gas fields, to the manufacture of rock bits, instrumentation and all well head related products, the group's repertoire is all-encompassing.
For example, a major player in the region, Boskalis Westminster Al Rushaid Company, is a leading contractor for marines, ports and harbors besides the land reclamation and dredging works; Cleveland Bridge Structural Steel group is also an example of innovation and excellency with facilities in the UK, UAE and Saudi Arabia executing land mark projects all over the world for over 100 years.
Al Rushaid is involved in offshore exploration, engineering & development as well as production, including towing and anchor-handling for drilling rigs and equipment, transporting supplies and personnel needed to sustain drilling, research, workover and production activities. It also offers specialized services such as pipe laying, cable laying, pollution and fire control and seismic work.
Al Rushaid affiliate STAR is considered the largest local Fabrication Facility for offshore platform used for drilling & exploration with land exceeded 1 M Sq. Mts linking King Abdul Aziz Port – Dammam.
Regarding the company's relationship with Saudi Aramco, he says Al Rushaid Group takes part in Saudi Aramco's operations both upstream and downstream. "Our group of companies takes part in Saudi Aramco's projects through manufacturing and supplying engineered equipment, providing engineering and construction services as well as oilfield services. There are, however, challenges. The challenges are mainly related to sourcing raw material locally and pushing to move the technology to Saudi Arabia 100 per cent keeping in mind that the business should be competitive compared to neighboring countries, while maintaining Aramco's high quality standards," he says.
Moreover, Al Rushaid is in the process of getting involved in major projects in specific areas in Saudi Arabia like the Red Sea, Ras Al Khair, NEOM and Spark.
Referring to Saudi Vision 2030, he says as per the Vision, Al Rushaid is continuing to play its role in the development of the industrial and domestic service sectors, which in turn will have a positive impact on the national economy either through contribution to GDP or through the creation of jobs for young men and women. Vision 2030 aims to make the private sector the leader of the local economy and increase its contribution to GDP. That will come through the support of small and medium enterprises, which in turn will create a large number of products manufactured locally, he observes.
"Our company seeks to support entrepreneurs and the development of local content and the localization of industry with international standards. Our standing is up to the mark for the companies that have local manufacturing and services and certainly we are trying our best to meet the Aramco IKTVA targets."
Referring to business, he says it is improving with the uptick in the number of projects announced and Aramco's plans to increase its number of oil rigs.