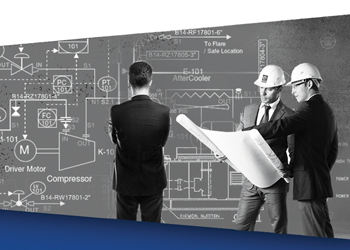 CCC provides a broad set of expertise and solutions for the best turbomachinery control
CCC's local strategy focuses on supporting Saudi Aramco's long-term vitality of its commercial ecosystem, to encourage the development of a diverse, sustainable, and globally competitive energy sector in Saudi Arabia
Over the long period of business association between Compressor Controls Corporation (CCC) and Saudi Aramco, CCC has played a successful partnering role enabling Aramco to harness its vital value-added services.
"CCC's core strengths in the market are still providing a high level of expertise and knowledge to customers, and working closely with our customers to support meeting their needs and to contribute to their bottom line sustainable growth though energy optimisation and increasing yield," says a CCC spokesman.
The mutually beneficial relationship between the two companies has been successful since the 1980s, with CCC offering diversified turbomachinery assets' control and optimisation applications to major Saudi Aramco upstream, midstream and downstream sites/plants.
CCC's local strategy focuses on supporting Saudi Aramco's long-term vitality of its commercial ecosystem, to encourage the development of a diverse, sustainable, and globally competitive energy sector in Saudi Arabia.
CCC has opened its new office in Al-Khobar, Saudi Arabia with the participation of multiple industry leaders from oil and gas companies in Saudi Arabia including Saudi Aramco and Sabic. The new facility and local investment enable CCC to localise the business needs in Saudi Arabia, collaborate with its customers in a timely manner, to train Saudi students, engineers, industry stakeholders and to collaborate with its global technical experts while supporting the In-Kingdom Total Value Add (IKTVA) programme, he says.
CCC provides a broad set of expertise and solutions for the best turbomachinery control that optimises operability, production, energy and emissions of end-user assets from the early phases (pre-Feed and Feed) to EPC, design/testing, commissioning, operation and maintenance. The CCC approach focuses on a combination of different disciplines including process, machinery, instrumentation and control.
It is working currently with Saudi Aramco on diversified major Saudi Aramco projects, which support the increment of both Saudi Aramco's strategic gas program and clean fuel supply, which comply with IMO-2020 and other European sulphur regulations.
CCC is also currently working closely with DCS manufacturers to enable seamless vertical optimisation integration of the Total Train Solution package to even further minimise project risks while making the operator interface more functional, intuitive and effective.
The advantages of CCC expertise on thousands of turbomachinery applications include reduced CAPEX and OPEX; reduced risks and change management costs on projects; improved safety, reliability, process yield and energy savings; increased project design control and compliance to global/local specifications; and confidence that one's interests are represented and protected.