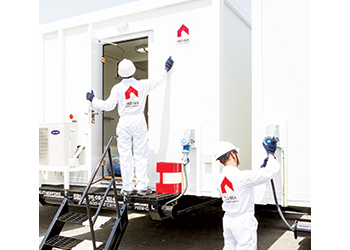 Red Sea ... future is very bright
Saudi Arabia-based Red Sea International (RSI), one of the leading manufacturer of modular buildings, sees the future to be very bright as the activities in the kingdom and the region continue to increase with Saudi Vision 2030 approaching closer.
With regional offices in the UAE and Oman, in the GCC, the company is confident of continuing to lead the way in its sector of business by maintaining its ability to deliver.
"Since the establishment of its first subsidiary four decades ago, RSI has become the largest and most advanced modular building, rental and life support services solution provider throughout the Middle East, Africa, and Asia," says a company spokesperson.
Its innovative building techniques and business spread is reflected through its diversified product portfolio and successful imprint across the industry sectors. Whilst establishing its footprint in over 65 countries worldwide, it has actively embedded its presence and reputation as the leader in offsite modular construction, he adds.
The company's focus remains to continually provide high quality products and services to the ever-growing markets within the kingdom and overseas, and achieve an exceptional position as a supplier of repute and distinction by working with local resources to promote their products, he says.
"The management's vision remains clear and strategic to cover all bases when it comes to developing existing as well as new clients across the vast country by providing tailor-made solutions for a multitude of projects as a one-stop shop in the industry they operate in. Its USP remains being a market leader with rich experience in the industry which has enabled it to stay aggressive and tide over any downturns faced in the sector on account of plunging oil prices," the RSI spokesperson says.
Owning the Value Chain
The unique solution offering of RSI is that the company owns and provides end-to-end support from engineering design and manufacturing of buildings, to site civil works and installation, to full facilities management, catering, camp operations and services as well as rental support. None of the value chain is sub-contracted, thus allowing a streamlined 'one-stop shop' supplier solution. Not only does this reduce customer costs, it also ensures responsibility and ownership of tangible and intangible services under a single provider, thus maximising quality and care.
CONSTRUCTION & MANUFACTURING
RSI is an international market leader that provides high quality modular living and working environments for industrial and residential communities. With significant experience in providing industrial housing products and services in remote and urban locations across the world, RSI has cemented an exceptional reputation for designing, planning, producing, managing, leasing, and operating corporate housing solutions.
Its state-of-the art manufacturing unit is located at Jubail in the Eastern Province and activity has remained busy throughout the year catering to prime oil and gas clients including Saudi Aramco for various projects across the kingdom.
These projects include buildings for rig site application – skid mounted and trailer mounted; light gauge steel units of specific design for application at construction and downstream oil and gas projects and also special builds to cater to a variety of markets ranging from high quality labor camps to affordable housing projects.
FACILITIES MANAGEMENT
RSI provides total integrated Facilities Management services encompassing and providing the full spectrum of 'hard' and 'soft' services to ensure functionality, comfort, safety and efficiency of the built environment by integrating people, place, process and technology into Client Buildings and Operations. RSI provides these services for 'blue chip' companies and sole traders and offers tailored service packages to suit the client requirements to ensure that they meet more than their expectations.

CATERING & CAMP OPERATIONS
Catering: RSI provides full spectrum catering for industrial, accommodation, onshore and offshore oil and gas rigs, retail, workplace, office and large-scale catering operations and provisions across the region. Being accredited with ISO 22000, with dedication to both quality and safety, has ensured its transition into a major catering services organisation.
Camp Operations: RSI operates its own as well third party Client Camps offering complete services from accommodation management, catering, housekeeping, laundry, operations & maintenance, power generation & management, waste management, water management & treatment, industrial services, pest control, medical services & provisions, security & access control and IT & telecommunications – in summary turnkey life support services in any location.
DPC JUBAIL
Desert Palm Compound (DPC), a subsidiary of RSI, now offers units ranging between one-bedroom apartments, two-bedroom apartments and three-bedroom apartments to meet the accommodation needs of executives with families, no matter how diverse. Units can be offered fully furnished or unfurnished and comes fully equipped with modern facilities for all family members including a restaurant, supermarket, billiard tables and table tennis, two outdoor swimming pools, two outdoor tennis courts, gym and golf simulator.
The facility can also provide a myriad of services including, transportation to schools, regular trips to shopping malls, 24/7 security system (including CCTV), public area housekeeping, onsite maintenance team, satellite TV, and pest control services.
RENTAL DIVISION
As a recent addition to the RSI family, this division completes the gamut of products and services being churned out by RSI. Equipment rental solutions associated with temporary camps – both for upstream and downstream application, construction projects, events and interim applications to tide over deliveries on items ordered has proved to be more than beneficial for the company as it ensures retention of clients under any circumstances.
The division operates over a wide spectrum of clients providing all necessary products and services that required for making sites operational and productive. The equipment supply comes along with a complete service package that assures maximum up-time with a 24/7 commitment.
In a short span of less than a year, the rental division has seen major expansion in the inflow of revenues and an increased customer base - both in terms of sites they are handling as well as equipment types. The fleet is beginning to expand rapidly and backed by the very strong in-house resource of having a manufacturing facility available, the way forward looks very encouraging.