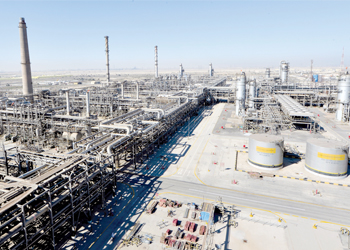 Berri Gas plant
Under the expansion projects for the Berri and Marjan offshore fields, Aramco awarded 34 engineering, procurement and construction (EPC) contracts
Saudi Aramco has awarded $18 billion worth of contracts for work to raise production capacity at two offshore oil fields by 550,000 barrels per day. The work is part of a larger programme to maintain Saudi Arabia's overall oil production capacity at 12 mbpd.
The Saudis have recently been producing well below their capacity as part of a joint effort with Russia and other countries to support oil prices by limiting global supplies. As Saudi Arabia's national oil company, Aramco has a monopoly on oil production in the kingdom.
Under the expansion projects for the Berri and Marjan offshore fields, Aramco awarded 34 engineering, procurement and construction (EPC) contracts. It did not name the companies that received contracts but did say that half of them were signed with local companies.
Separately, Italy's Saipem said it was awarded two contracts worth more than $3.5 billion. These are for the expansion of a gas-oil separation plant and a gas treatment plant at Berri, as well as the construction of a gas treatment unit and a sour gas recovery unit for sulphur production at Marjan.
In June, Houston-based McDermott International said it had been awarded a large engineering, procurement, construction and installation (EPCI) contract for the fabrication of new control rooms and boat landings along with upgrades of all control systems for the Marjan and Zuluf fields.
In its announcement, Aramco said the Marjan project would increase production capacity for Arab Medium crude by 300,000 bpd while also adding 2.5 billion cubic feet per day of gas and 360,000 bpd of ethane and natural gas liquids output. The Berri project is intended to increase production capacity for Arab Light crude by 250,000 bpd.
To offset declines from other fields and maintain overall oil production capacity at 12 mbpd, Aramco has been paying greater attention to its offshore fields. It plans to boost the combined capacity of all offshore fields by 1 mbpd by 2022-23.
"These two programmes will significantly enhance Saudi Aramco's oil production and gas processing capabilities, both strengthening our position as the leading integrated energy supplier and meeting growing long-term demand for petroleum," said Aramco CEO Amin Nasser.
Aramco said contractors working on the projects are required to maximise the procurement of equipment and materials from local suppliers and manufacturers as part of its In-Kingdom Total Value Add (IKTVA) programme, which aims to boost the share of locally sourced goods and services to 70 per cent by 2021.