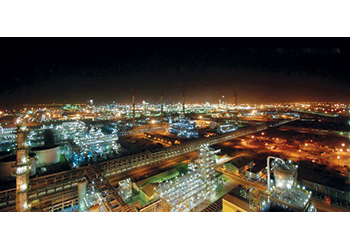 Reliance's Jamnagar refinery
Reliance announced that the two companies had signed a nonbinding letter of intent that envisaged Aramco taking a 20 per cent stake in the division, which comprises Reliance's refining, petrochemicals and fuel marketing business

Saudi Aramco says it is generating enough internal cash flow to fund the potential $15 billion acquisition of a 20 per cent stake in the oil to chemicals division of India's Reliance Industries.
Reliance announced that the two companies had signed a nonbinding letter of intent that envisaged Aramco taking a 20 per cent stake in the division, which comprises Reliance's refining, petrochemicals and fuel marketing business.
The news coincided with the Saudi national oil company's inaugural earnings conference call ahead of a planned but much-delayed initial public offering (IPO) in the next few years (related).
The Indian company put the enterprise value of its oil to chemicals division at $75 billion.
Within the oil industry, Reliance is best known for its Jamnagar refinery, which is the largest and most complex in the world, with a capacity of 1.24 million barrels per day. The company also has a second refinery in Jamnagar with a capacity of 580,000 bpd.
Aramco has already supplied about 2 billion barrels of crude oil to the Jamnagar refinery, and under the deal envisaged in the letter of intent it would continue to supply 500,000 bpd to the refinery on a long-term basis. In recent years, Middle East producers have been competing to secure investment deals with key oil-consuming nations in Asia as they seek to secure markets for their crude oil.
Indeed, the prospective deal between Aramco and Reliance casts further doubt on another proposed deal under which Aramco and Abu Dhabi National Oil Co. would take a 50 per cent stake in a planned $44 billion refinery and petrochemical complex at Ratnagiri on India's west coast.
The Ratnagiri project was already facing several years of delay after the state government of Maharashtra said the proposed location of the project would have to be shifted to another site.
Aramco Chief Financial Officer Khalid Al Dabbagh said during his company's conference call that the Reliance acquisition is part of Aramco's efforts to advance its global downstream growth strategy.
"We regularly evaluate new business opportunities worldwide and, as ... everyone knows, India is a large country with large demand and it's a growing demand," he said. He noted that so far, only a letter of intent has been signed and that the Saudi oil giant still needs to conduct due diligence work.
When asked how Aramco planned to fund the $15 billion required to buy the 20 per cent stake, Al Dabbagh said he could not provide much in the way of details. "This is very, very early stages. However, I can assure you that there is enough headroom in the company's free cash generating capacity to pay for that deal."
Reliance Chairman and Managing Director Mukesh Ambani said he would be happy to see his company's long-standing oil supply relationship with Aramco strengthened further. "Saudi Aramco's interest is a strong endorsement of the quality of our assets and operations as well as of the potential of India," he added.
Energy Intelligence analyst Abhiram Rajendran said from a valuation standpoint, the terms of the proposed deal would make sense, with Aramco paying about eight times earnings before interest, tax, depreciation and amortisation.
"Given the complexity of the system–both petchem and refining–and Reliance's feedstock diversity and integration, it's one of the better global downstream businesses and this valuation is comparable to US peers," he said.