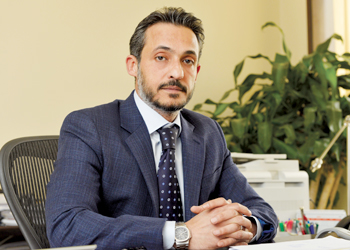 Eng Tarek Halabi
ASF undertakes fabrications for various sectors of the economy including general contracting, oil and gas, power generation, petrochemical structures, electromechanical steel works, aviation, railways, marine and ports and other sectors
Al Sharq Factory Steel Industries Company (ASF), a leading Saudi-based structural steel fabricator, is planning to expand its services beyond Saudi Arabia while grabbing a major share of the projects within the kingdom including mega projects.
The company's clear vision and strategy, according to CEO Eng Tarek Halabi, is to be always on the top rank of steel fabricators in the kingdom.
Says Halabi: "I believe that ASF has established an excellent reputation over the past 20 years, building a portfolio of commercial and industrial projects. These projects played a big role in our expansions and further investments in our facility."
"Projects have infinite horizons of which each day the technology is changing and architecture is becoming more imaginative, giving us further challenges for the future," he says.
ASF undertakes fabrications for various sectors of the economy including general contracting, oil and gas, power generation, petrochemical structures, electromechanical steel works, aviation, railways, marine and ports and other sectors.
Ever since 2013, the company has been expanding – facilities were added, adjacent lands were rented raising the company's facility area to 37,000 sq m, a variety of machines were inducted making the facility fully equipped with conventional, CNC and robotic machines that enhanced the company's workload. Even now, AFS is working on new expansion plans for the future, says Zaid Abu Nsair, Marketing Manager, ASF.
On the company's prospects Abu Nsair is "very optimistic". "We have felt the difference from last year, and with the new projects announced it looks bright till the end of 2019. In the current year, business is well within expectations compared to the previous year, and with stopped projects recommencing, it is a refreshed market," he says.
Riyadh Metro 3A1 station canopy structure
The kingdom has announced huge projects, such as Qiddiya, Neom, the Red Sea Project, Amala project, King Salman Gardens, the King Abdullah International Gardens, renewable energy projects, and the soon-to-be-awarded nuclear projects for energy production, new airports of BOT type, new medical cities and
the like.
"Such huge projects are our opportunity, and sufficient to keep business running in all sectors," he observes.
The Riyadh-based company has been involved in Aramco projects for the last 10 years. Having been a spare parts supplier, it is now working towards transforming to be direct steel structure works supplier, he says.
Over the years, ASF has been part of a plethora of big-ticket projects such as the Riyadh Metro, Yamama Cement Factory II, King Abdulaziz international Airport, Dar Al Hijra project in Madinah, King Abdullah Financial District, Princess Noura University, power plants like PP11, PP12, PP13 and PP14.
To these projects, ASF has offered high-quality products that conform to Saudi and international standards including steel structures, rail track/profile sections, steel façade works, secondary steel structures, forming and flanging works, mixers, belt conveyors, chimneys, stacks, silos, and vessels for cement plants and power plants.
These assignments have been challenging, but playing a part in their execution has given ASF the opportunity to become a sought-after fabricator for both current and upcoming projects, says Abu Nsair.
Its largest ongoing project is the Riyadh Metro, where is currently busy delivering steelworks, bridges, formwork, structural canopies for stations for all the consortiums working on this mega transportation project.
For Lines 1 and 2, being built by the BACS consortium, ASF has supplied different types of structures for wayside equipment for the bridges, and supporting structures.
Currently, it is developing park-and-ride structures comprising cantilever beams and gratings, as well as walkway fences and cladding supports under a subcontract from Safid, a Saudi contractor.
For Line 3, which is being constructed by the Arriyadh New Mobility (ANM) consortium, ASF is undertaking special metal works for deep underground stations, air-conditioning yard (ACY) room structures, in addition to emergency staircases at various locations for bridges, shaft stairs for emergency exits and other structures.
An ASF facility
One of ASF's mega projects in Line 3 is the Qasr Al Hokm station in the old downtown area. Here, the company has already provided mega beams and trusses that consist of 3,000 tonnes
of steel.
For Lines 4, 5 and 6, which is being built by the FAST consortium, ASF is finalising the remaining quantities of walkway fences for all bridges in Lines 4 and 6, wayside equipment structures, signals and lights poles. It has also fabricated different foundations plates and structures, fire pipes supports, traction power station (TPS) room structures for deep underground stations, and different platforms screen doors (PSD) structures.
Another major completed project handled by ASF was the new Yamama Cement Factory II, for which it produced fan housings, huge chimney stacks and major piping support works along with other special steel structure works, he says. ThyssenKrupp Industrial Solutions is building the project, which is now at its commissioning stage.
In addition to these, other projects include a test cell engines industrial building at King Abdulaziz International Airport in Jeddah with Al Muhaidib Company and Cenco of the US, new storage tanks for Saudi Telecom Company (STC) compounds; huge skid-base plates for Saudi Aramco through Suzler Saudi Pump Company; and skylight structures, mud structures, and sliding structures for royal palaces in Diriyah through Giugiaro Architectures and Structures of Italy.
On Saudi Vision 2030, he says the implementation of the new vision has opened more opportunities for local manufacturers to take part in mega projects. This helps them qualify rise to international standards and be competitive in the market.