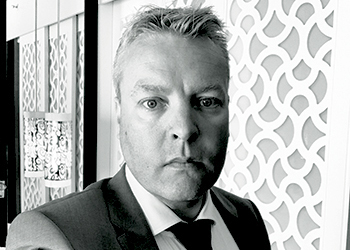 Kasper Castricum
Through ACT's joint venture, ICL, clients can benefit from a seamless operation of storage and distribution with one contact, thus enjoying more efficiency and increased safety and quality
Seeking to position itself as the preferred supply chain service provider for liquid bulk chemicals in the region, Saudi-based Arabian Chemical Terminals' (ACT) distribution company, International Chemical Logistics (ICL) formerly known as Suttons Arabia, is planning to start operations in Plaschem Park, next to Sadara.
"ICL is now undertaking a feasibility study to start operations in PlasChem Park next to Sadara, the world's largest chemical complex ever built in a single phase, to increase market share in that area," says ACT manager, Kasper Castricum.
Logistics company ICL provides supply chain solutions for liquid bulk movements. ICL operates with road tankers and offers break-bulk of products. The strategy is based on HSE with highest efficiency and bring European standard ADR (Agreement Concerning the International Carriage of Dangerous Goods by Road) to the region.
Besides, through ACT's joint venture, ICL, clients can benefit from a seamless operation of storage and distribution with one contact, thus enjoying more efficiency and increased safety and quality standards over their supply chain models, he explains.
"With some newly announced large projects like Amiral (an Aramco-Total joint venture) we seek to position ourselves as preferred supply chain service provider for liquid bulk chemicals in the region," he says.
Having pioneered the efficient handling of bulk liquid chemicals in the region for over 35 years, ACT is positioned in a niche market, handling specialty chemicals in bulk in the downstream sector. Moreover, it also handles products such as vegetables too and hydrocarbons.
Castricum explains that tank storage is no very dynamic industry, its safety oriented and heavily standardized. Therefore, no huge technical changes are happening in this region soon. "However we seek to reduce our carbon footprint by operating as a fully close loop terminal, which means that all gases and emissions are collected during a transfer without causing harm to humans and the environment." There will be always a focus for higher product handling performance that can be achieved with less people involvement thus automation of handling and transfer equipment.
Further, talking about ICL as logistics service provider, eliminating freight bottlenecks and digitization thru paperless operation is high on the agenda. There will be opportunities in last mile operations when Saudi railways are operational and linking intermodal freights with consignees.
ACT's Jubail Terminal has a capacity of 75,000 cu m. It has 39 tanks and two jetties. The company's Yanbu Terminal has a current capacity of 20,000 cu m, 12 tanks and one jetty and huge potentials with available land. "We are continuously looking to expand and follow our existing clients' demand as well as the market requirements," he says. Both facilities are, besides ISO 9001-14001-45001, certified to highest industry standards such as SQAS, CDI and Responsible Care by GPCA.
ACT is often an integral element in industrial Terminalling, handling feedstock or yields from manufacturers that it connects with through road tankers by partner ICL when throughput of the product or the product characteristics do not justify an expensive pipeline connection with an industrial port. Product traders are also using the company for their imports/exports and distributions to hinterland in wider Saudi Arabia and the Middle East markets.
Talking about clients, he says ACT has several years of relationship with Aramco and its affiliates through either other existing clients who use its services, or directly. The company handles chemicals for Sadara, Satorp and PetroRabigh. It also supports shutdowns offering alternative shorter term supply chain solutions and product buffer capacity. "We are very flexible and can easily adapt to market trends and fluctuating demands of clients." With our facilities in both Red sea and Arab sea region we're located in both industry cities, Jubail and Yanbu, of KSA with excellent access to others such as Jizan, Riyadh and Rash Al Khar.
About Aramco's IKTVA programme, he says ACT and ICL have Saudisation levels above 60 per cent and are actively operating as per IKTVA targets.
Talking about Saudi Vision 2030, he says the downstream industry is growing as per Vision 2030. "This should create more works for our industry. Foreign companies are now allowed to trade in Saudi Arabia. Thus, we expect some more trading activities. However, lots of works has still to be done including free zones in ports and easier import permits for non-exempted products," he suggests.
Talking about business, he says: "We do not dictate the market as service provider hence expect new clients and products to come onboard in the foreseeable future. We have operated under reasonable utilization this so far; we hope to see increasing product flows and new projects in 2020. Our growth strategy is based on the surrounding market trends, our job is to be safely ready and have capacities when demands are rising"