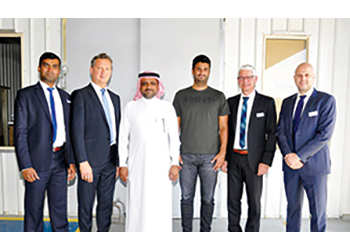 Binzagr and Armaturenfabrik Franz Schneider officials pose for a picture
With the joint venture, the manufacturer aims both to open up a new sales market in the kingdom as well as supply local customers faster and more extensively with high-quality products and competent service
When leaks occur in industrial valves, like those used in chemical plants, they must be repaired as quickly as
possible.
This is the only way to avoid longer shut-downs or possible damage to the environment. In order to provide even better support to customers in Saudi Arabia, AS-Schneider has signed a cooperation agreement with Binzagr, a Saudi Arabian production and distribution company and started its own local production of valves and manifolds.
With this joint venture, the manufacturer aims both to open up a new sales market in the kingdom as well as supply local customers faster and more extensively with high-quality products and competent service.
Industrial valves, such as those used in power plants, the oil and gas industry or in chemical process plants, often operate under the most difficult conditions.
Safety is always a top priority. Not only the enormous pressure, but also the often toxic or aggressive process media can quickly become a hazard to people and the environment.
In addition, there are the high expenses for the operator when the plants break down. AS-Schneider from Nordheim near Heilbronn in southern Germany specialises in Instrumentation Valves and Manifolds.
Its solutions are now successfully in use all over the world. But even if the manufacturer's products are developed according to the highest possible safety standards, AS-Schneider must also be able to react quickly and deliver components quickly in the event of an emergency. This has to be done worldwide and especially in Saudi Arabia.
Assembly and testing of needle valves, ball valves and manifolds on-site
The seeds of the JV were sown as early as 2015 when at the international petroleum trade fair Adipec in Abu Dhabi, AS-Schneider spoke to representatives from the Binzagr Factory, an internationally active production and distribution company that was originally founded as a trading partner of the Saudi Arabian Oil Company (Saudi Aramco. Today it is the country's leading supplier of technical insulation for industrial plants and cooperates with various companies – including ones from Germany.
The two companies formed a JV in 2017 in order to provide customers in the desert city with optimum support and supply valves as quickly as possible while tapping into the country as a new sales market.
With the start of production on July 1, 2018, the cooperation between the two companies took on a concrete form. Together with local experts, AS-Schneider manufactures Instrumentation Valves and Manifolds on-site, specifically designed for use in the oil and gas industry. They were able to successfully complete their first order in November 2018.
In April 2019, Binzagr was approved as a cooperation partner for diverse categories. "We mainly assemble and test needle valves, ball valves and manifolds," says Umar Mukthar, who oversees the project for AS-Schneider.
"For this, we use the same tailor-made machines as in Germany. Customers don't have to worry about any compromises in product quality. This cooperation makes us the first international supplier of instrumentation valves in Saudi Arabia," says Mukthar. "I am pleased that we were able to gain such an experienced and renowned partner as Binzagr for our
market launch."
Thanks to the cooperation with Binzagr, AS-Schneider can now serve customers in Saudi Arabia even faster and more extensively.
"We produce high quality solutions on-site which even exceed the required standards," describes Mukthar. "For example, our valves meet the stringent requirements of the ISO FE Type Test and thus achieve the highest tightness class."
Cooperation with a local partner also ensures short delivery times as well as flexible and competent technical support.
"If necessary, our experts and all spare parts can be delivered to the customer in the shortest time," Mukthar emphasises.
But this joint venture does not only assist in emergencies. "We are always the right contact partner. This means that we can offer the highest level of safety and reliability," promises
Mukthar.
And what's next? In the future, the two companies will also take over the assembly of Monoflanges, VariAS-Blocks and DBB Valves (Taurus Series) on-site as well as further expand the sales and distribution network in Saudi Arabia. In addition, the company will produce assemblies such as connections and instrumentation accessories.