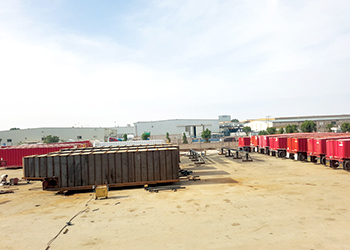 SETCCO manufactures a variety of drilling rig equipment
SETCCO is located in Dammam, Saudi Arabia. Having decades of technical expertise with an exceptional track record the company's focus is customer satisfaction
Saeed Abdullah Al-Shamrani Est (SETCCO), a well-established company specialising in rigs with a perfect blend of quality, modernity and versatility, plans to become a rig manufacturer in Saudi Arabia with 68 per cent local products, thereby increasing the employment opportunities for young
Saudi nationals.
As the first company to do complete rig repair works for drilling contractors with OEM certificates, SETCCO, which has taken part in many Saudi Aramco projects since 2016, would like to expand its infrastructure and increase the facilities it offers including new machines, employees and Saudi welders besides boosting the overall performance of the company, says a company spokesman.
"As we are into structural engineering, we know that every project has unique features which act as a bridge towards the future. Recently we added a new product, the semi-automatic pipe coating machine, which can increase the durability of pipes. We are currently working on the 'mud system' which, on completion, will make us the first company to manufacture the complete mud system in Saudi Arabia," he says.
Talking about business, he says compared to last year SETCCO has improved its performance. On Aramco's IKTVA programme, he says IKTVA is a good initiative by Saudi Aramco as it can localise production and increase the number of Saudis employed, besides improving the economy.
"We at SETCCO have taken various measures to achieve the IKTVA targets by procuring local products and providing opportunities to local Saudi manufacturers. We also brought business from outside to Saudi Arabia. SETCCO is manufacturing 30 per cent of the drilling rig components in Saudi Arabia which was previously being done in the US and China only."
Saudi Vision 2030 wills see that dependence of the oil and gas sector on outside technology and investment is considerably reduced.
SETCCO is located in Dammam, Saudi Arabia. Having decades of technical expertise with an exceptional track record the company's focus is customer satisfaction. Its operations are housed in over 250,000 square feet of facilities in an open yard with 2,000 sq ft office space. The company has highly skilled technical personnel to execute projects with precision and quality.
SETCCO manufactures a variety of drilling rig equipment with its own approved engineering designs. With a continuous update of technical knowhow and expertise, conforming to the industry standards, its technical team is able to meet the special requirements with the utmost satisfaction of the customers.
The company's clients are directly associated with Saudi Aramco some of the major clients include companies such as Arabian Drilling Company and KCA Duetag.
The company undertakes rig equipment maintenance, rig repair works, supply of frac tanks, manufacturing, blasting, painting, CAT III and CAT IV inspections for drilling rigs.
Apart from the oil and gas Field, SETCCO is also a manufacturer of all kind of steel structure, storage tanks and blasting and painting of structures and supply of equipment related to the core field of steel.