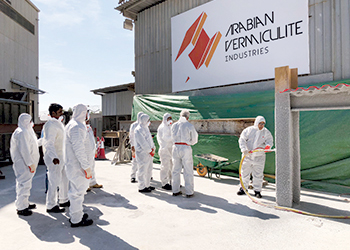 AVI is approaching 2020 with optimism
Arabian Vermiculite Industries (AVI), a leading Saudi-based comprehensive fireproofing manufacturer, plans to start its semi-automatic production line, increasing output to 200 per cent by next year.
'Construction has been on-going, and a dry-run is expected by last quarter of 2019,' says a company spokesman.
AVI has supplied to various local and international projects. Some of which include a key oil and gas plant in Jubail and Haram Extension in Makkah. Future prospects are already being worked on, and the company is optimistic with projects next year.
Since its inception, AVI has expanded a new factory specifically designed for the production of lightweight and horticultural aggregates. In the past year, its Operations team has upgraded the warehouses, which greatly improved productivity, he points out.
AVI, which has a range of products that protect over 2,000 projects in over 30 countries, continues to grow its business compared to the past year. Despite some slowdowns during the previous year, AVI has managed to exceed expectations over the last two quarters, particularly in the local market.
The company is approaching 2020 with optimism as it has been building its global network for better supply operations internationally. AVI will maintain a good share of the local market and will continue to strive to provide quality products, he maintains. The company strives to expand its already vast client base, while working closely with leading consultants, engineers and
applicators.
AVI has been a supplier for Saudi Aramco since 1984. The main scope of its contracts is the supply of various construction materials and horticultural aggregates. Products supplied include spray-applied fire resistive materials (petrochemical grade and commercial grade cementitious fireproofing), lightweight aggregates (Perlite and Vermiculite), and horticultural soils
(potting soil, etc.).
Referring to Aramco's IKTVA, he says: 'It is a great long-term program for the citizens of the Kingdom. AVI is targeting an IKTVA score of 50 per cent by 2020. The company has begun accepting trainees from young Saudis last year so that they develop an interest in joining the company.
Internally, AVI has increased employment of Saudi Nationals up to three times the previous number. The company has also garnered approvals and certifications from the local government for its products and operations. AVI plans to continue creating quality products (Made in Saudi Arabia) that can be proudly supplied all over the world, he says.
AVI was established in 1985 by Khalifa Al Gosaibi Holding to manufacture and service the increasing demand for quality fireproofing in the growing construction sector. AVI has established an exclusive manufacturing licensing agreement with W R Grace and Company, US. Over the years, AVI was able to build and establish its position as a leading comprehensive fireproofing manufacturer.
The Group headquarters is located in the First Industrial City Dammam, Saudi Arabia. Khalifa A. Al Gosaibi Holding Company consists of seventeen (17) operational subsidiaries, employing over 5,000 personnel and with an annual turnover exceeding a SR1 billion.
The Group has a strong background in the planning, development and on-time completion of projects throughout the Middle East and North Africa (Mena) region, Asia and Europe.